Published July 19, 2021 by Bowdoin College Museum of Art
An Edgefield Jar and the History of Antebellum Craftsmanship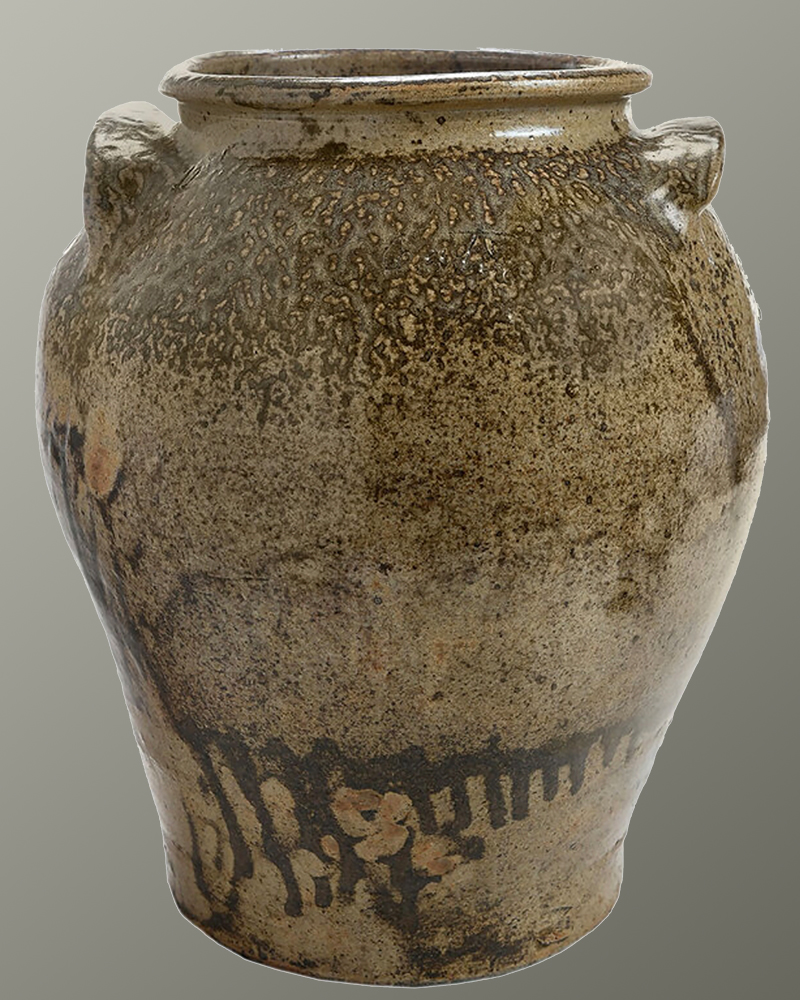 During the nineteenth century, enslaved African Americans created pottery on southern plantations in Edgefield County in western South Carolina, known for its rich clay deposits. This jar represents their production of wheel-thrown utilitarian wares. Its form, shape of the handles, and distinctive rim are characteristic of Edgefield wares, its glaze produced by a mixture of clay and ash or lime that acted as a flux or melting agent in the firing process.
In the early nineteenth century, several families established pottery manufactories in the Edgefield District. Many of these manufactories were owned by European-Americans, but enslaved African Americans performed most of the labor-intensive work, such as wheel-throwing and firing the wares. Of the nearly 3,000 enslaved craftsmen who have been identified by the Museum of Early Southern Decorative Arts (MESDA) in Winston-Salem, North Carolina, David Drake (1801–after 1873) is the only individual whose work can be positively identified. Beginning in the 1820s, he worked under five different owners, who were family members or related by marriage.
In 1840 Drake's ownership transferred to Lewis Miles (ca. 1809–1868), the proprietor of Stoney Bluff Manufactory's, which is where this jar was potted. Under Miles, Drake produced his most creative work. Over 150 of his documented examples bear dates, and incised inscriptions and verses, exceptional in a culture where laws prohibited literary education and knowledge among enslaved people. Over the course of his decades-long work as a potter, Drake made some of the largest pots in American ceramics history. Requiring prodigious strength and talent, Drake's work is also noted for the wit and creativity of the inscriptions he added to his wares. This work is unsigned but given the creation date of ca. 1840s—and knowing that David Drake was enslaved to Lewis Miles at the time—it is possible that Drake was the potter responsible for this jar.
The alkaline glaze is noteworthy in that southern American potters re-discovered a technique used by potters in China, Japan, and Korea, highlighting the continuation and circulation of ceramic practices across the globe. We are fortunate that this Edgefield jar offers insights into ceramic and craft production in the antebellum United States. The jar also represents this country's history of slavery, and the use of enslaved craftspeople to create the various decorative arts that are now treasured by museum institutions. You can learn more about this jar in the current exhibition, Re|Framing the Collection: New Considerations of European and American Art, 1475–1875, which strives to highlight underrepresented narratives into the larger history of Europe and the Americas.
Elizabeth Humphrey, Class of 2014