Published September 27, 2021 by Bowdoin College Museum of Art
The Armagnac Breviary: Object of the Month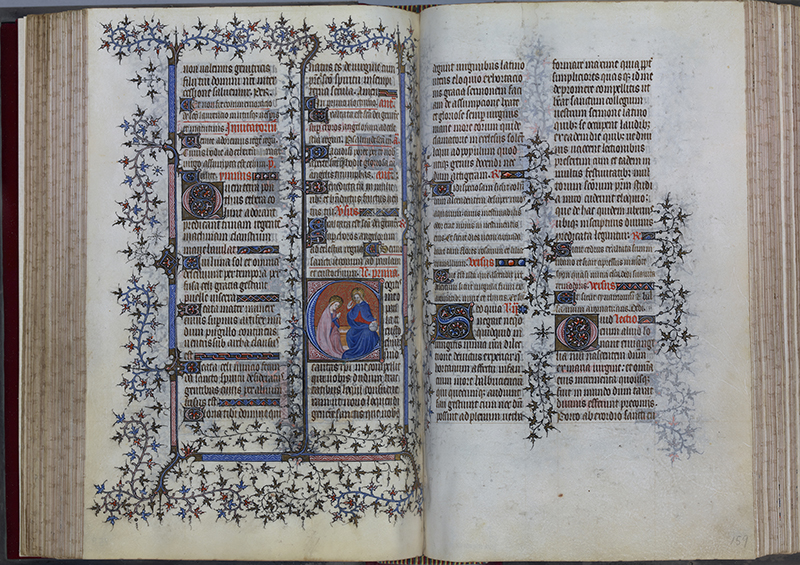 The Armagnac Breviary is one of many highlights from the Wyvern Collection currently on view in the exhibition New Views of the Middle Ages: Highlights from The Wyvern Collection. Probably commissioned in or around 1390 by Louis I, the Duc d'Orleans and brother of the French King Charles VI, the book was a wedding gift for two members of the Duke's household, Jean de Roussay and Jeanne de Chepoy. While the book itself is small in size, its interior illuminations and decorative details showcase the piece's artistry and decadence.
A breviary is a religious text that could serve as a daily prayerbook, similar to a book of hours. The intended owner would use the manuscript daily and recite the prayers and psalms for that day. In addition to its religious function, the Armagnac Breviary is also filled with rich artistic details from illuminated initials to miniatures. Scholars have been able to differentiate at least four distinct artistic styles in this small tome, which allowed them to identify individual artists and connect the breviary to other illuminated manuscripts created around the same time.
One of the many illuminations depicts the newlywed couple kneeling in front of Saint Saturninus, a personalized detail that the Duc d'Orleans must have requested during the breviary's production. By showing the patrons kneeling alongside a saint, the illumination reinforces the couple's piety. Other figures who are represented in the breviary include Charles VI and his queen, Isabeau of Bavaria.
Due to worsening political conflicts within King Charles VI's court in the early 15th century, the Duc d'Orleans and his household fled France, and Jean de Roussay and Jeanne de Chepoy left the breviary behind. On November 23, 1407, the Duke was assassinated by political opponents from the Burgundian factions led by John the Fearless, the Duke of Burgundy, catapulting France into a bloody civil war. The next family to inherit the Duc d'Orleans's chateau was the Armagnac family, from whom the breviary received its name. A later addition to the breviary includes an illustration of Jean d'Armagnac, who was the bishop of Castres and one of the first members of this family  to possess the manuscript during the mid-15th century.
The Armagnac Breviary has changed hands many times in the years since; and at one point was separated into two separate volumes.  These volumes were in different hands before being reunited in the library of notable collector Henry Yates Thompson in the early twentieth century. Now under the stewardship of the Wyvern Collection, one of these two volumes of the Armagnac Breviary is on view in the exhibition New Views of the Middle Ages: Highlights from the Wyvern Collection until February 27, 2022.
Katie King '23, Student Assistant to the Curator, Summer 2021