Published March 29, 2021 by Bowdoin College Museum of Art
Cultural Heritage in Conversation: An Interview with Dr. Abdulameer Al-Hamdani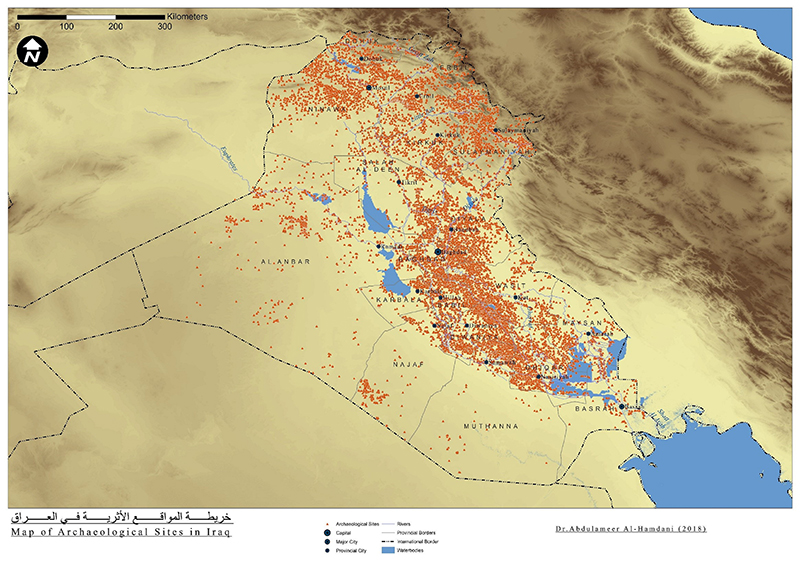 Dr. Abdulameer Al-Hamdani is an Iraqi archaeologist and served as Iraq Minister of Culture from 2018 to 2020. On April 8, Dr. Hamdani will join us virtually for a conversation about the past, present, and future of cultural heritage in Iraq and the connections between Iraqi histories and identities today. The following interview offers a preview of this exciting upcoming event, and was conducted on March 18, 2021, by Brooke Wrubel '21, Student Curatorial Assistant [BW], and Andrew W. Mellon Postdoctoral Curatorial Fellow Sean P. Burrus [SB]. Be sure to join us on April 8, at 1:00 p.m. for "(Re)Considering Iraqi Cultural Heritage: A Conversation with Dr. Abdulameer Al-Hamandi," when he will share with us updates on the state of cultural heritage and museums in Iraq, and insights into the role of digital approaches to protecting and preserving Iraqi history. Critical support is provided by the Yadgar Family Endowment, Bowdoin College. Register here.
Could you share with us how you got into cultural heritage work? [BW]
AH: When I graduated from high school, I lived in the marshes [note: the Iraqi Marshes are located in Southern Iraq and a UNESCO World Heritage Site since 2016] and our village was situated on top of an archaeological site. The first question a teenager in the marshes in a village on top of archaeological site asks is, "Who were those people? What kind of ancient society are we dealing with?" From age 15 onwards I was asking my elders, my father, "Who are these people?" The graves that we found partly on the surface of the site—all of this ancient stuff and ancient material on top of our village—what are these? The people of my village—even my father—didn't have any answer for these questions. This encouraged me to study archaeology and cultural heritage just to understand the nature of our village.
Later, I found that cultural heritage could unify the Iraqis. We need to use cultural heritage to shape our national identity of Iraqis to answer the question "Who are we? Are we Iraqis? Are we Arabs? Are we Kurds? Are we Christian? Are we Muslim? Are we Jewish?" So, to answer that question we need to use the Mesopotamian identity as our identity—as us. To unify a fragmented society, we need to have a platform to unify the people and I think the Mesopotamian identity and the cultural heritage of Mesopotamia as Iraqi heritage is the best tool to unify the society and to open a dialogue between different ethnic and religious groups in a place like Iraq.
Tell us about your work as the Iraqi Minister of Culture, Tourism, and Antiquities from 2018 to 2020. [BW]
AH: Protecting Iraqi heritage was my priority, safeguarding this cultural heritage. But I was also focusing on finding a way to unify, as I said, the fragmented society by using different cultural tools—not only cultural heritage, but also cultural tools like cinema, theater, music, books, publishing books, and also focusing on the role of museums.
I have done a lot of things, including restoring stolen artifacts from abroad. We did restore a lot of antiquities either from Europe or America and we have a Department of Recovering Antiquities and Stolen Artifacts and we did focus on that. Connecting our embassy all over the world, we were able to restore hundreds of stolen artifacts to the Iraqi Museum. I also focused on developing the museum itself, opening the museum for the public.
What is the biggest challenge for the future of cultural heritage work in Iraq? [BW]
AH: The most challenging thing is shifting the mindset and teaching people to appreciate cultural heritage. Every day we would have reports of damage to antiquities or damage to archaeological sites. It's very hard to safeguard 15,000 archaeological sites; we can't put a policeman at every site. So the most important thing is to educate people about the importance of Iraqi heritage, to educate them in different ways in school and through the media in order to introduce Iraqi heritage to the public and also encourage them to respect Iraqi heritage.
But we also need to deal with the international community. We believe that safe-guarding Iraqi heritage is a global task; it's the civilization of all humankind. That's why we rely on opening scientific research and calling universities to come to do fieldwork in Iraq. Under Iraqi antiquities law we can give permission to universities and international research centers to come and do fieldwork in order to preserve Iraqi heritage. The State Board of Antiquities by itself cannot deal with preservation of Iraqi heritage, without the support of the local people as well as the international community.
Why is it so important for the international community to be invested in Iraqi cultural heritage? [SB]
AH: Iraqi Mesopotamian civilization is what we call the cradle of civilization and the international community must appreciate that and should take care of that. But also, since 1975, Iraq has faced wars, conflicts, embargos. The international community needs to support, has to support Iraq. Consider what happened in Iraq in 2014, when ISIS controlled a major part of Iraq and was destroying its cultural heritage. Iraq is always on the frontline fighting terrorism, and an example of that was ISIS. Lastly, museums all over the world have Iraqi antiquities, so this is the time for these museums to support Iraq in rebuilding the Iraqi museum or building a new museum for Iraq.
What advice would you give to both aspiring and current museum professionals as to how to better care for cultural heritage? How would you characterize the role of museums and museum professionals in this work? [BW]
AH: It's important to see the museum as both an educational and a cultural institution. The role of the museum is really big—not only in dealing with, storing and displaying antiquities, but also educating the community and society. We do this not only by displaying artifacts and documenting them, but also by talking to the schools, to the youths, to the people, by getting out in society and introducing the museum to the public. Today, virtual museums and exhibitions are also very important to reaching people at home. All of these things are important to educating people and to teaching them about the importance of the cultural heritage.
What's next for you? What are you currently working on? [SB]
AH: Well, I'm continuing my research in the field and doing landscape archaeology and ethnographic and ethnoarchaeological projects. I also became an advisory board member for EAMENA, the Endangered Archaeology of the Middle East and North Africa—led by experts from Oxford, Leicester, and Durham Universities. So, I'm on the advisory board of that project to teach employees and archaeologists, from Mauritania to Afghanistan. And I am also part of the UCL—University of London. I'm working on writing papers, publishing all my unfinished, unfinalized papers, and giving lectures and presentations about the importance of Mesopotamian heritage. So even though I'm not a Minister, I still consider myself as an anthropological archaeologist, and that field indeed has opened for me a lot of things to deal with across universities and museums.
Brooke Wrubel '21, Student Curatorial Assistant
and
Sean P. Burrus, Andrew W. Mellon Curatorial Fellow
Bowdoin College Museum of Art