Published September 29, 2020 by Bowdoin College Museum of Art
BCMA Celebrates the Publication of "Maine's Lithographic Landscapes"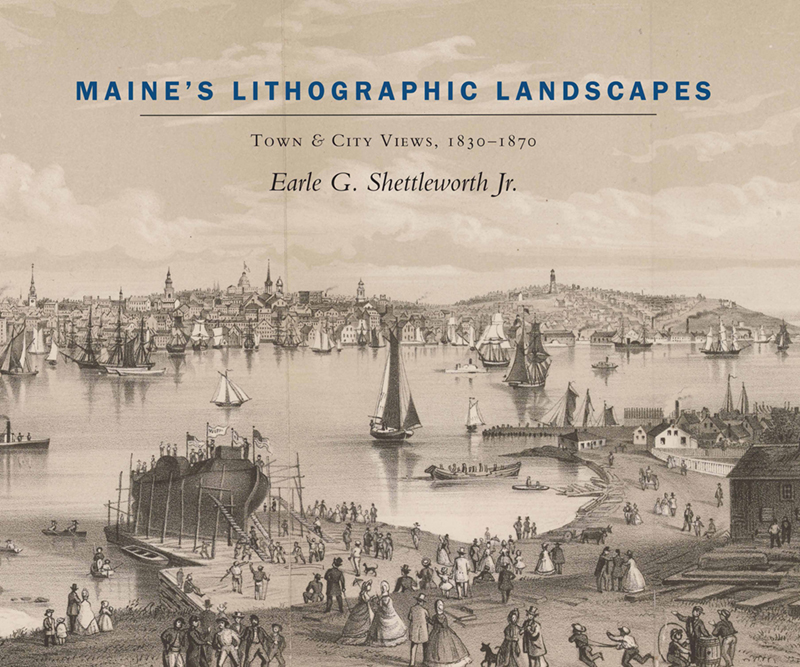 The Museum is proud to announce the publication of Maine's Lithographic Landscapes: Town & City Views, 1830-1870 by Earle G. Shettleworth Jr., the Maine State Historian and the curator of the recent exhibition of the same title. On view at the Museum last winter, the exhibition featured rare lithographic views of Maine and of Bowdoin College from the decades immediately after statehood. An illustrated version of the exhibition is available on the Museum's website. The book may be purchased through the Bowdoin Store.
Through a generous gift by Linda Bean and her sister Diana Bean, the Museum was able to realize this new publication, in association with Brandeis University Press. Shettleworth will speak about the project on Thursday, October 8 at 7:00 pm. You may register for this webinar here.
Earle corresponded recently with co-director Frank H. Goodyear regarding the project. Here are excerpts from their conversation:
Frank: What inspired the creation of so many views of Maine towns and cities during the first 50 years after statehood?
Earle: The introduction of lithography to New England in the 1820s coincided with Maine's joining the Union as the 23rd state in 1820. Between statehood and the Civil War, Maine grew in population from 330,000 inhabitants to 628,000. The traditional economic activities of fishing, farming, lumbering, shipbuilding, and maritime trade were supplemented by a thriving new textile industry and the beginnings of tourism. Rapidly developing towns and cities such as Biddeford-Saco, Portland, Lewiston, and Bangor celebrated their new status as commercial and industrial centers through panoramic lithographs of their communities – handsome, inexpensive prints that were proudly displayed by local residents and widely circulated to promote the image of success.
Frank: What valuable information do these images convey?
Earle: Many Maine town and city views made before the Civil War contain a high degree of detail that documents the topography, street patterns, neighborhoods, and individual structures of major communities. Considering the rarity of outdoor photography in Maine prior to the 1860s, these lithographs provide a wealth of visual information about the general appearance of a place as well as its homes, churches, and commercial and public buildings. In addition, views of Portland by George Whitefield in 1848 and John W. Hill in 1855 illustrate harbors teeming with a wide array of period vessels.
Frank: What was the process for producing these prints?
Earle: Lithographs such as Bangor in 1854 and Portland in 1855 were produced by commercial publishers like the Smith Brothers in New York, who specialized in making American city views. In other cases, such as Castine, residents asked an artist, Fitz Henry Lane, to create a drawing of their town to serve as the basis for a lithograph. Once an artist made a sketch or a painting, the image was displayed publicly to encourage townspeople to subscribe for copies of a lithograph. Local newspapers often promoted sales through articles appealing to local pride. When the required number of signatures were reached, the artwork was copied on stone by a lithographer, and the prints were struck off and delivered to the subscribers.
Frank: How did you get interested in these prints, and what type of research did you do to learn more about them?
Earle: I have had a life-long fascination for collecting Maine antiquities, especially visually oriented material such as illustrated publications and ephemera, stereo views, post cards, photographs and prints. These original source materials have informed my interest in Maine architecture. My high school graduation present was a copy of the Smith Brothers 1855 lithograph of Portland, which my parents acquired from the Portland antiquarian bookseller Francis M. O'Brien (Bowdoin h 1990) for $125. During the years in which I directed the Maine Historic Preservation Commission from 1976 to 2015, I collected Maine town and city views and bird's eye views for the state, believing that they provided a significant source of information about the history of the state's built environment.
When I retired in 2015, one of my goals was to research Maine's lithographic landscapes, using them to create a bicentennial exhibition that would give the public a sense of Maine's appearance in the four decades between statehood and the Civil War. One of my most rewarding research sources was the period newspapers, in which I uncovered many articles that shed light on how these prints were made and marketed. I also enjoyed learning about the artists and lithographers who created these views—whether the renowned skill of Fitz Henry Lane or the lesser known talent of Esteria Butler. I am grateful to the Bowdoin College Museum of Art for the opportunity to realize my vision for "Maine's Lithographic Landscapes" in the form of an exhibition, a website, and a book.
Frank Goodyear
Co-Director, Bowdoin College Museum of Art