Published June 29, 2020 by Bowdoin College Museum of Art
July Object of the Month: Shapes in the Sky During Rainy Season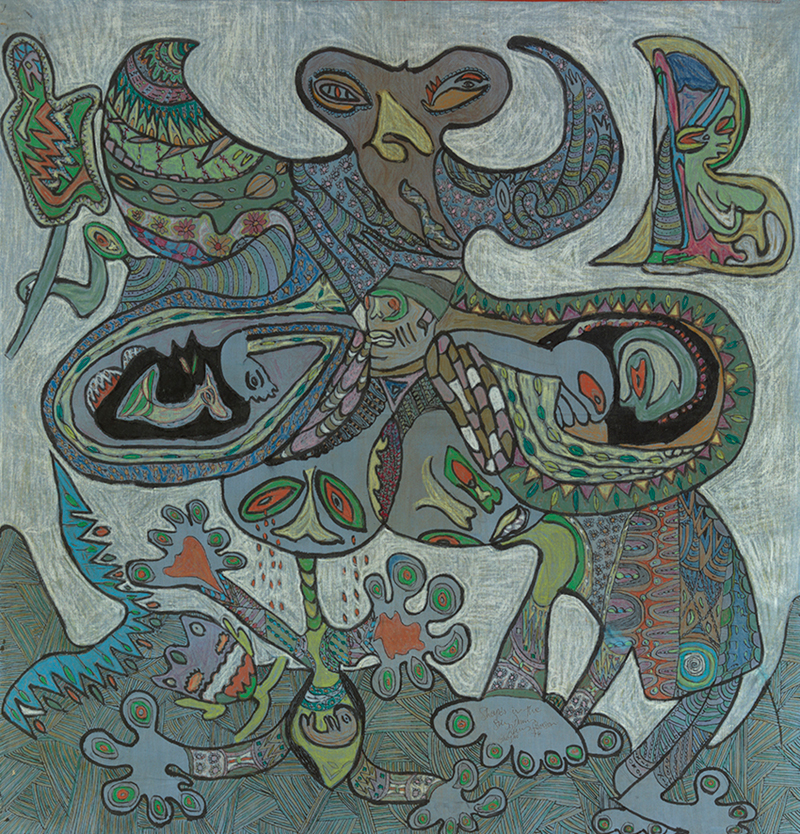 As a student curatorial assistant at the Museum, I worked on reviewing the Museum's collection of African art—much of which hails from Nigeria. While working on this project, I became especially interested in Prince Twins Seven Seven's Shapes in the Sky During Rainy Season. As the artist was the only surviving child of seven sets of twins, his parents believed that he was the reincarnation of his dead siblings. He renamed himself Ibeji Meje-Meje (meaning Twins Seven-Seven in Yorùbá), and later added Prince to his name as he was a member of Yorùbá royal lineage.
 Twins was among the best-known artists of the Osogbo School, an important art movement in Nigeria named after the city and arose from a newly independent Nigeria in the 1960s. It was at the Osogbo School, which prioritized allowing individual artists to create their own approaches to art, that Twins developed his style of painting.
 Created in 1974, Shapes in the Sky During Rainy Season is one of the few mixed media pieces in the Museum's collection of African art. This piece depicts imagery relating to Yorùbá mythology, a common theme in Twins' work. The figures are particularly abstract, which may suggest a reference to orishas (Yorùbá deities and spirits) instead of humans and animals. The mythology of different countries and cultures is a long-time interest of mine and is another reason why I was drawn to this piece. Regarding the colors and shapes used, I am especially interested in how Twins juxtaposes a dull, blue-gray background with vibrantly colored and designed shapes. I also appreciate the fact that this artwork is connected to both Nigeria and Maine as Twins created it during his second visit to the Haystack Mountain Crafts School in Deer Isle, Maine.
Horace Wang, Bowdoin Class of 2020
Student Curatorial Assistant