Published October 26, 2020 by Bowdoin College Museum of Art
Objects of the Month–Farah Al Qasimi Photographs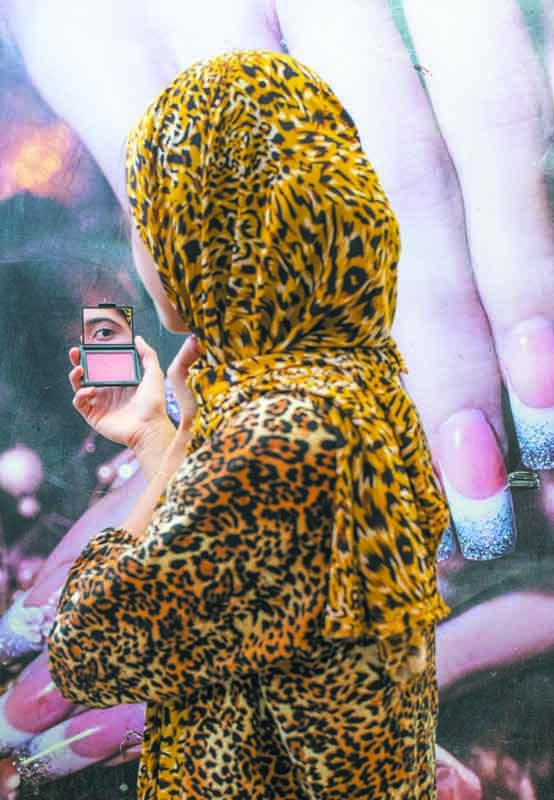 The Museum of Art is proud to announce the recent acquisition of two photographs, Woman in Leopard Print and 5 Star Barber Shop, by artist Farah Al Qasimi, one of which was underwritten with funds donated by members of the Collectors' Collaborative. We are grateful for the ongoing generosity of this group of young Bowdoin alumni and have selected these works as our "Objects of the Month."
Born in Abu Dhabi, United Arab Emirates in 1991, Al Qasimi is a photographer and video artist who now lives in New York City. She earned her MFA at the Yale School of Art and attended the Skowhegan School of Painting and Sculpture in Maine in 2017. She often turns to experiences from her upbringing and time in the United States to record her observations on beauty culture, gender, surveillance, and the experience of new immigrants. Describing her artistic practice, Al Qasimi has explained that her interests are in "social customs as seen through objects" and "an anthropological sense of unseen boundaries." Some of the people featured in Al Qasimi's work are relatives or close friends, providing a glimpse into the physical and material lives of those in her circle. Her work has been collected by the Museum of Modern Art, New York, the Museum of Contemporary Art, Chicago, and NYU's Grey Art Gallery.
These two images are part of a series that Al Qasimi created for Back and Forth Disco, a one-person exhibition of seventeen photographs commissioned by the Public Art Fund in New York and displayed on 100 bus shelters across the five boroughs. Her photographs replaced the usual advertisements displayed there. Completed in 2019, this project was Al Qasimi's first public art project, as well as her first group of photographs dedicated to subjects in New York. The two selected photographs, Woman in Leopard Print and 5 Star Barber Shop, were installed in multiple locations in Brooklyn, Manhattan, and Queens.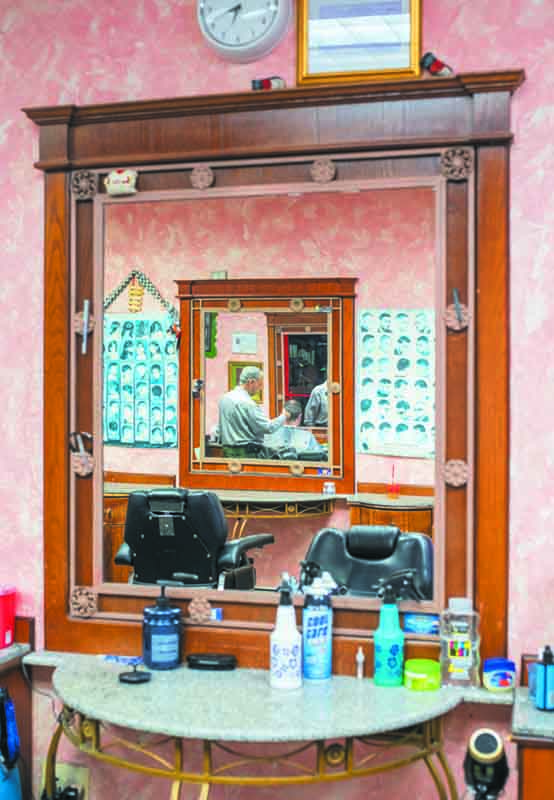 The photographs continue Al Qasimi's earlier exploration of female self-fashioning and beauty salon culture. Yet, in these images, she seeks to obscure or obstruct the identity of her subjects, thereby undermining the revelatory aim of conventional portraiture and the explicit marketing of advertising imagery. In New York, Al Qasimi's work has additional significance, making visible to commuters and passers-by the city's commerce, especially as it relates to immigrant experiences yet with a sensitivity to the potential abuses of mass surveillance informed by her own background.
This surveillance often appears in her work in the form of security cameras or mirrors. In Woman in Leopard Print, the coordinated leopard-skin pattern dress and head-covering may hint at the woman's cultural identity, but only a close-up of her eye appears in the mirror, frustrating any attempt at a specific identification. 5 Star Barber Shop employs mirrors to reflect the goings on in the barbershop, providing a glimpse into cultural beauty norms. While the barber and customer are heavily obscured from view, the hairstyles used by the salon are on prominent display.
We look forward to exhibiting these works in the future and introducing them to faculty and students during class visits to the Museum.
Frank Goodyear
Co-Director
Bowdoin College Museum of Art