Published September 29, 2020 by Bowdoin College Museum of Art
Object of the Month: The Doctor's Surgery, ca. 1665-1675, by Egbert van Heemskerck, the Elder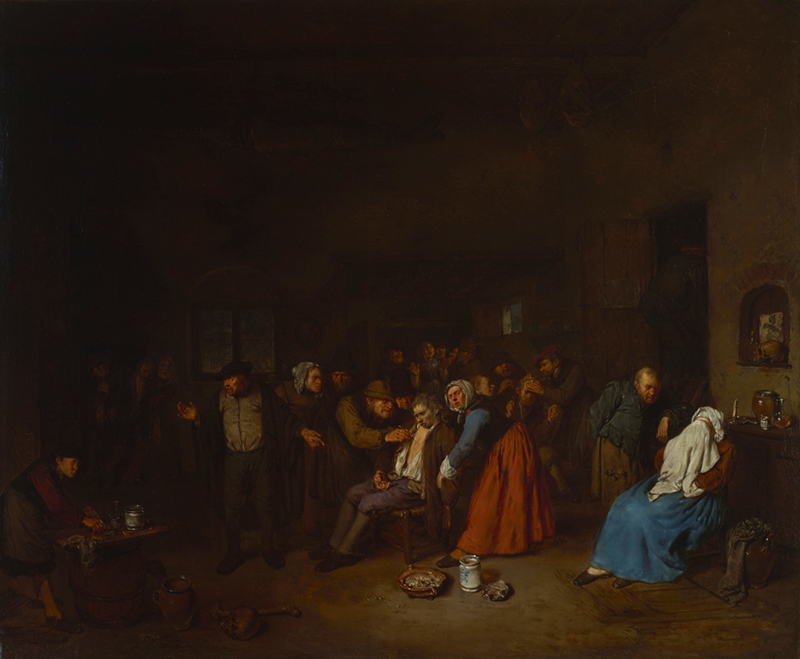 A recent addition to the Museum's collection, The Doctor's Surgery, provides a fascinating glimpse into the material life and culture of Northern Europe in the early modern period and a record of early modern medical practice. A generous gift to the Museum in memory of Dr. Bernard and Mrs. Jeanette Gordon Halperin from their children, The Doctor's Surgery is one of several genre scenes of a medical theme painted by Egbert van Heemskerck, the Elder (1634–1704). The son of a Haarlem doctor, van Heemskerck returned to the theme more than a dozen times over his career, depicting surgeries, apothecaries, deathbeds, and other medical treatments. Van Heemskerck's early upbringing in a doctor's household likely accounts for the keen insight and skill with which the artist has rendered this scene, imbued with both historical fidelity and theatrical drama. George Keyes, a member of the Museum's Advisory Council and the former Curator of European Paintings at the Detroit Institute of Arts, notes: "It's unusual to come across a masterpiece by a relatively unknown artist, but in The Doctor's Surgery, that is what we have."
Here, van Heemskerck depicts an emergency surgery to save a man clearly at death's door, an event which unfolds before the viewer much as a scene from a play. The patient, slumped over in a chair at the center of the composition, is bled and probed by a local surgeon. A stock character whose disheveled appearance does little to inspire confidence, the doctor in this painting is one of several elements that lend a satirical air characteristic of Dutch genre painting to an otherwise dramatic event. Vanitas symbols incorporated throughout the painting—including the skull and femur on the floor at left, and a niche at right with a skull, drawing of a bird, glass bottle, and an extinguished candle bell—pronounce pessimistically on the surgeon's skill, and the patient's fate.
Arrayed around the central drama much like actors on a stage are a line of waiting patients in degrees of distress and a trio of witness figures, onlookers who crowd over the doctor's shoulders, gazing with morbid curiosity on the action at hand. Noting this deliberate arrangement and the stage-like interior of the doctor's room, Keyes observes that "van Heemskerck's imagery was likely inspired by the Dutch tradition of communities having active amateur theatrical companies." In line with this observation, two prominent supporting figures add a melodramatic note to the scene: at stage right, a friend of the patient bearing an overwrought expression gesticulates urgently to the doctor's attendant, while at stage left, the patient's wife buries her head in her apron, unable to watch.
Genre painting enjoyed widespread popularity in Northern Europe in the seventeenth century, and Netherlandish artists—like Egbert van Heemskerck—were recognized as the foremost practitioners of this subject. During the period known as the Dutch Golden Age that spanned the seventeenth century, Dutch painters such as Adriaen van Ostade (1610–1685) and Jan Steen (1626–1679) focused their attention on everyday life, from interior scenes of men and women at their trades, to bawdy tavern scenes of games and drinking contests favored by artists. Medical scenes, including apothecaries, deathbeds, and early surgeries such as this example, are one of the rarer subject matters depicted by genre painters. Exhibiting similarly dense and energetic interiors, with bustling activity in every corner, the best medical scenes are invested with heightened drama and significant pathos on view in The Doctor's Surgery. The appearance of medical themes in Dutch paintings of the period is no doubt connected to the leading position occupied by the Netherlands in medical science in Europe in the early modern period.
The Doctor's Surgery is an exciting addition to the collection, a painting of immense historical and narrative interest and one that, as Keyes' observes, "has tremendous potential to be useful in classes across campus, for its theatrical appeal and for its scientific and medical subject matter." The historical context, theatrical features, and medical themes of the painting offer promising areas for future research for Bowdoin faculty and students.
Sean P. Burrus
Andrew W. Mellon Postdoctoral Curatorial Fellow
Bowdoin College Museum of Art