Published June 24, 2019 by Bowdoin College Museum of Art
Objects of the Month: Three Works in "Art Purposes"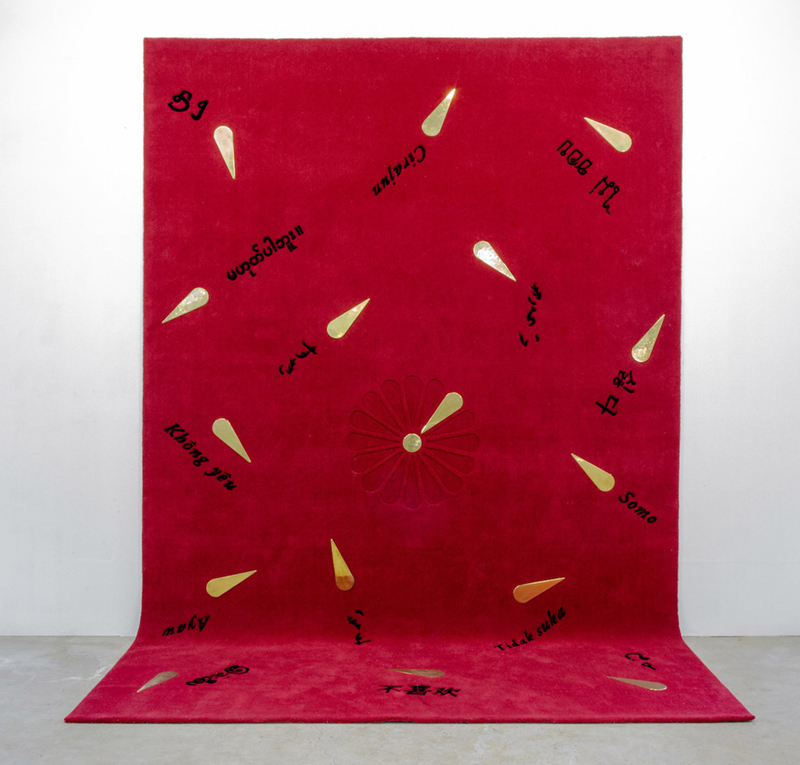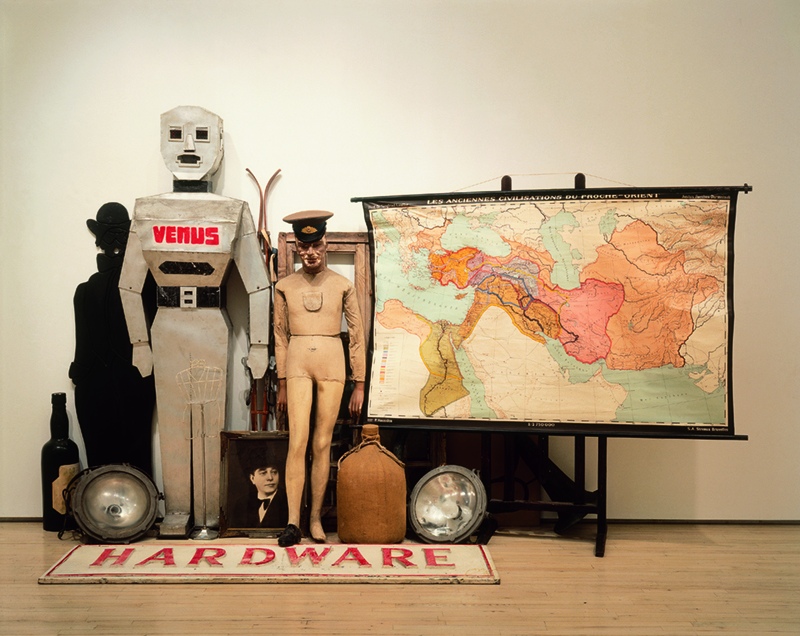 Art Purposes includes many works that are unusual for their subject matter, medium, and history of origin. As a curator, I was delighted to bring out challenging works that offer fresh perspectives and unsettle conventions. 
I am particularly fond of a painting by Benny Andrews, Mrs. Viola Andrews – My Mother, a portrait that shows her as sharecropper in a cotton field and at the same time characterizes her as a spiritual leader. This powerful work exudes, in a monumental format, the love of this African American artist for his mother, who made sure he and his nine siblings got the education they deserved, and it is a celebration of her role in her community. This new acquisition is a gift from halley k harrisburg, Class of 1990, and her husband Michael Rosenfeld. It is a moving and gorgeous piece that will stop you in your tracks.
There is also the first large-scale installation piece that the Museum has acquired. It's a donation of a work by Guillaume Bijl, a Belgian artist who arranges found objects in tableaux, which he calls composition trouvée, or found composition. Bowdoin's work, from 1990, offers a panorama of history and thought of that era. The iron curtain had just collapsed and people were trying to make sense of this unexpected turn of events. The work includes a mannequin with the cap of a Soviet soldier or police officer and a school map that illustrates long-gone cultures of the Middle East—a clear sign that the empires of the present had now landed on the ash heap of history. Bijl uses a different visual language than most other works in Bowdoin's collection, coming out of the Duchamp tradition and the history of the "readymade" in twentieth-century art. I am thrilled that we are now able to integrate this trajectory of avant-garde art into our narrative of art history. As we installed the work in the gallery, many visitors gasped. A good sign!
A third unusual work in the same gallery is a reflection on Japanese nationalism: The carpet by a Japanese maker that is based on the chrysanthemum flower (Loves Me, Loves Me Not by Yanagi Yukinori), the emblem of imperial power in Japan. That work articulates thoughtfully and beautifully the problems around Japanese imperialism of the twentieth century.
As you will see, we are engaging with a wide range of themes and problems and observations with objects that people have never seen before. The show aims to make transparent why works of art matter on a liberal arts campus. I believe everyone will find something to learn and enjoy.
Joachim Homann
Curator, Bowdoin College Museum of Art