Published June 24, 2019 by Bowdoin College Museum of Art
Joachim Homann: Curator, Scholar, Friend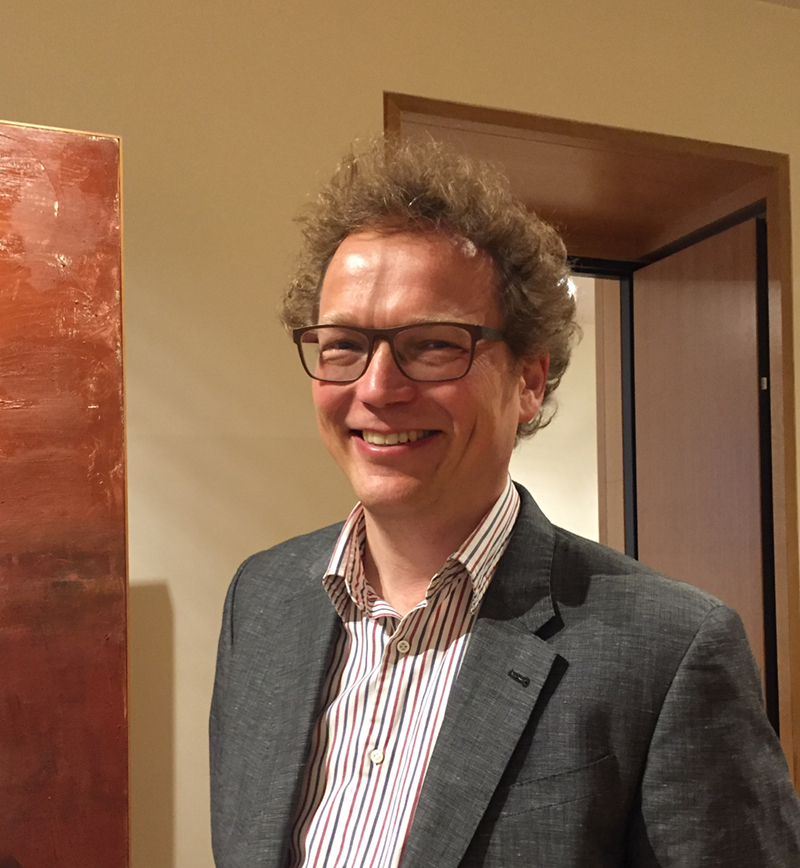 Since the opening of the Walker Art Building in 1894, the Bowdoin College Museum of Art has been guided by a stipulation from founders Harriet and Sophia Walker that the building be used "solely for art purposes." In keeping with that tradition set 125 years ago, the Museum will open its 2019 summer exhibition, Art Purposes: Object Lessons for the Liberal Arts, on Saturday, June 29. Curated by Joachim Homann, this exhibition is especially meaningful. Earlier this month, it was announced that Homann will leave his role as Curator at the Museum of Art at the end of the summer for the Harvard Art Museums as the Maida and George Abrams Curator of Drawings. Though it is hard to say goodbye, the Museum hopes that this new chapter will provide an opportunity to strengthen the already enduring connections between the BCMA and Harvard.
Homann sat down with Caroline Brown, Assistant to the Directors/Membership & Programs Coordinator, to discuss the exhibition and his nine years at Bowdoin.
Caroline Brown: Tell us a little bit about Art Purposes.
Joachim Homann: The exhibition is going to present a new profile of our contemporary art collections. The downstairs galleries are going to be structured according to five "Art Purposes:" Making, Exhibiting, Collecting, Observing, and Representing. It includes groups of work – many of which have recently been acquired – that are on exhibit for the first time. It's going to be thrilling to create a more inclusive and more complicated, but also more exciting narrative of recent art with this exhibition.
CB: How did you conceive of this exhibition?
JH: The Museum has been active for a long time in mining the collection for the benefit of academic inquiry across campus and for fostering conversations that have been well received by the wider public. We have been able to bring together impressive gifts and purchases that the Museum has made. My idea was to make visible to the public through the exhibition, and catalogue that accompanies it, the roles and purposes that works of art take on in conversation with the liberal arts on the Bowdoin campus.
CB: Once you had the idea, how did you make the exhibition possible?
JH: I have tried to find allies in this task, ranging, of course, from Anne and Frank and members of the curatorial team, to faculty members on campus. I've worked with students and student interns. I've made connections with people among our alumni who are interested in the arts and also to experts in the field. I have engaged a huge variety of people who know and care about our collection and have tried to understand what objects might generate the most interesting questions in conversation with these stakeholders. The selections we are presenting and the commentary we are offering alongside the works is the result of this community-building experience.
CB: What do you hope visitors to the Museum will come away with after seeing the exhibition this summer?
JH: It's important to realize that the exhibitions in the downstairs galleries are the capstone installation for a much larger project that includes the re-installation of many of the upstairs galleries. We are offering connections between historic and contemporary art. My hope is that our visitors will experience the downstairs galleries as a gateway – as a provocation – through which to interpret the historic art in the upstairs galleries.
CB: Turning to your time at Bowdoin, what brought you to Brunswick originally?
JH: It's interesting that I received my curatorial training as a fellow at the Harvard Art Museums. The Harvard Art Museums and the Bowdoin College Museum of Art have extremely close connections historically speaking, but also through personalities that made a difference in the lives of both institutions. There are many ties that bind these worlds together.
When I first arrived at Harvard, coming from Germany, I didn't even know what a liberal arts college was. My English wasn't very good and I had no idea what to expect in this country. It took me years to even go to Maine for the first time. But while at Harvard, I met Bowdoin alumni and many other people who were so fond of Bowdoin and impressed by and personally invested in the BCMA, that I filed that away in my mind that this was a very special place. Then while at Colgate University as a curator, I learned about the renovation of the Walker Art Building, the Museum's ambitions, and the generous support for this place. Bowdoin offers an opportunity to do really significant work. That's why I applied and I've had many really wonderful opportunities to learn about this community and contribute by researching the collection and doing exhibitions and publications here.
CB: What have been the most special moments for you during your time at Bowdoin?
JH: I'm so grateful for the opportunity to try my hand at organizing loan shows like Maurice Prendergast: By the Sea (2013) and Night Vision: Nocturnes in American Art, 1860-1960 (2015). These projects allowed me to make a case for aspects of modern art history that I feel strongly about and offer new interpretations of this material. I'm equally thrilled that we have developed this format of the summer exhibition to acknowledge the quality and ambition of our permanent collection. Moving through the reinterpretation of the drawing collection with the Why Draw? 500 Years of Drawing and Watercolors at Bowdoin College (2017) and now trying to create a concise overview of the current collection in Art Purposes has been a wonderful trajectory for me. There's so much more one can say, but I feel that these four big projects and the many collaborations I was able to embark on were extremely gratifying.
CB: What do you hope will be your legacy here at Bowdoin as you begin your next chapter?
JH: I feel, as a European in America, that the ambition of this collection should be to reflect not only local, not only national, but really global perspectives, to offer, in this small footprint, a kind of "seed bank –" seeds of creativity for people who want to broaden their own perspectives. That's something that I treasure and I think that, because of the long history of collecting and the incredible open mindedness of alumni and the foresight of the donors, Bowdoin has a wonderful opportunity to engage students, faculty, and the public with the big picture. This growth process of widening your horizon and your interests, I think that that's the part I loved about my work here the most. I'm sure that that's going to continue and that there will be many other opportunities for others to take advantage of that as well.
I think this is coming back to some ideas we are articulating with Art Purposes, too, that this is not about exhibiting products of art making, but it's about providing vocabulary and ideas that people can use in an active way and that challenge everyone to get involved. That's a wonderful aspect of this collection. Finally, I want to express my sincere gratitude for the opportunities I have had here and I want to extend an invitation to everybody to stay in touch. By taking on this new position, I hope to strengthen the ties between Bowdoin and Harvard even more.
Caroline Brown
Assistant to the Directors/Membership & Programs Coordinator