Published April 29, 2019 by Bowdoin College Museum of Art
A Conversation with Photographer Robert Freson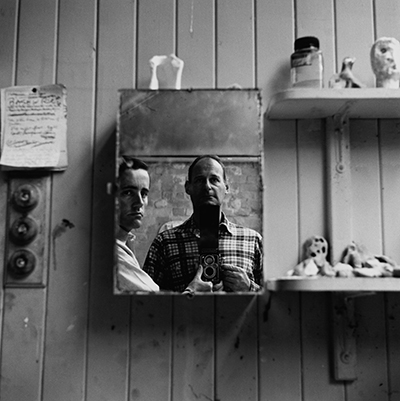 Now on view through June 2, Photographic Lives: Robert Freson, Irving Penn, and the Portrait explores the relationship between two important photographers and their shared interest in portraiture. Beginning in 1949, Freson worked as Penn's assistant in New York City before embarking on his own independent career as a photographer. Ellery Harkness, Class of 2021, curated the current exhibition. Last November she interviewed Freson at his home in Harpswell, Maine. The following includes excerpts from that conversation:
Ellery Harkness: When you are on a commercial or editorial assignment, what kinds of things are you thinking about?
Robert Freson: When you walk the street, you discover things. Initially you don't know what you're going to discover, but then you see a situation that strikes you as important. It's then that you begin to make photographs. Sometimes you take a hundred photograph in search of one that will be published. But you do not preconceive. You don't go out looking to photograph an old lady sitting on a box eating an apple. No, you have to discover things. That's what journalism is all about. You discover as you go. You do not prepare them except you know where to go to find something that will be photogenic. It's often a surprise. The beautiful thing about our work is that you are constantly surprised with things that you did not expect to find and then you discover miracles. It's partly pure luck and always about keeping your eyes open and seeing.
EH: What is your philosophy when it comes to taking portraits?
RF: To try to get at the real person, rather than the facade that the person has proposed. Often individuals have an image of themselves which they know from experience. When they come in front of a camera, they'll turn their head to the side which they know is the best side of their face. You are aware of that very quickly as an experienced photographer. You know the tricks that people do, but sometimes when you ask for them to be themselves, they fall apart. If you said to an actor like Richard Burton, "be Caesar," he would assume a certain attitude. But if you say I want to photograph Richard Burton, you're going to get a different composition altogether. I did that with Dali. He was always performing. It was difficult to catch him at ease being himself. You had to be patient and try to surprise him when he was working.
EH: How did you think about lighting and composition when you were taking a photograph beyond the studio?
RF: I shoot very tightly. I don't leave extra space, except when I know that a photograph might be used as a cover, and you know that there needs to be room for a title. Most often you don't know how the image is going to be used. Sometimes you shoot four thousand images in order to secure ten or fifteen that might be published. Of course, you cannot foresee which one is going to be used.
EH: What do you enjoy about being a photographer?
RF: The greatest joy is the fact that you never know where you're going to be the next day. The surprise. The constant surprise. The constant challenge. It's often hard work and sometimes it's painful because you have to do something that you do not like to do, but you do it because you have a commitment.
EH: Do you typically do most of your thinking on the day of a shoot?
RF: Well, I have a general direction ahead of time. You know where you have to go, but then I like to be surprised. I like to react to a place where you've never been. Your first impression is always very important, so I try to be aware of that.
EH: What do you look for in a good photograph? And particularly a good portrait?
RF: If I leaf through a book or a magazine, the image that startles me is the one that stops me. It has to be a surprise. It could be a bad surprise or a good surprise. If not, you just flip the page.