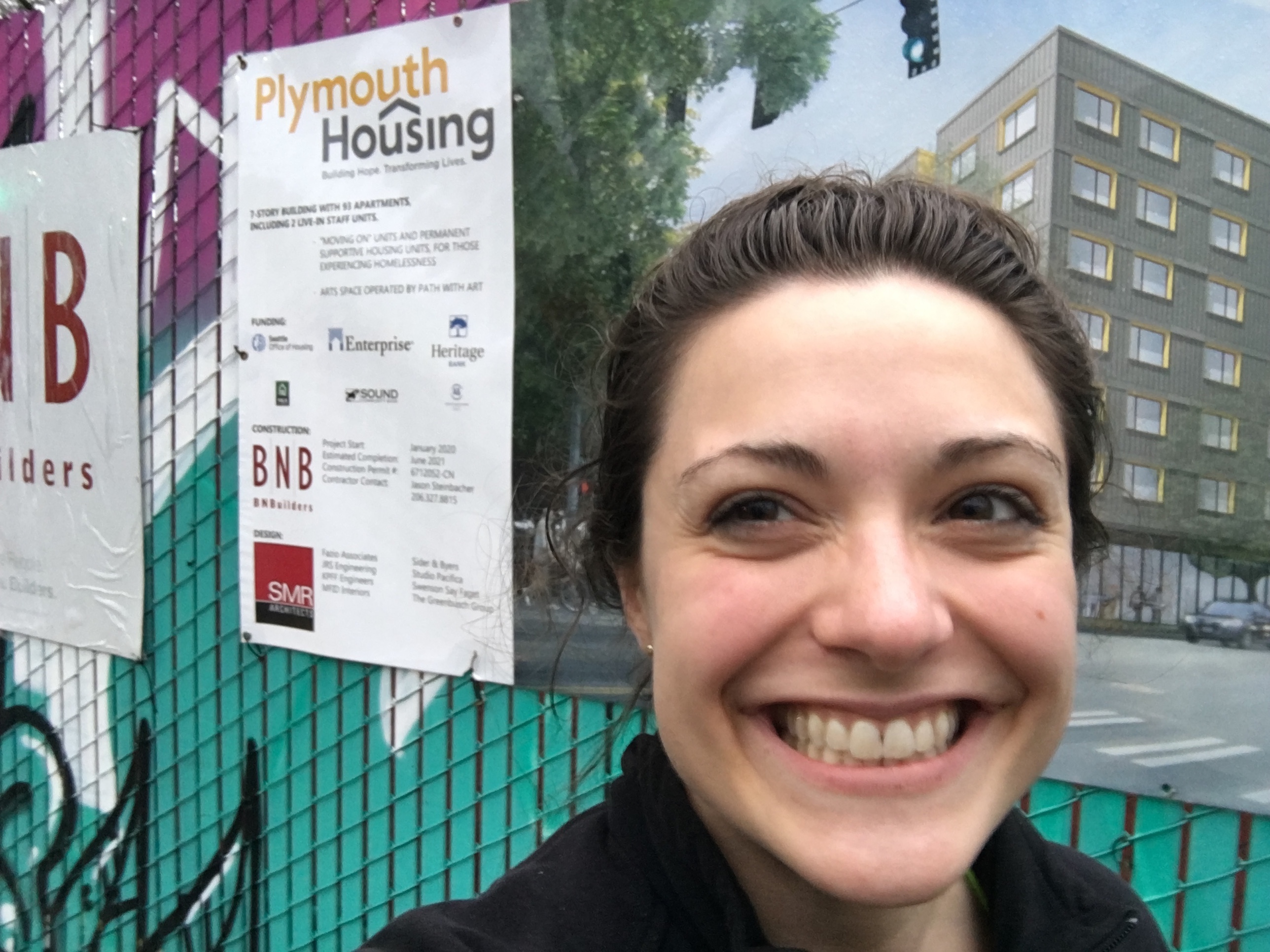 What I do: I am a Real Estate Development Associate at Plymouth Housing in Seattle, WA. Plymouth owns and operates Permanent Supportive Housing for adults experiencing chronic homelessness – folks who have been living on the street for a long time and frequently have severe mental and physical disabilities. My six-person team is responsible for building new buildings for Plymouth. We manage the entire process from finding and acquiring land, to assembling financing from public and private sources, all the way through construction. On a day-to-day basis, I can be doing anything from managing our $30 million construction budget to meeting construction crews on site. The most exciting part is that I always have a hard hat in my car!
My path to my job:  My path has made a lot of turns, but all my choices have been tied to an interest on "home" and "place." When I started Bowdoin, I thought I wanted to be a residential architect. I majored in Art History and took architectural history classes because I thought it would be a useful background. I rapidly realized that I didn't want to design buildings, but I was passionate about the study of existing building and art and what they say about the people who interact with them. My interest in old buildings in particular led to urban history classes, which led to an interest in urban historic preservation. So, after Bowdoin, I went straight to grad school at the University of Pennsylvania for a dual professional degree program in City Planning and Historic Preservation. There, as I learned more about present-day social justice issues, my interests shifted again to affordable housing finance and policy. Affordable housing ended up being my professional passion, and when I graduated, I looked for positions at nonprofits that build affordable housing. Now, I build homes every day for folks who need them the most. 
How did Bowdoin help me?  I'm a very big believer in the liberal arts, and I think Bowdoin helped me most not by giving me particular hard skills but by developing my mind. At Bowdoin, I learned critical thinking, ethics, and how to come to a position and defend it. I learned how to express myself and the ideas I care about passionately and eloquently. These are skills that I use not only in my work, but in everyday life, and in our difficult and complex world, I am thankful every day that I developed these skills at Bowdoin. Bowdoin helped me the most by developing my critical thinking and ability to craft an argument, skills I use every day.
Advice I would give: I would tell Bowdoin students to enjoy their time and take advantage of Bowdoin as an opportunity to explore. Don't worry too much about building hard skills for a particular job; so many hard skills really can't be taught in an academic setting. But excitement about a field or idea and the ability to express yourself are always valuable. Also, focus on building relationships. I have moved all over the country in the years since Bowdoin, often to places where I didn't know anyone. My strong relationships with my friends from college gave me the solid base I needed to take those risks.
​What interested me in Urban Planning: My dirty secret is that I was terrified of cities as a child. But, when I started learning about how American cities had developed and the forces that shaped them over time, I started to like them because I understood them. I love that urban studies gives you a window into the patterns that shape everyday life in a city but are unnoticed by many urban people, from the rules that shape the density of housing to how bus routes are designed. Urban fabric is also such an incredible artifact of human lives and relationships, the physical evidence of how we work, shop, eat, and live. I like that urban studies gives the opportunity to understand and honor those physical manifestations and support people and communities by protecting and investing in their environment. Finally, our cities contain so many physical manifestations and perpetuations of injustice against non-white Americans. Working with and changing that urban fabric is an essential tool for breaking the cycle of injustice in America.