Associate Professor of Art History and Asian Studies; Chair of the Art History Division of the Department of Art
Peggy Wang [pronounced "Wong"] teaches the span of Asian art history, from the pre-modern to the contemporary era. Her research explores how meanings and histories are constructed in light of cultural globalization. She is the author of The Future History of Contemporary Chinese Art (University of Minnesota Press, 2021). In its focus on methods of interpretation and narratives of agency, this book speaks to Professor Wang's inquiries into what it means for histories of contemporary art—and Art History more generally—to be inclusive.
For more on how this informs her teaching, see her 2019 Honors Day address. See here for the text of the address "Beyond Appreciation: From the Visual to the Visible."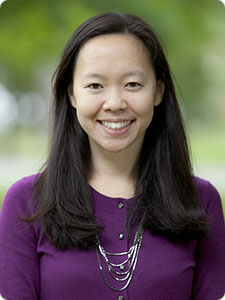 Education
PhD, Art History, University of Chicago, 2010
MA, Art History, University of Chicago
BA, Art History and Chinese Studies, Wellesley College