Academic Awards, Karofsky Teaching Prize, Awarded on 2019 Honors Day
Published by Tom Porter
Bowdoin College held its twenty-third annual Honors Day ceremony May 8, 2019, in Kanbar Auditorium, Studzinski Recital Hall, to recognize the academic accomplishments of Bowdoin students. In addition, the winner of the 2019 Karofsky Prize was announced. 
The Karofsky Prize is awarded annually at Bowdoin to an outstanding junior faculty member who demonstrates a great ability to impart knowledge, inspire enthusiasm, and stimulate intellectual curiosity.
Each year, the previous recipient of the Sydney B. Karofsky Prize gives a talk at Honors Day. This year, 2018 winner Assistant Professor of Art History and Asian Studies Peggy Wang delivered an address titled "Beyond Appreciation: From the Visual, to the Visible."
In 2012 Wang joined the faculty at Bowdoin, where her research centers on how meanings and histories of art have been constructed in light of cultural globalization. She earned her MA and PhD in art history from the University of Chicago. Wang is currently completing a book on artists' strategies of sociopolitical intervention in contemporary Chinese art from the 1990s onward. She teaches courses on pre-modern, modern, and contemporary Asian art history.
In her address, Wang reflected on the "Offer of the College," written in 1906 by Bowdoin President William DeWitt Hyde. Wang paid particular attention to the first line "To Be At Home in all Lands and in All Ages" and what it means for her particular subject of art history. "It is about more than just accumulating knowledge of other places and cultures," she said. "And art history is more than just training people to be more 'cultured.' 
"This requires a shift: from an attitude of cultural appreciation through art or even art appreciation through culture. And instead, turning this back on ourselves and reassessing our own assumptions and beliefs about the world, how it is ordered, and even the values that we assume to be true," Wang continued.
Part of the job of an art historian, she explained, is to step back and ask "Why, historically, have only certain images and objects been made visible? Who determines this? Who decides what qualifies as 'art' and thus gets written into and out of history? And what are the implications of these dynamics of visibility?"
Wang said she has "come to see that in order to equip students to 'be at home in all lands and all ages,' is not only to give them the tools to engage the visual, but also to foster the tools for critically questioning who and what is made visible to them."
She concluded her speech by paying tribute to the Class of 2019 and offering the following advice: "I hope you hold dear this experience in the power of visibility as you navigate 'the world' ahead: as you continually think about how you position yourself, reflect on how you see yourself, and see those around you."   
Following Wang's address, Dean for Academic Affairs Elizabeth McCormack presented this year's Karofsky Prize to Assistant Professor of Romance Languages and Literatures Meryem Belkaïd. The prize was presented In Absentia because Belkaïd is currently on sabbatical. Her research focuses on twentieth- and twenty-first-century French and Francophone literature. Belkaïd's teaching interests include French language, culture, and society, as well as the literature, history, and culture of North Africa.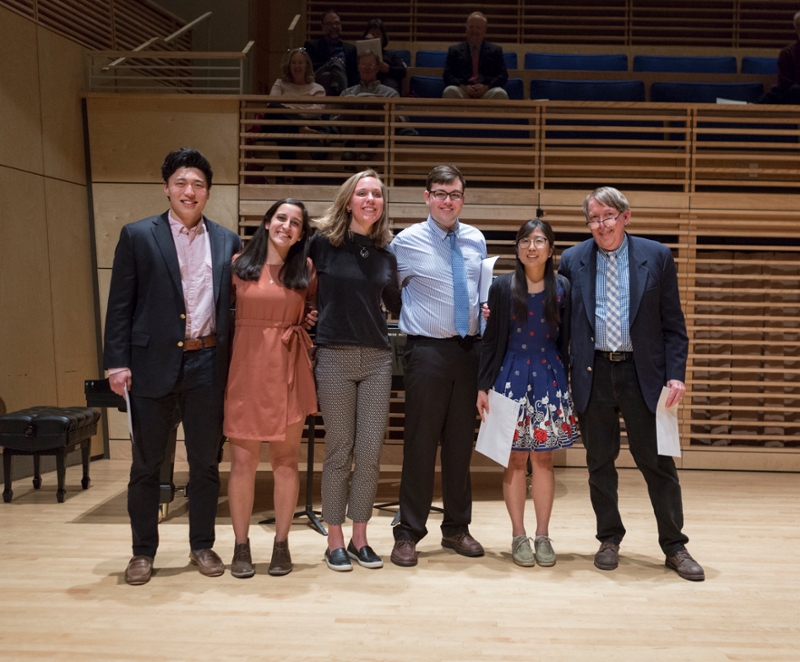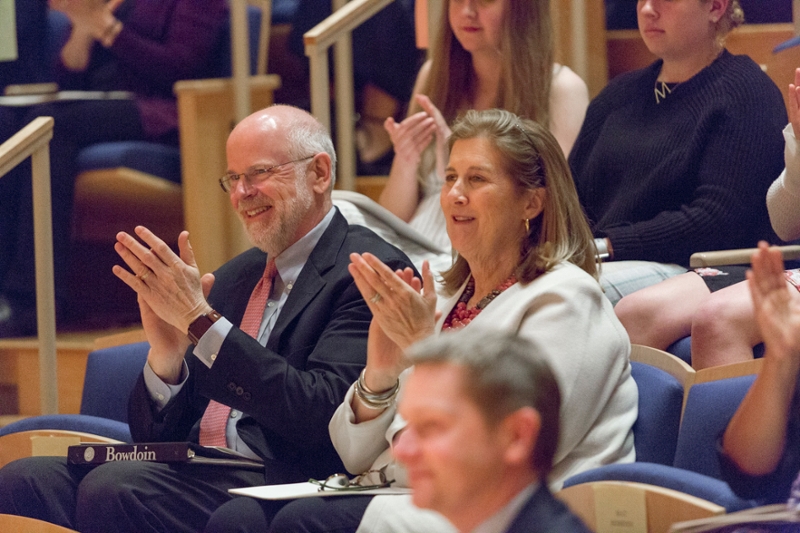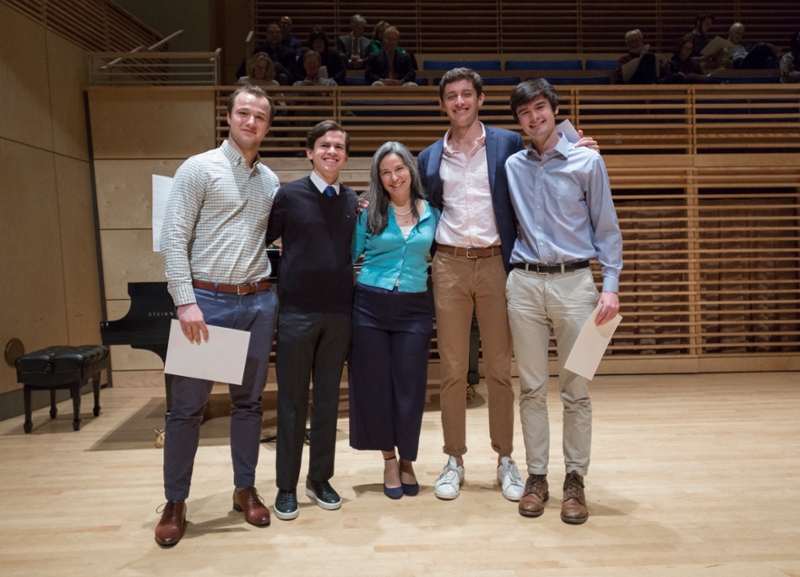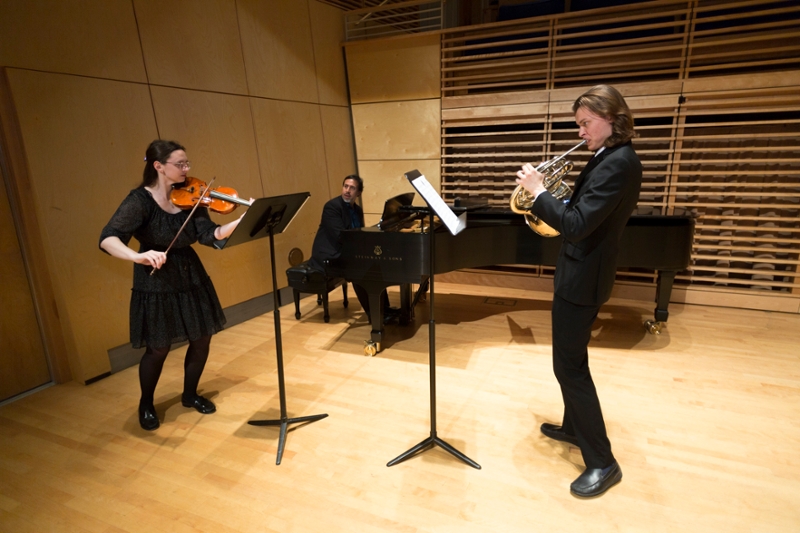 The evening's musical interlude was the second movement of Trio for Violin, Horn, and Piano, op.40 by Johannes Brahms (1833-1897). It was performed by Amanda Rose Cassano '22 on violin and Ethan David Hill '21 on French horn, who were joined by Beckwith Artist in Residence George Lopez on piano.
Departmental prizes were then presented to students by academic department and program chairs, after which President Clayton Rose offered a few closing remarks. He thanked Professor Wang for a remarkable talk, which he said "demonstrated… how art history is a perfect field of study for, to borrow another line from the Offer of the College, 'leaders from all walks of life.'"
Rose also paid tributes to the accomplishments of all the students being honored. "The power of the liberal arts is on display here as well tonight as it will ever be, and has ever been, at Bowdoin College," he said.
To close the ceremony, President Rose invited Evelyn Beliveau '19  and Emily Ha '21 to the stage to lead the audience in the singing of the alma mater, "Raise Songs to Bowdoin."