Published March 01, 2021 by Bowdoin News
Claudia Marroquin Named Senior Vice President and Dean of Admissions and Financial Aid at Bowdoin College
Claudia Marroquin of Portland, Maine, has been named senior vice president and dean of admissions and financial aid at Bowdoin College, effective July 1, 2021.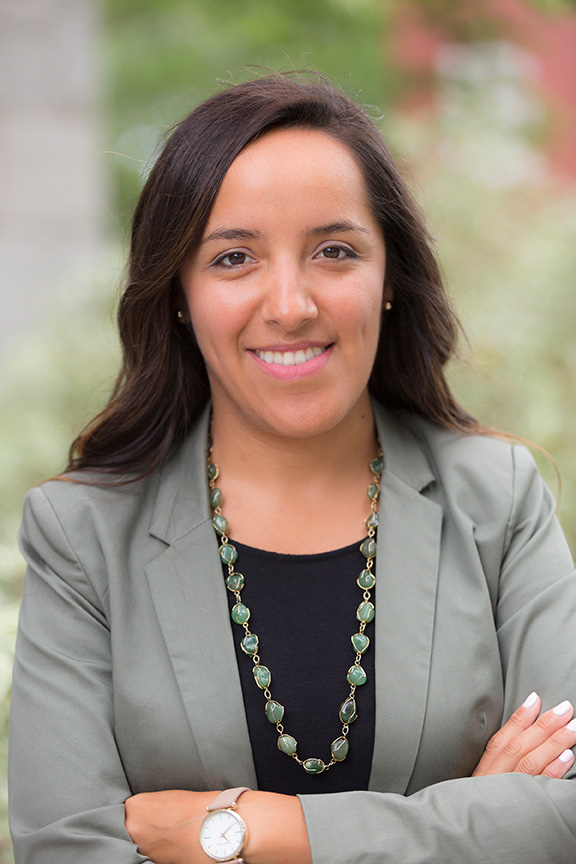 A 2006 graduate of Bowdoin and a first-generation college student, Marroquin currently serves as director of admissions at the College. In her new role she will oversee Bowdoin's highly selective admissions program and a financial aid program that this year is distributing more than $43.6 million in need-based aid to more than half of the student body. She will succeed Whitney Soule, who was recently named vice provost and dean of admissions at the University of Pennsylvania.
Marroquin's appointment was announced by Bowdoin President Clayton S. Rose.
"Claudia brings to this critical leadership role deep experience and great skill in the work, remarkable creativity, and an unwavering commitment to bring to Bowdoin the most amazing students." said Rose. "And she knows the College. She knows just how special a Bowdoin education is, and how it changes lives. She has lived it. Bowdoin could not be more fortunate to have Claudia leading admissions and student aid, and helping to guide the College for many years into the future."
As senior vice president and dean of admissions and financial aid, Marroquin will join Bowdoin's senior leadership team, reporting directly to the president of the College, and will lead one of the nation's most successful undergraduate admissions and financial aid programs. Last year, Bowdoin received 9,325 applications for approximately 500 spots in the first-year class. These applicants came from all fifty states, the District of Columbia, and four US territories, sixty-three foreign countries, and 4,845 high schools. Bowdoin is also one of only nineteen colleges or universities in the country that provide need-based financial aid, meet full demonstrated need for all four years, and do not require loans in student aid packages. This year, half of Bowdoin students are receiving need-based aid from the College, with an average grant—money that does not have to be repaid—of nearly $48,000.
In her work at Bowdoin, Marroquin has overseen the expansion of multicultural recruitment efforts, increased the College's partnerships with community-based organizations across the US, and served on various working groups at Bowdoin to help support students. As a strong advocate for access, affordability, equity, and inclusion in admissions and across the College, she collaborated on efforts to ensure all students can thrive. She has worked directly with high school students through the College Horizons summer programs and through Bowdoin's long partnership with QuestBridge.
"I am incredibly humbled to continue working for Bowdoin in this new capacity and for the trust the College has placed in me," said Marroquin.
"As a high school senior, I could not have anticipated how much Bowdoin would come to mean in my life. The education I have received as both a student and professional have been impactful beyond words and have led to this point. I am thrilled to continue helping to shape the Bowdoin of tomorrow and to be working with my talented and committed colleagues in admissions and student aid and our partners across campus."
Marroquin is originally from the Koreatown neighborhood in central Los Angeles, California, where she lived after immigrating to the United States from Guatemala with her mother and two sisters. She discovered Bowdoin through her association with the One Voice College Scholars Program, an organization that prepares and supports low-income students from Los Angeles who are seeking a college education. An art history major with a minor concentration in government and legal studies, Marroquin joined the Bowdoin admissions staff in 2010 as assistant dean following four years with EF Educational Tours in Boston. In 2012, she was named associate dean of admissions and director of multicultural recruitment, responsibilities she retained when she was named director of admissions in 2016. She completed the Harvard Institute's Management Development Program and is currently working toward a master's degree in higher education at the Harvard University Graduate School of Education.
Marroquin is a member of Northeast Counselors of Color Bridging Access to College, where she has served as chair of the finance committee; Coalition for College; the National Association of College Admissions Counseling; the International Association of College Admissions Counseling; and the Council of International Schools. She is a past member of the Institute for Civic Leadership and a past board member at Hardy Girls, Healthy Women, both in Portland, Maine.