Volunteer
Polar Bears spend four years as students and the rest of their lives as alumni. The College offers countless opportunities for lifelong involvement—with your classmates, friends, and alma mater.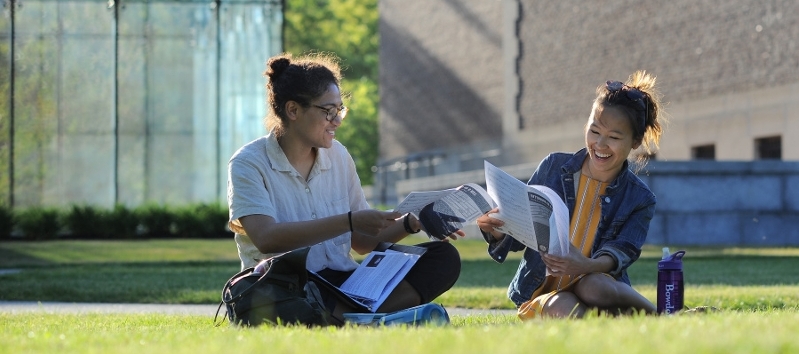 Volunteer Opportunities Include
Bowdoin Regional Admissions Volunteer Organization (BRAVO) supports and expands the outreach of the admissions office through the use of active and informed alumni volunteers in the recruitment of qualified students for Bowdoin. Members of BRAVO serve as representatives of the College to students, parents, and guidance counselors in their local communities. .
Dedicated alumni with cross-generational perspective serving a four-year term to help support other Fund volunteers comprise this committee. Each of the Fund Directors has served, or continues to serve, as a Class Agent and is selected by the director of annual giving.
Bowdoin's Parents Executive Committee (PEC) is made up of parents of current students and parents of graduates who volunteer to support the Parents Fund and the College community. Students from around the globe come to Bowdoin and form a diverse, vibrant, and strong community—so do our parents.
Switchboard is a place to interact with other Polar Bears across the globe. You can make an ask for what you need and offer what you have. Seeking a mentor or career advice? Interested in offering information or contacts for jobs? Seeking a roommate or a place to live? This is the place to make it happen.
The Alumni Council is the primary representative voice of the alumni body, working to encourage and celebrate lifelong engagement with Bowdoin, helping build relationships and loyalty among alumni, and between alumni and the College.
As leaders of their class's effort, Class Agents work closely with Annual Giving staff members to set and meet their respective class dollar and donor goals. Class Agents are vital in encouraging philanthropy and building relationships between alumni and Bowdoin.
Class Reunions are held every five years and are planned and hosted by volunteer Reunion Committees, who assist with shaping Reunion class programming and help the class achieve its goals around Reunion Weekend attendance, class gift totals, and donor participation rate.
Do you like planning social events? Lead or be part of a committee that organizes events for alumni and parents in your area. Activities are planned for each regional network by committees of alumni volunteers working with the Office of Alumni Relations.
Bowdoin alumni comprise the Bowdoin Career Advisory Network (BCAN). They volunteer to share information and insight with other Bowdoin alumni and current students regarding their career path, job-hunting strategies unique to their respective fields, and other useful career-related advice.