Russwurm African American Center
The house was rededicated in 1970 in honor of Bowdoin's first black graduate, John Brown Russwurm, class of 1826.
The building that houses the John Brown Russwurm African American Center was originally built in 1827 for Professor Alpheus Spring Packard, Professor of Ancient Language and Classical Literature who in 1836 sold half to William Smyth, Professor of Mathematics. For the next 35 years the house was known as the Packard-Smyth House. The house has also been known as the Mitchell-Little House (after subsequent owners).

The rumors concerning the house as an Underground Railroad Station in the middle of the 19th century are not documented and cannot be positively proven. However, it is well documented that Professor William Smyth was an avid abolitionist. In an unpublished work, Smyth's son does reminisce on the many fugitives that visited their home in the night and were gone by morning's light.
The house was rededicated in 1970 as the John Brown Russwurm Afro-American Center in honor of Bowdoin's first black graduate, class of 1826. Presently, the Center houses a library of nearly 2,000 volumes and scholarly journals, accommodations for house managers, a large upstairs lounge for meetings, classes and dances, an office for the African American Society, and various other public rooms. There is a comfortable downstairs lounge with a kitchen. The downstairs lounge is often used for receptions for speakers sponsored by either the African American Society or the Africana Studies Program.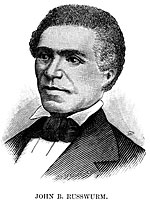 Biographical Note
John Brown Russwurm (1799-1851), Bowdoin's first African-American graduate (Class of 1826), is thought to be the third African-American graduated from an American college. He was born in Port Antonio, Jamaica, the son of a white planter and a black slave. His father John Russwurm, of a wealthy Virginia family, went to Jamaica after completing his education in England. He sent his son, John Brown Russwurm, to Quebec at age eight so that he might receive a good education. Soon after moving to Maine, his father married Susan Blanchard. Russwurm then came to live with his father's family, where he was accepted by his step-mother as one of her own. Russwurm stayed with the family even after his father died, continuing his education at Hebron Academy in Hebron, Maine. His step-mother and her new husband helped him to enroll at Bowdoin in 1824.
After graduation, Russwurm taught at Primus Hall, a school for black children in Boston. In 1827, he became junior editor of The Freedom's Journal, the first newspaper in the United States owned, operated, published and edited by African-Americans. The journal opposed the idea of African-American colonization of Africa until Russwurm became senior editor. He was forced to resign his position (1829) for expressing strong views on colonization that antagonized many. The same year Russwurm emigrated to Liberia where he worked for the American Colonization Society, serving as colonial secretary (1830-34) and as editor of The Liberia Herald. He then joined the Maryland Society, which recognized the importance of black leadership in their colony, and made him governor in 1836, a post he held until his death.
In 1833, Russwurm married Sarah McGill, daughter of Lieutenant-Governor McGill of Monrovia. They had three sons and a daughter.