From Abroad
We hope you will enjoy reading about some of our students' adventures during their recent study abroad experiences in Russia!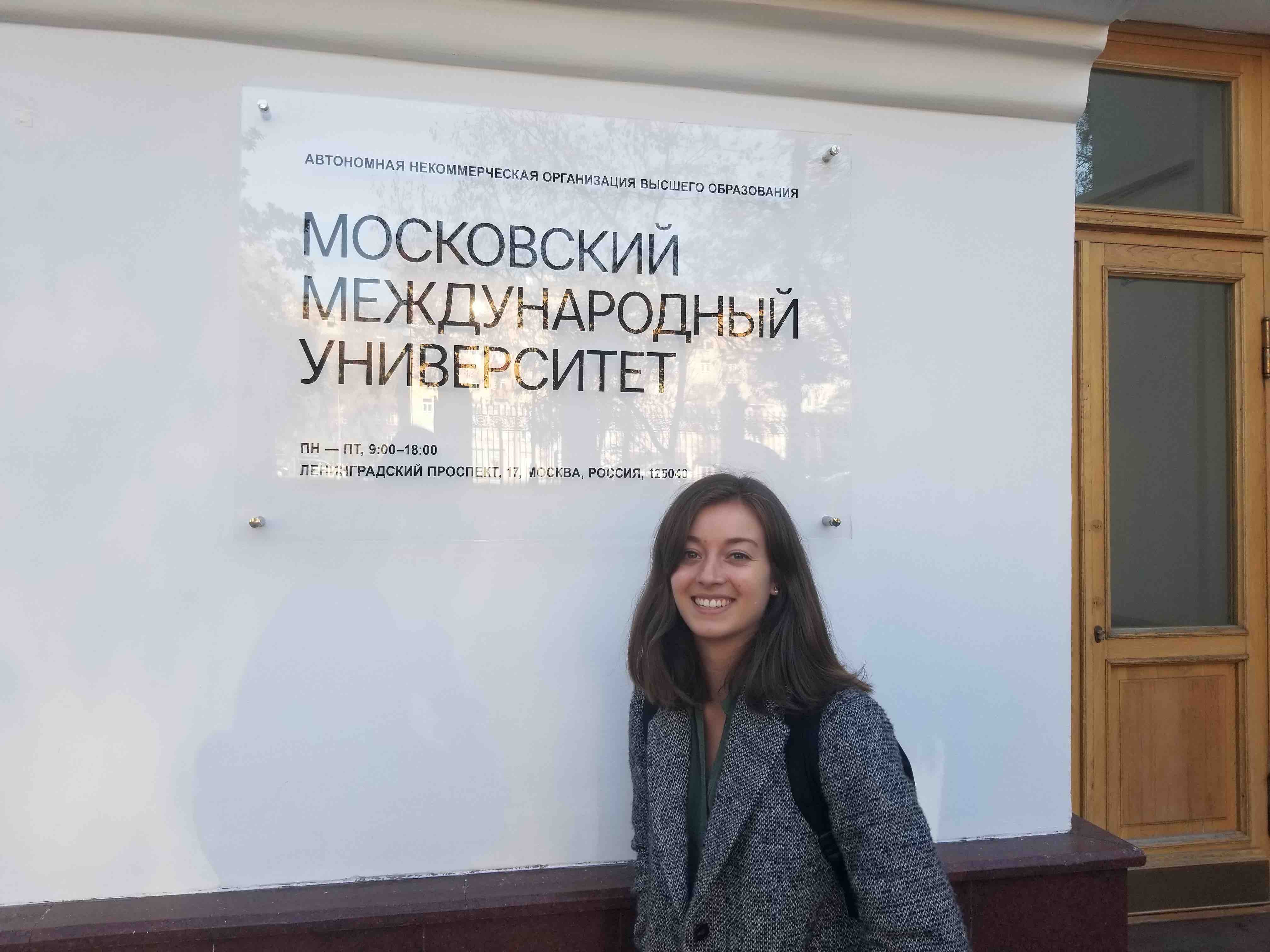 Laura Howells '20 - Fall 2018
In fall 2019 I studied abroad on the ACTR Moscow program. After two semesters studying Russian language at Bowdoin College, I set out for the unseasonably warm Russian capital city. Lacking confidence in simple phrases and grammatical structures, I was unsure, even, of what I knew and didn't know. The night before leaving I was a nervous wreck. I jotted down a few frenetic notes in my journal and tried - and failed - to fall asleep.
The best part of studying in Russia was putting my theoretical or classroom language knowledge into practice with real native speakers. Admittedly, it sounds overstated, but before my semester in Moscow, I had never learned a language and been able to use it in an immersive setting. My language partner, a Russian woman who had already graduated from my host university, turned out to be a good friend. Even now, while I'm studying in Maine, we speak at least once a week on the phone in Russian and catch up on each other's lives. I'm so grateful for the continued language help and friendship.
Looking back at my journal, I can see a clear progression in mindset. At first, I was so overwhelmed with all the changes and language hurdles that I dragged my feet a bit. It was when I started asking questions and being more creative with the language that I knew the tide had turned. I still have a long way to go, but feel as though this semester only increased my desire to improve my Russian language and cultural understanding. Although I could not have definitively said that Russian would be a life-long pursuit before I studied in Moscow, I am now certain that I will spend the rest of my life engaging with Russian language and culture. I am extremely grateful to the Bowdoin Russian Department for the support prior to, during, and after my immersive experience.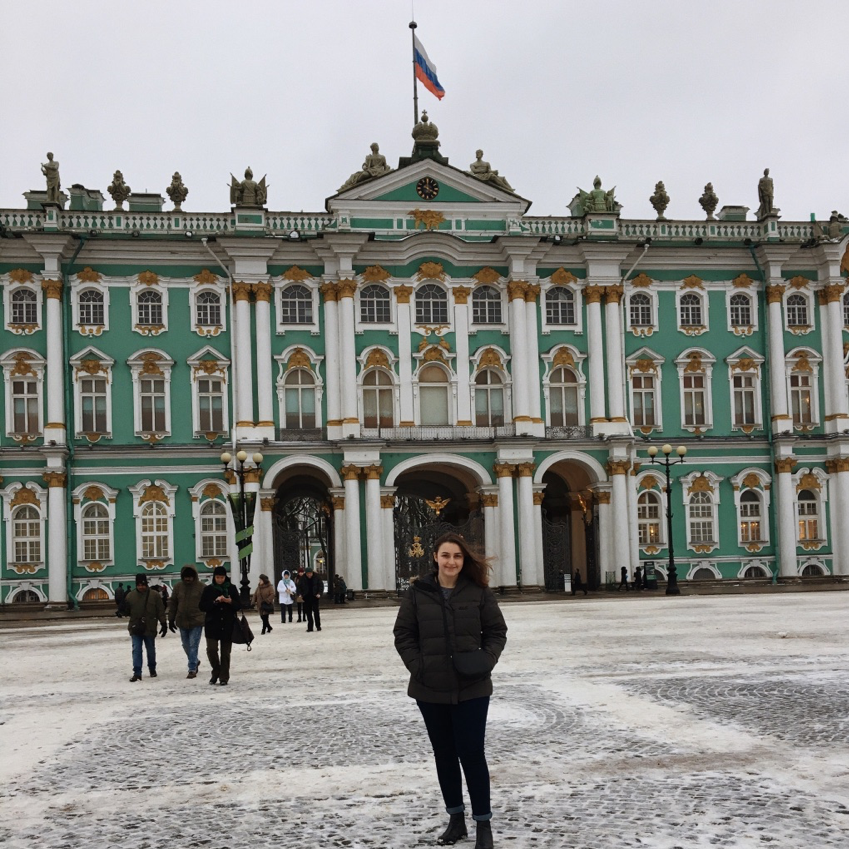 Zoe Shamis '19 - Spring 2018
Hello from St. Petersburg! We have officially made it through our first month and I couldn't be more positive about my experience here so far. The academic aspect has been great, and I can already see a ton of progress in my Russian. It has been amazing living in a city so rich with history and culture – there is so much to do and see here that it's overwhelming sometimes. By far one of the best parts of being here so far has been my host family. I have two host sisters in their twenties who have been amazing about showing me cool places in the city and introducing me to their friends. Just about every day I drink tea and talk with whoever is home, which has been incredible for improving my conversation skills and learning more about life in Russia. Now that we're settled into our routine here, I look forward to exploring more and traveling outside St. Petersburg. I'm excited to share more of my experiences with everyone back at Bowdoin as the semester continues!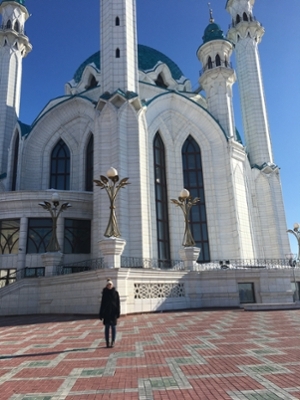 Johna Cook '19 - Spring 2018
Hello to all of the Bowdoin Russian Department – I hope that you are having a wonderful semester! I cannot believe that I have officially been in St. Petersburg for a whole month. Everyone told me the time was going to fly by, and they were certainly correct.
As far as school is concerned, after taking an introductory test we were all split into smaller classes consisting of 3 people around the same language level. I am in the 2nd group – which I was very pleased with, especially considering that I am the person on the program who has been studying for the least amount of time. I definitely owe the department a huge thank you for preparing me so well for this experience. We study on the main campus of РГПУ, which is a gorgeous and historic building in the center of the city. As far as I am aware, we are the only international students that study on the main campus, per some agreement that American Councils made with the university decades ago. The university is directly next to Казанский Собор and Дом Книги, and only a 10 minute walk from Церковь Спаса на Крови and the Русский Музей! Classes are certainly challenging, but I can feel my language improving immensely, particularly when it comes to listening comprehension. I am hoping that my conversational skills will follow suit.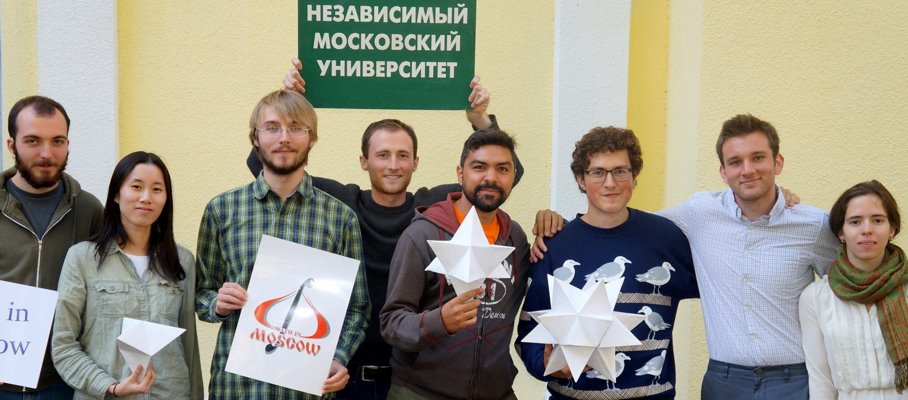 Sam Swain '18 - Fall 2017
Last semester I was in the aptly named Math in Moscow program, a joint program between the Independent University of Moscow (IUM) and the Higher School of Economics (HSE). The IUM is a small university just for math, originally comprised of professors who broke of from Moscow State University. The HSE is a part of the National Research University, and has a number of distinguished faculty including some Fields medallists (like the math Nobel Prize). The program usually takes about a dozen students; this semester there were eight of us. We stayed in dormitories of the HSE, which were tidy and quiet; we shared the dorm with a number of other international students. The HSE seems to have many international students in Master's programs there: I met people from Malaysia, Ghana, China, the Netherlands, Germany, Italy.