Published February 15, 2023 by Jane Godiner '23
Ella Beyreis '25 Finds Her Voice Through French–and Multilingual Mainers
On February 14, the
Language Connects Foundation
(LCF), a national nonprofit that bolsters the work of language learners, featured Ella Beyreis '25 on their news page.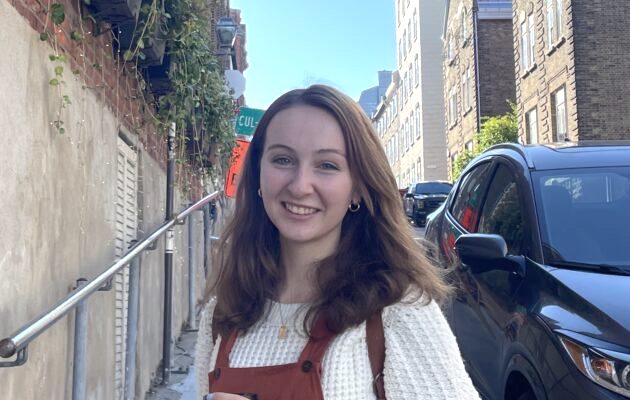 Beyreis, a Romance Languages & Literatures major and a student coordinator for Bowdoin's Multilingual Mainers program, spoke with the LCF about her experience exploring language learning a—and before—her time at Bowdoin.
"My earliest experience with French came from my mom, who read books and sang songs to us in French when I was little. My grandmother studied French all her life, so it was important to my mom that my brother and I do the same," she told LCF in her feature. "Even though I didn't understand most of it—which sometimes made me really mad!—it felt like something special that we did together, and it made me really excited to learn French in school when the time came."
Beyreis continued exploring French through high school. When she wasn't speaking French with her family outside of the classroom, she was reading French classics like Le Petit Prince.
"At the end of [reading Le Petit Prince], we each wrote an extra chapter…. It was the first time I had ever tried to write anything funny in French, and I absolutely loved it," she said. "I look back at it from time to time and cringe a little at my grammar, but it's still fun to see myself just starting to really express myself in my second language."
At Bowdoin, Beyreis has joined forces with Multilingual Mainers, where Bowdoin students partner with early elementary classrooms in Maine. The program supports age-appropriate cross-cultural dialogues and early language learning.
"This semester, I've been a part of the Lunchtime Reading Program where I read books in French to a group of kindergarten students during their lunch," she said. "I've also been working with the English as a Second Language teacher at the school to build a library of Portuguese and French books for these students to take home and read with their parents to keep up fluency in their home language as they learn English."
When it comes to language acquisition, Beyreis doesn't want to stop at just two—up next for her, she said, is Spanish.
"Growing up in the US, we're around Spanish all our lives," she said. "It's been so fun to start to understand such a familiar language when I hear it in songs or catch snippets from people speaking Spanish."
As Beyreis settles into the spring semester, she looks forward to continuing her language-learning journey— both at Bowdoin, and beyond with Multilingual Mainers.
"It's been so rewarding for me to get out of the 'Bowdoin bubble,' as we call it, and to get involved in the town community," she said. "I feel like I'm really making a positive impact on the place I'm living in for four years, not just another student passing through."