Assistant Professor of English
Samia Rahimtoola's research focuses on 20th-/21st-century American literature, particularly where it intersects with critical/queer/decolonial environmentalisms, technology studies, and the study of creativity and innovation. Most recently, her work attends to literary and social practices that offer alternatives to mainstream frameworks of environmental thought, including rugged individualism, discourses of crisis and creative destruction, place-based environmentalisms, and the enframing of nature as resource and service.
Her current book project redefines mid-20th-century poetics of process as a critical engagement with top-down, technocratic methods of managing and manipulating the human and nonhuman environment. She is also at work on a book-length poem titled Revelation Desert Flow, which explores interactions between damaged landscapes and the racialized body.
She teaches the American 20th-century quite broadly, ranging outside the century to teach environmental cultures going all the way back to early America. Her courses open up to contemporary social, political, and environmental challenges, while also attending to the formal intricacies of language on the page.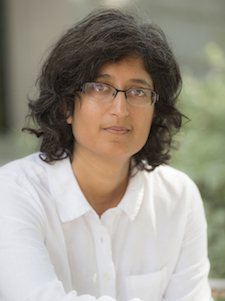 ---
Education
PhD, University of California, Berkeley
BA, Reed College