The Ethics of Using Biology as Technology
Published by Tom Porter
To a dance-beat musical accompaniment, a handful of lab-coated students descended the stairs into the Druckenmiller Hall Atrium, each bearing a snack tray containing what looked like green ice cream for the awaiting audience. "You're probably wondering what is this weird thing you've been given," said Stephanie Rothenberg, a renowned media artist and Bowdoin's inaugural Roux scholar.
"It's carcinus meanas elixir," she explained, a dipping sauce made from the European green crab—the invasive crustacean wreaking havoc on Maine's marine ecosystem, munching its way through countless clams and shellfish.
Turning the critters into a delicious snack could be one way of mitigating their threat in the future, she suggested. "With the help of dining services, we've developed this 'Crustacean Station,' which looks at ways to depopulate the invasive green crab. If you can't beat it, eat it."
Rothenberg and her students were presenting an event called Living Machines for Extreme Landscapes, which explored the implications of biology as technology for future survival. Students from art, English, and environmental studies were involved, as were local scientists and fishermen."Specifically," she explained, "it's about looking at the social, economic, political, and ethical ramifications of engineering animals or microorganisms."
Green crabs were a recurrent theme, as Kenny Lam '20, sporting a distinctively themed lab coat (see photo), copresented a talk on living with green crabs.
A group of English professor Samia Rahimtoola's students gave a literary performance, in which they presented a manifesto on how to survive in extreme landscapes. They were asked by Rothenberg to imagine the Maine environment fifty years from now. "Rather than trying to seek a solution to climate change, the students decided to portray a future in which adaptation had taken over our attitude to the crisis," said Rahimtoola, who teaches a class in environmental literature. "I thought it was a brilliant, creative, and, honestly, quite weird performance," she added.
There were a number of striking student art presentations:
Hadley McCollester '20 presented "Planktopets," a performance art piece with digital media and cardboard cut-out supplements. "It's a light-hearted look at the importance of phytoplankton, the microscopic, carbon-absorbing organisms that live in the ocean," she said. McCollester imagines a future in which phytoplankton are developed into large pets, which can be owned and cared for as a way of mitigating climate change.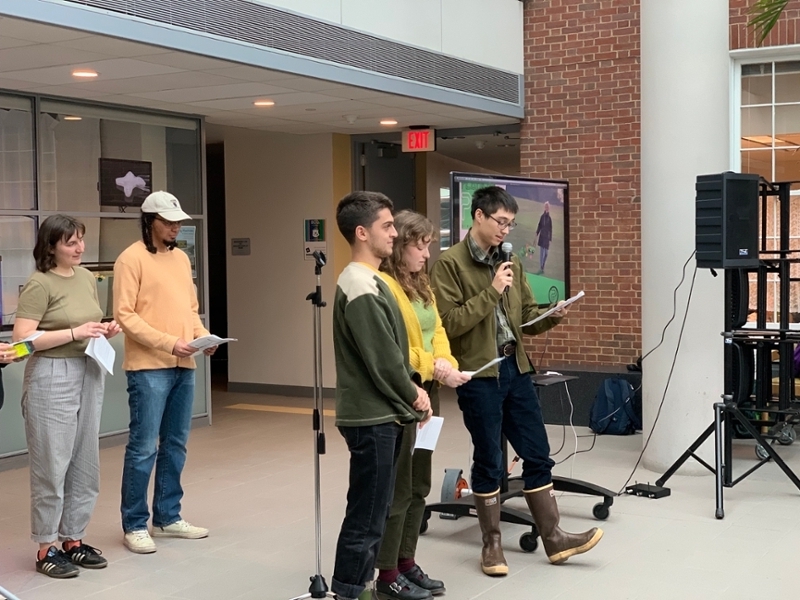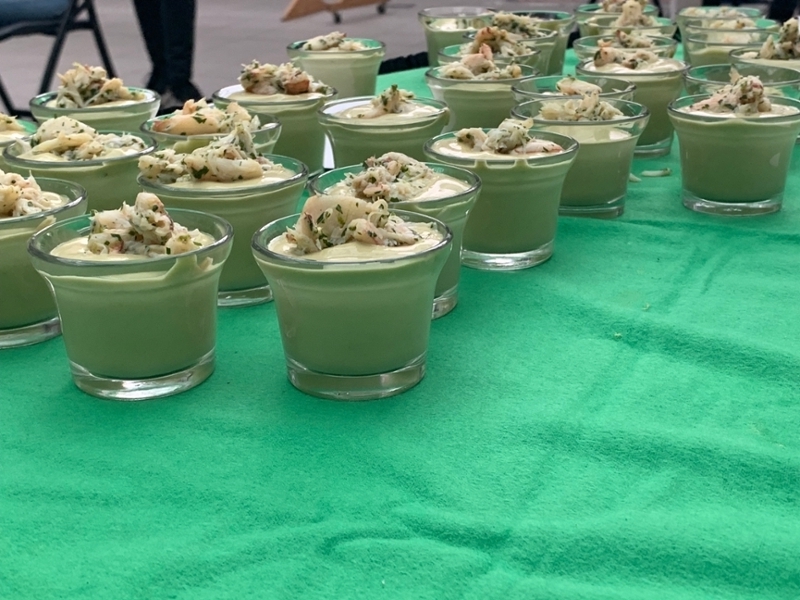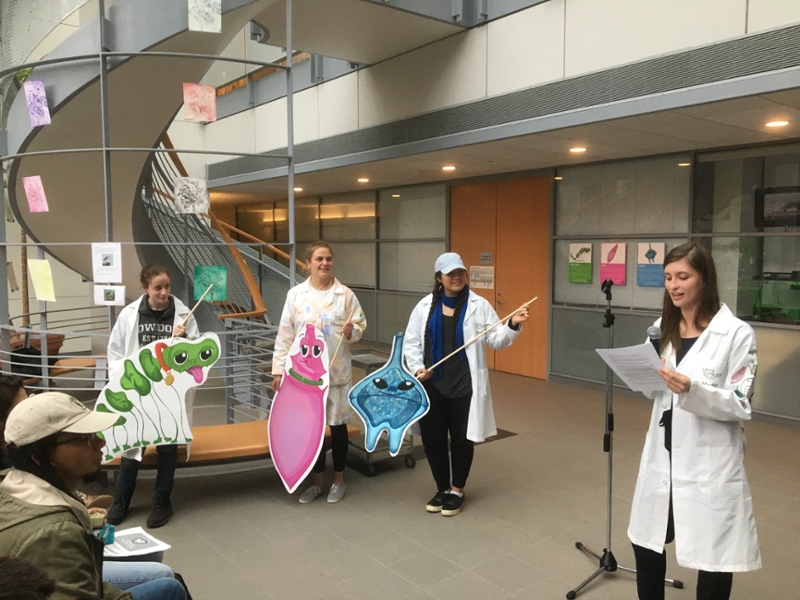 "Bloom" is a series of drawings by Kodie Garza '21 looking at how to combat the problems caused by harmful algal blooms in lakes, rivers, and coastal waters.  "Algae tend to thrive in warmer bodies of water," she said, "so algal bloom growth is becoming increasingly problematic, due to water temperatures rising as the result of global warming."
Her drawings portray a recyclable plant-based system that could be used in small bodies of water to decrease nitrogen levels and limit the presence of algal blooms. They also show what such a system might look like when used in a particular lake and the impact it could have by 2050.
Caroline Godfrey '19 created a sculpture called "Source," which featured water flowing through different vessels—a visualization of melting glaciers and rising sea levels.
Other artworks on display included a participatory sculpture by Devon Garcia '21, featuring empty bottles, a fishing net, and a representation of Portland's working waterfront. People are invited to write and place their own messages inside a bottle about how they envision the waterfront by 2050.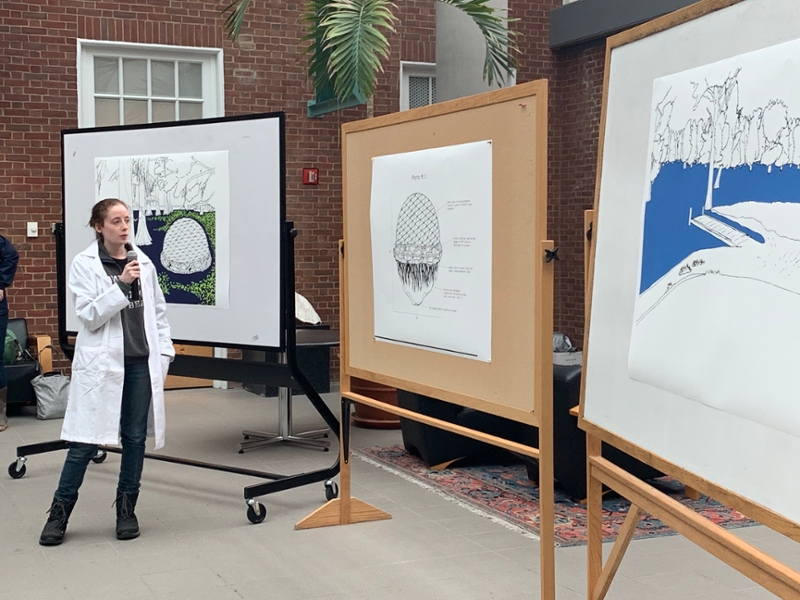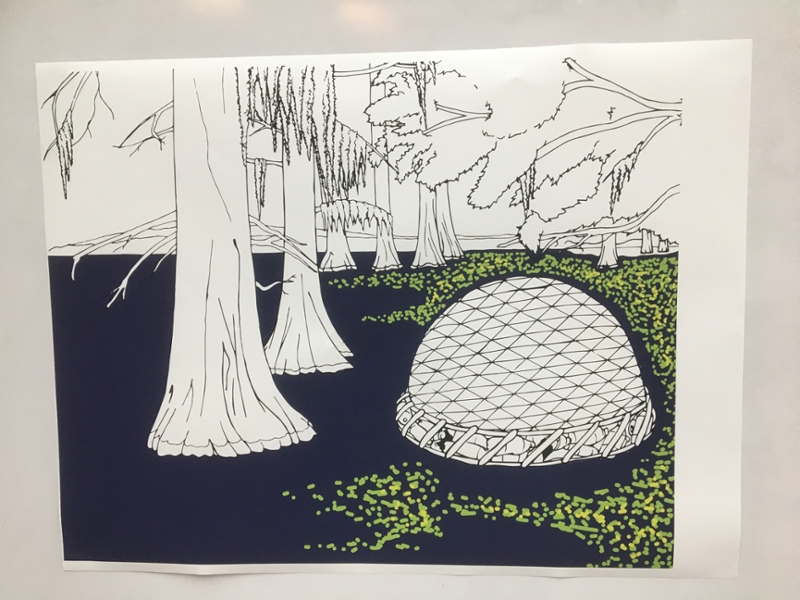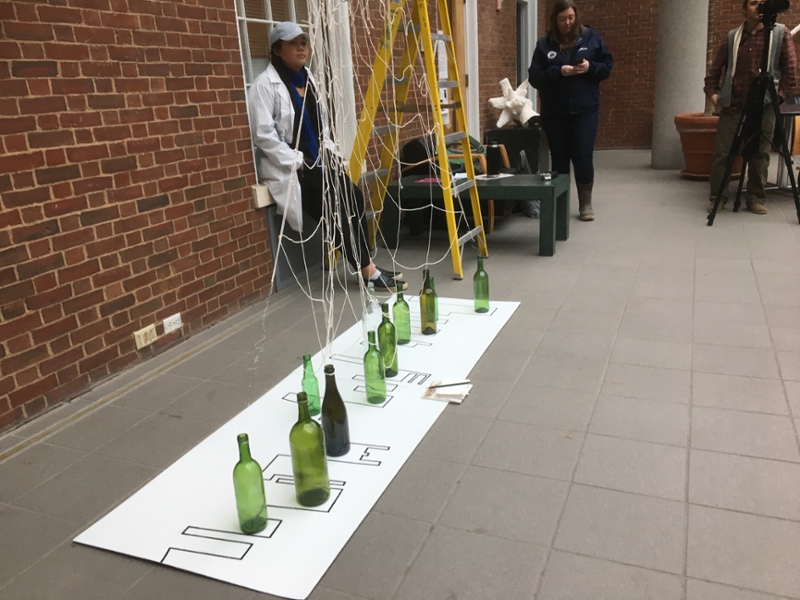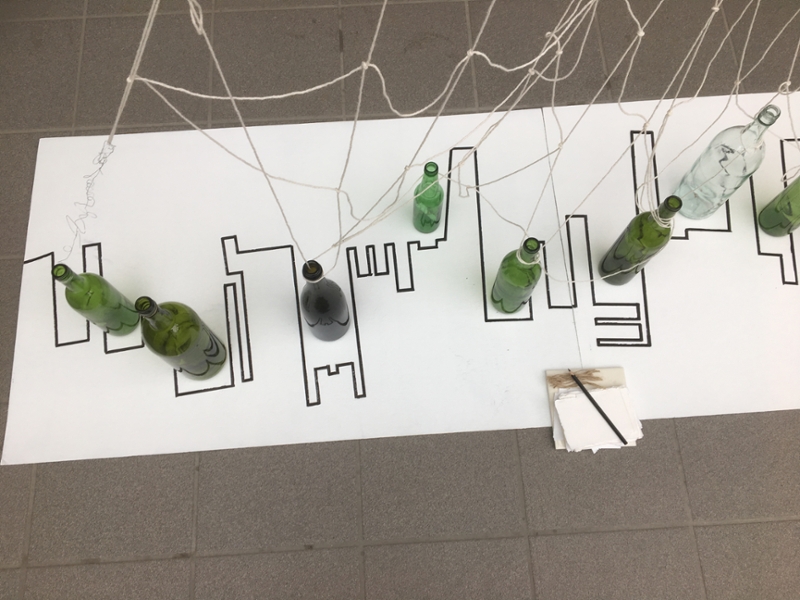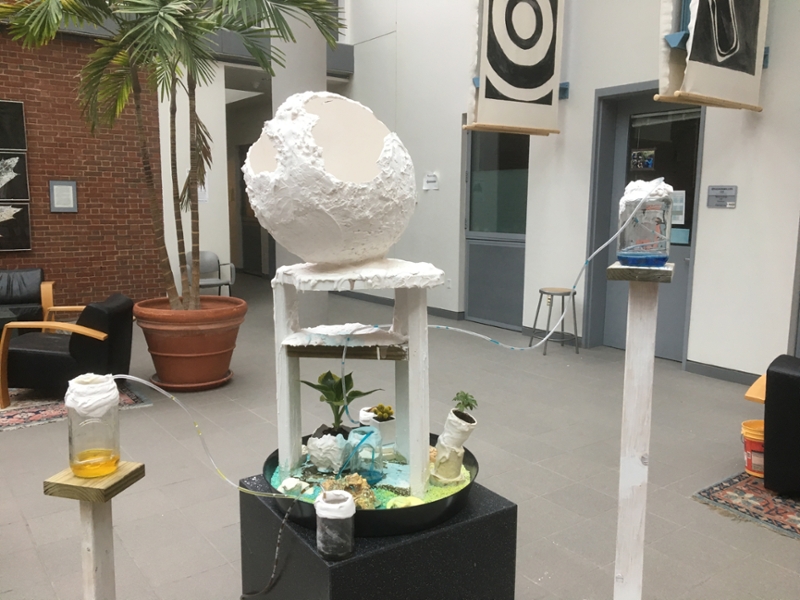 A Living Art Installation
The event was also the occasion for the unveiling of Rothenberg's own installation project. "It's a bio art lab," she explained, "also exploring the theme of biology as technology and the implications of engineering non-human life for human future survival in extreme landscapes." 
It takes the form of a window display featuring three tanks for observation—one containing Maine's invasive green crab, one with local oysters, and one with robotic prototypes. "Each tank has a monitor above it that plays a set of rotating videos relating to the organisms in each tank," said Rothenberg. "The tanks have been designed with colored rocks, props, and lights to reflect a futuristic landscape. Inside the bio lab is a work space for doing physical computing to explore the robotics aspect of the project and creating robotic prototypes."
The installation will be on display in the Druckenmiller Hall Atrium until June 21, 2019.