Associate Professor of Art History, Emerita
Linda Docherty is a specialist in American art and criticism to 1945. She has published on art and national identity, art and spirituality, portraiture, images of women, Winslow Homer, and Isabella Stewart Gardner. Her current project explores the relationship between Isabella Stewart Gardner's spiritual life and creative work.
At Bowdoin, Docherty taught survey courses on American art and nineteenth-century European art as well as a thematic course, American Photography and American Identity. Advanced seminars included The World of Isabella Stewart Gardner, Art and Religion in American Culture, Americans Abroad, and Picturing Nature. She offered first-year seminars on Winslow Homer, Living Spaces, and The Museum World. 
Throughout her tenure, Docherty collaborated closely with the Bowdoin College Museum of Art, contributing essays to exhibition catalogues, curating exhibitions for classes and with students, and supervising research projects on objects in the collection.  Many of her students have gone on to graduate programs in art history and careers in museum work.
Upon her retirement, Docherty was recognized by the state legislature for her teaching, scholarship, and service to the people of Maine.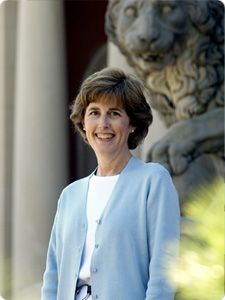 Education
PhD, University of North Carolina at Chapel Hill
MA, University of Chicago
BA, Cornell University