Professor of Romance Languages and Literatures
Elena Cueto Asín focuses her research on modern Spanish literature, theater, and film, with an interest in history and the global reach of Spain's cultural production and the relationship between literary text and other media. Her latest book Guernica, en la escena, la página y la pantalla (Guernica on the Stage, on the Page, on the Screen, 2017) explores iconic representations of the Spanish Civil War from 1937 to the present. Her current project deals with ways in which the past is evoked in recent drama, cinema, graphic novels, and television series, and how they promote constructions of national cultural heritage.
Professor Cueto has been teaching at Bowdoin since 2000. In addition to foundational language, literature, and culture courses in Hispanic studies, she offers upper-level seminars, taught both in Spanish and in English, on topics related to modern Spain in its national and global context, including: Romantic Spain, The Spanish Civil War and Cinema, Spanish Cinema: Taboo and Tradition, Hispanic Cities on Screen, or Contemporary Spanish Theater.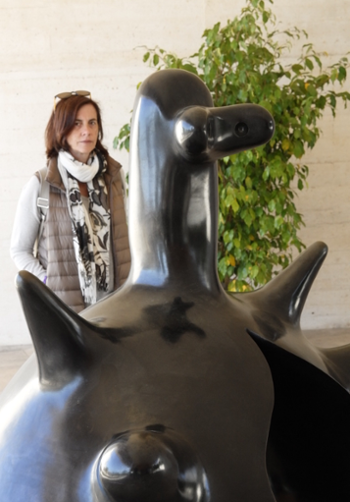 Education
PhD, Purdue University
MA, Purdue University
BA, Universidad Complutense de Madrid