John F. and Dorothy H. Magee Associate Professor of Asian Studies and English
Belinda Kong's teaching areas include Asian American literature, Asian diaspora literature, and Chinese diaspora fiction.
Her research focuses on contemporary literature by Asian American and Asian diasporic writers, with focus on the Chinese diaspora and issues of geopolitics, biopolitics, race, and state power. Her first book, Tiananmen Fictions Outside the Square: The Chinese Literary Diaspora and the Politics of Global Culture (Temple University Press 2012, Asian American History and Culture Series), analyzes Chinese diasporic fictions on the 1989 Tiananmen movement and massacre.
Her second book project, What Lived Through SARS: Affect and Archive of the 2003 Pandemic, examines sinophone materials and perspectives on the 2003 SARS pandemic, particularly those arising from epidemic epicenters in mainland China and Hong Kong during the outbreak period itself, with focus on minor styles and genres such as sentimental romance, digital bad jokes, social comedy films, Cantopop, and the crowdsourced ghost tale. By spotlighting the rich array of local expressions within this cultural archive, the book redirects our understanding of pandemic disease away from abstract counts of global deaths and macro critiques of power toward on-the-ground and in-the moment stories of ordinary Chinese lives and living practices of prosociality, resilience, and care. For a preview of the book's final chapter, see her article "Recovering First Patients" in b2o's COVID-19 dossier: link. For a related discussion of pandemic biosecurity and bioorientalist discourses, see her article "Pandemic as Method" in PRISM: Theory and Modern Chinese Literature: link.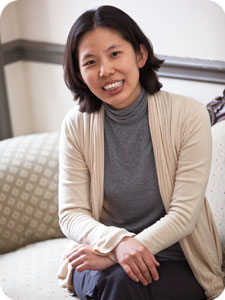 Education
PhD, English Language and Literature, University of Michigan, 2005
MA, English Language and Literature, University of Michigan, 1999
BA, English and Philosophy, College of William and Mary, 1998