William Nelson Cromwell Professor of Constitutional and International Law and Government
Mr. Springer teaches courses in international law and organization, international environmental policy, international humanitarian law, and United States foreign policy. His primary area of research is in the field of international environmental and marine law and policy. Mr. Springer is the author of
The International Law of Pollution: Protecting the Global Environment in a World of Sovereign States
, and his publications generally focus on issues of multilevel environmental governance, particularly in a North American context. His most recent publication,
Cases of Conflict: Transboundary Disputes and the Development of International Environmental Law
, will be released by the University of Toronto Press in the spring of 2016. Mr. Springer is presently completing a study of US-Canada environmental diplomacy.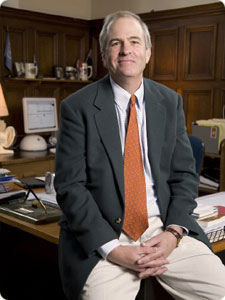 Education
PhD, Tufts University, Fletcher School of Law and Diplomacy
MA, Tufts University, Fletcher School of Law and Diplomacy
MALD, Tufts University, Fletcher School of Law and Diplomacy
BA, Amherst College