Joshua L. Chamberlain (1871 - 1883)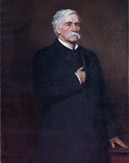 Joshua Lawrence Chamberlain (Bowdoin Class of 1852) was born in Brewer, Maine in 1828. In 1861, Chamberlain left a Bowdoin professorship to become lt. colonel of the 20th Maine, serving to the rank of bvt. maj. general of volunteers in command of the 5th Corps of the Union Army. He fought at Fredericksburg, Chancellorsville, Gettysburg (receiving the Congressional Medal of Honor for the defense of Little Round Top), Petersburg and Appomattox (where he accepted the surrender of the Confederate troops). 
After the war, Chamberlain served as the Republican governor of Maine, 1867-1871; commander of the state militia during the Legislature's 1880 "count-out" rebellion; and president of Bowdoin, 1871-1883.
In 1884-1892 he was involved in railroad and real estate ventures in Florida and from 1900 was surveyor of the Port of Portland. Chamberlain, Bowdoin's sixth president, also served the College as professor, trustee and overseer.
Painting credit: Bowdoin College Museum of Art, Brunswick, Maine Gift of Friends