Published August 22, 2023 by Tom Porter
US Should Not Normalize Relations with the Taliban, says Bowdoin's Elias
Sarah and James Bowdoin Associate Professor of Government Barbara Elias was one of a number of experts approached recently by Foreign Affairs as part of the international relations journal's ongoing coverage of the situation in Afghanistan.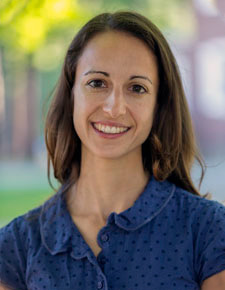 Elias, a former Afghanistan analyst at the National Security Archive in Washington, DC, was asked, along with several dozen other scholars, for her response to the proposition that the US should normalize relations with the Taliban government.
Elias disagreed with the statement. "Official recognition will not shift the Taliban's policies toward women, aid, or al Qaeda," she wrote. "The Taliban are reliably obstinate and duplicitous with the international community about their affiliations with pro-Taliban terrorist groups, as well as the complex political and ideological motivations for their devastating policies toward women," she continued. Elias said the prospect of full diplomatic recognition is "one of the few levers the United States has in negotiations with the Taliban, and Washington might need it acutely in the future."
She also said that cooperation with the Taliban on issues like counterterrorism and aid should be fully pursued, "even though it is much less efficient without official diplomatic ties. Yet the costs of giving up on human rights and surrendering one of the few concessions the United States can use as an incentive toward future cooperation makes waiting seem like the best of a set of bad options," she added. Read more. (Also among the scholars tapped by Foreign Affairs was Seth Jones '95, senior vice president at the Center for Strategic and International Studies. He too disagreed with the proposition.)
Elias is the author of Why Allies Rebel: Defiant Local Partners in Counterinsurgency Wars (Cambridge University Press, 2020), which has won numerous awards, including the 2022 Best Book prize by the International Security Studies Section of the International Studies Association. Her latest book project examines structural flaws in US counterinsurgency doctrine, looking at interventions in Afghanistan, Iraq, and Vietnam.