Published October 27, 2022 by Bowdoin News
Schiller Coastal Studies Center Building Earns Passive Projects Design Honorable Mention
The Schiller Coastal Studies Center's Living and Learning Center (LLC) has garnered an honorable mention in the Commercial/Institutional category in the annual PHIUS Passive Projects Design Competition.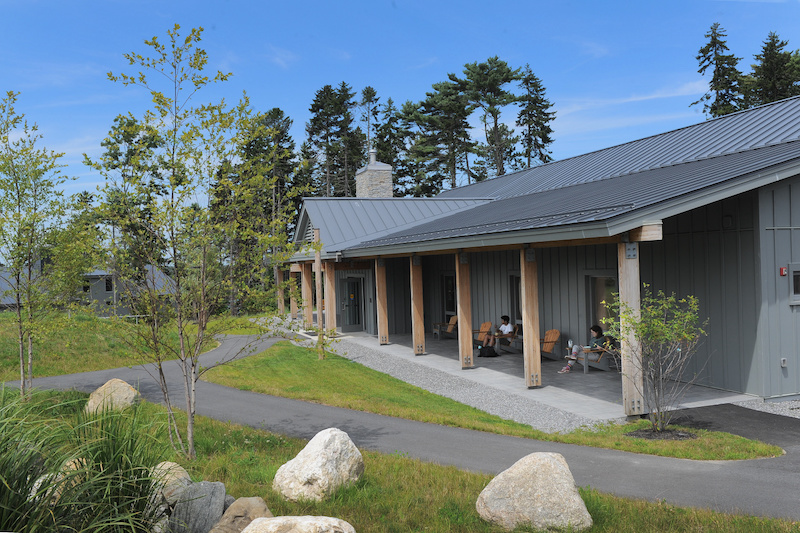 The LLC, a single-story, 4,950-square-foot space for classes, conferences, and dining, was designed to passive-house standards and received Passive House Institute US (PHIUS) certification in 2021.
Passive buildings are designed to minimize energy use while ensuring consistent, comfortable temperatures and healthy air quality.

To that end, they are superinsulated and airtight, with triple-paned windows, and are set up with ventilation systems and, often, efficient heat pumps for heating and cooling.

Part of what makes these structures so efficient is that their ventilation systems recycle the exhausted, stale air to preheat incoming fresh air. They also remove humidity. 
Other buildings at Schiller, including three one-story cabins with six bedrooms apiece and a 950-square-foot house, were also designed to passive house standards, though the College did not pursue official certification for those structures.
The award was announced at a reception during PhiusCon October 27 in Chicago.
Phius is a nonprofit organization committed to decarbonizing what it calls the built environment by making high-performance passive building the mainstream market standard.
Now with the LLC, Bowdoin has a total of five buildings certified by PHIUS, including its four Park Row Apartments.