New Building at the Schiller Coastal Studies Center Receives Environmental Seal
By Rebecca Goldfine
An organization promoting sustainable, passive construction has given a new building at the Schiller Coastal Studies Center's expanded campus its official stamp of approval.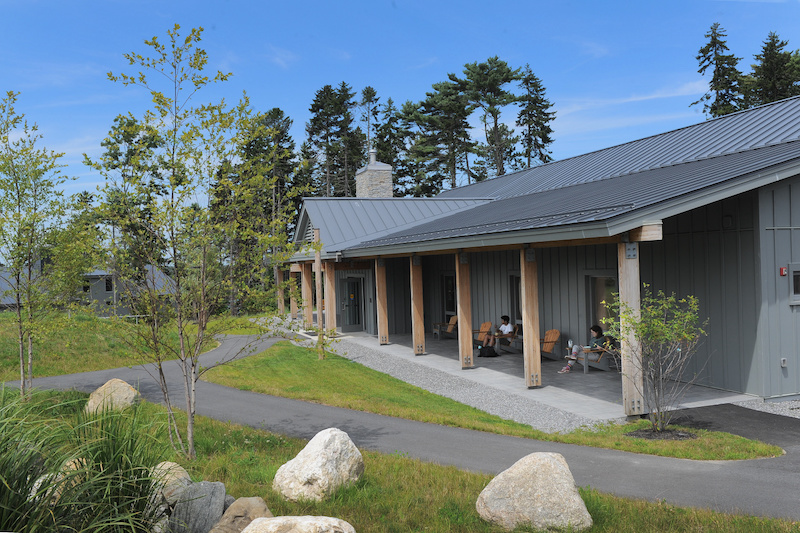 Passive House Institute US, Inc. (PHIUS) notified Bowdoin of its certification of the Living and Learning Center (LLC) this month. The 4,950-square-foot building, the largest of the new structures at the Schiller Coastal Studies Center, serves as a conference hall and classroom, with a full kitchen and pantry. 
Additionally, three new one-story cabins, with six bedrooms apiece, and a 950-square-foot house at SCSC were designed to passive house standards. The College is not pursuing official certification for these buildings, as this requires submitting separate applications and fees. "We felt that our funds would be better spent on other parts of the program, rather than seeking certification for every structure," Bowdoin Associate Director of Capital Projects John Simoneau said. 
Along with the LLC, Bowdoin now has a total of five buildings certified by PHIUS, including its four Park Row Apartments.
Harpswell Apartments were also designed to PHIUS standards but are not certified, bringing the total passive space at Bowdoin to 112,322 square feet, according to Keisha Payson, associate director of Sustainable Bowdoin. The Harpswell Apartments, which directly followed the Park Row construction, used the same architect, construction firm, and building practices. (In fact, their insulation values and air tightness beat those of Park Row's.)
Passive buildings are designed to minimize energy use while ensuring consistent, comfortable temperatures and healthy air quality. To that end, they are super-insulated and airtight, with triple-paned windows, and are set up with ventilation systems and, often, efficient heat pumps for heating and cooling. Part of what makes these structures so efficient is their ventilation systems recycle the exhausted, stale air to pre-heat incoming fresh air. They also remove humidity. 
The expansion of the Schiller Coastal Studies Center was completed last winter, and includes a new 4,200-square-foot dry lab, as well as additional teaching and residential space. These buildings complement the existing wet lab, a marine laboratory that is continuously supplied with seawater from the nearby Harpswell Sound, allowing researchers to maintain a diversity of marine life in up to thirty large tanks. 
The 118-acre Harpswell facility, located about thirteen miles from Bowdoin's main campus, now offers a wider range of possibilities for students and researchers studying the ocean and the environment. The development was made possible by a $10 million gift from Bowdoin parents Philip Schiller, a former Apple executive and current trustee, and his wife, Kim Gassett-Schiller, in 2017.
The architect for the Schiller Coastal Studies Center expansion was Centerbrook, of Centerbrook, Connecticut, and construction was handled by JF Scott Construction, of Winthrop, Maine. Thornton Tomasetti provided passive house consultation for the project. Simpson Gumpert & Heger was the passive house rater.
Published August 20, 2021