High-Ranking Students Honored in Sarah and James Bowdoin Day Ceremony
By Tom Porter
The Bowdoin community gathered recently to celebrate Sarah and James Bowdoin Day. The annual ceremony was held in Farley Field House on Friday, October 21, 2022.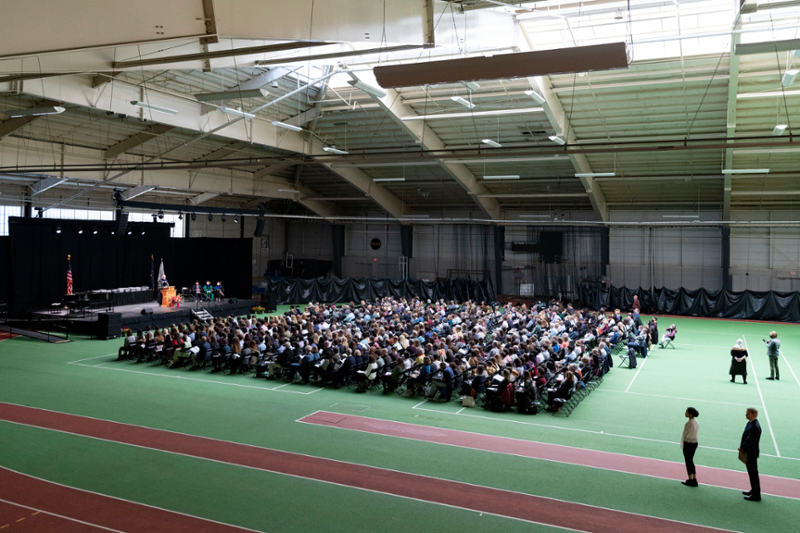 The event, which is part of Bowdoin's Family Weekend, is held to recognize and give scholarship gifts to Bowdoin's highest-ranking students—those with grade point averages in the top 20 percent of their class as determined by the previous year's record. The total number of Sarah and James Bowdoin Day scholars this year is 313.
Each scholar who earns a grade point average (GPA) of 4.0—the highest score awarded—also receives a Book Award, which bears a replica of the early College bookplate found on books in Hawthorne-Longfellow Library's James Bowdoin Collection. In this year's ceremony, 140 scholars also received this award.
Additionally, the College honored thirteen Phi Beta Kappa students from the Class of 2023 (plus one from the Class of 2022) and presented eleven of them with the Almon Goodwin Prize, awarded to exemplary members of the academic society.
"The accolades that we offer today are not easily earned, " said President Clayton Rose in his opening remarks. "Ours is a rigorous academic program with standards that challenge, and expectations set by our faculty that are difficult to meet," he continued. "The outstanding level of achievement that has been demonstrated by our students requires intense focus, deep pride in one's work and a passion for learning."
The annual fall ceremony includes two addresses, one by a highly recognized practitioner in a liberal arts discipline—from Bowdoin or elsewhere—and one delivered by an outstanding Bowdoin student. This year's speaker was Associate Professor of Asian Studies and English Belinda Kong, and the student address was delivered by Dylan Richmond '24.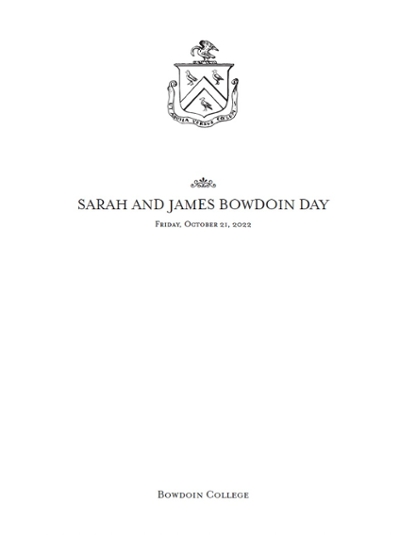 Kong's talk, known as the Karofsky Encore Lecture, was called "What We Learn from the Lives of Others: Teaching Asian American Memoirs and Life Writing." In it, Kong reflected on her way into literature after she arrived in America, aged nine, with her immediate family, as immigrants from Hong Kong. As they faced financial hardship and prejudice, Kong sought comfort through reading fiction.
"I started reading young adult fiction with wonder," said Kong, "especially science fiction and fantasy, and I still remember being caught up in the world of the Dragonlance series as a twelve year old, losing myself in imaginary worlds where wizards and warriors played out the tragic dramas of their lives through cosmic struggles between good and evil. Those stories took me out of myself, out of the circumstances of my family's class fall through immigration and our loneliness in America," she added.
In later years, however, as she developed as a scholar, Kong came to what she described as "an epiphany," which has led her increasingly toward the memoir, rather than the fictional narrative, as a literary medium. Over the years, Kong observed, she became increasingly dissatisfied with fiction, having become "trained to read fictional figures as a set of tropes," or as representative figures, rather than real people. "In my recent Asian American literature classes, I've come to assign more and more works of self-writing as I learn to attend to written lives anew, to read stories anew. What I've discovered is the tremendous richness and variety in this genre," said explained. The memoir, she added, has a strong tradition in Asian American literature, and this has exploded in recent years "as more and more writers from the margins begin to bring their own stories to light."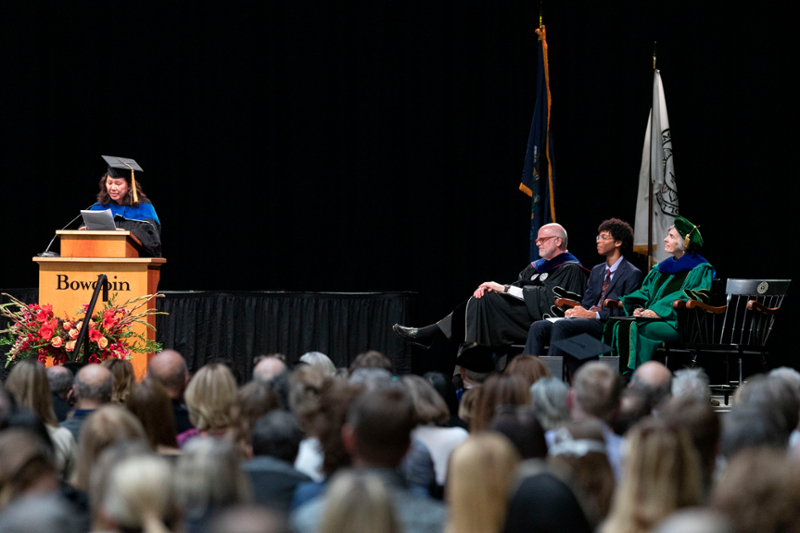 In her own teaching, Kong said she strives "to keep making space for Asian American voices and self-writing in my classroom and in Bowdoin's curriculum, so that current and future generations of students have the option of coming to these writers."
She went on to congratulate the Sarah and James Bowdoin scholars on their achievements, but also to remind them that achievements are not all that matters. "If teaching during Covid has taught me anything," said Kong, "it's that you are all enough whether you achieve or not. Remember that you are whole people, that you are never merely your accomplishments." Read the full text of Kong's lecture. 
Richmond's address was titled "Liberal Arts and Alloyed Hearts: The Power of Interdisciplinarity," in which he talked about embracing the liberal arts and accepting the idea that, even as an English and dance major, he would still have to take math classes. "But class after class, semester after year, I've realized that the true nature of liberal arts is actually really cool," said Richmond. "Not only does a diverse education open us up to academic growth and excellence, but it reveals just as much, if not more, about the world beyond."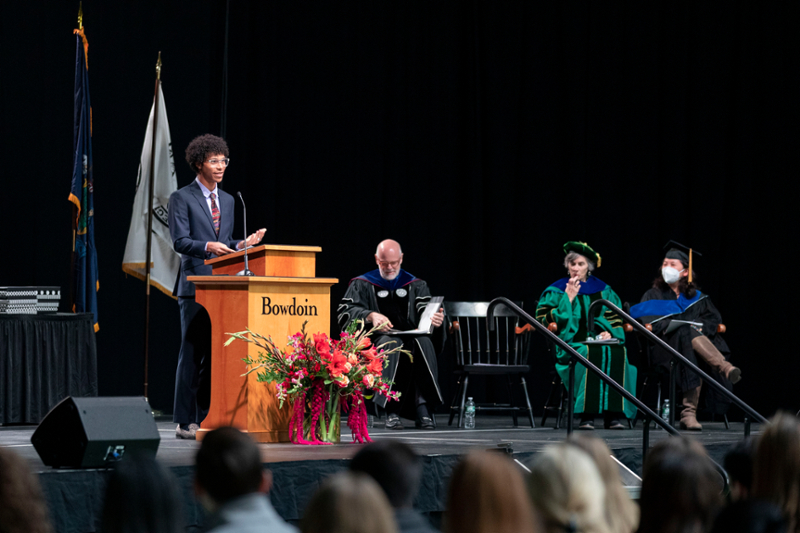 Richmond, who is a Mellon Mays Undergraduate fellow, recalled a surprising discovery in one of his dance classes: he learned that the dance form known as "contact improvisation" was inspired by the laws of physics. "No, really," he said. "Creators Steve Paxton and Nancy Stark Smith studied Newton's third law, gravitation and momentum, in order to master their technique. I thought I'd picked the major furthest from math, but there I was, embracing the liberal arts experience." This, he explained, brought him to the realization that "collaboration is everywhere, and the further apart the discipline, the further the union takes us."
He went on to say: "What we learn is what we are. And that is to say, to have interdisciplinary academic pursuits is to live an interdisciplinary life." This, he added, "makes us both better students and better people."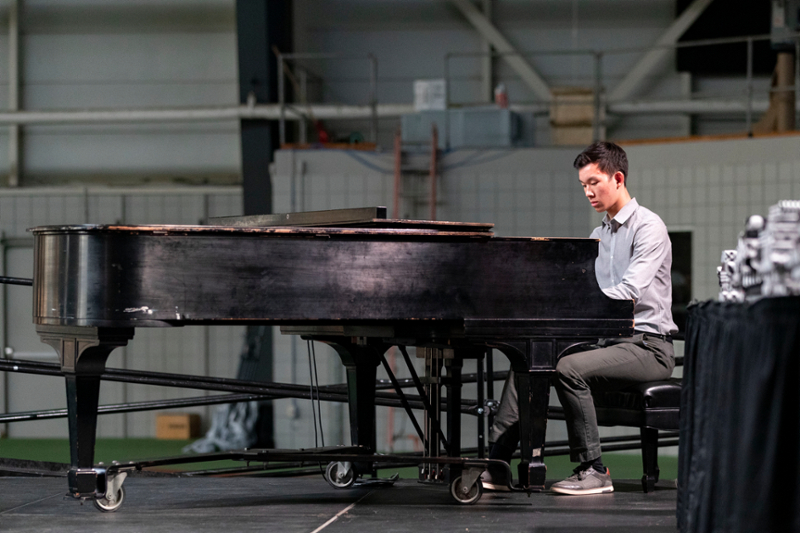 Ceremonial music was provided by Brian Liu '25 on piano, who opened proceedings with the "Andante Spianato" by Frederic Chopin ((1810–1849). After the singing of the alma mater, "Raise Songs to Bowdoin," Liu performed the recessional music, the "Grande Polonaise Brillante," also by Chopin.
Bowdoin began recognizing James Bowdoin scholars in 1941 to honor undergraduates who distinguish themselves by excellence in scholarship and to commemorate the Honorable James Bowdoin III (1752–1811), the College's first patron. James Bowdoin III—who asked that the institution be named after his father—was an agriculturist, art and book collector, and diplomat who served as Thomas Jefferson's minister plenipotentiary to Spain.
By faculty vote in 1997, this commemorative day and scholarly distinction were changed to recognize both Sarah and James Bowdoin, who were married from 1780 until his death in 1811. Like her husband, Sarah Bowdoin gave many gifts to the College, including most of the Bowdoin family portraits, which were bequeathed to Bowdoin College upon her death.
Published October 21, 2022