Distributing DExC: Providing Digital Equity for All Students
Published by Bowdoin News
By providing every student a 13-inch MacBook Pro, iPad mini, and Apple Pencil, Bowdoin inspires innovation and creates digital equity for every student regardless of family means, fully equipping them with the tools and opportunities to learn and lead in a digital world.
Students poured into Farley Field House and onto a level playing field as they picked up Apple MacBooks, iPads, and Pencils as part of Bowdoin's Digital Excellence Commitment (DExC).
"I'm so excited," said Jai Duval '24 after picking up her new MacBook Pro. "It's going to be helpful in a lot of classes. I know a lot of people were struggling before, and I didn't have a laptop; this is perfect for me."
The innovative DExC program provides every current and all future students with a suite of the latest Apple technology and access to a full range of course-specific software designed to advance learning, inspire innovative teaching, and create digital equity across the student body in the use of tools essential for success in the twenty-first century.
DExC builds on the success of Bowdoin's iPad Initiative by equipping all students with a 13-inch MacBook Pro, an iPad mini, and an Apple Pencil, along with access to software used across the range of courses at the College. The cost of the program is covered entirely by Bowdoin. 
"What DExC does is create a common learning platform for all students, regardless of economic background or access to resources, and is one faculty can count on as they take students through the learning experience," said Michael Cato, senior vice president and chief information officer, who was on hand to help distribute the technology and answer students' questions.
Cato noted that digital advances have impacted and enhanced many disciplines across the curriculum, showing up in perhaps unexpected places, such as history classes and across the humanities, highlighting the need for common, cutting-edge technology among the student body. 
"When I think about how this is going to benefit classes I think of different courses in both STEM and the humanities, where different students have different computers and it can make it difficult and challenging for professors," says Eli Franklin '25. "I think having everyone on a level playing field with regard to technology and access to software will make classes a lot more efficient and productive and allow students to be more collaborative."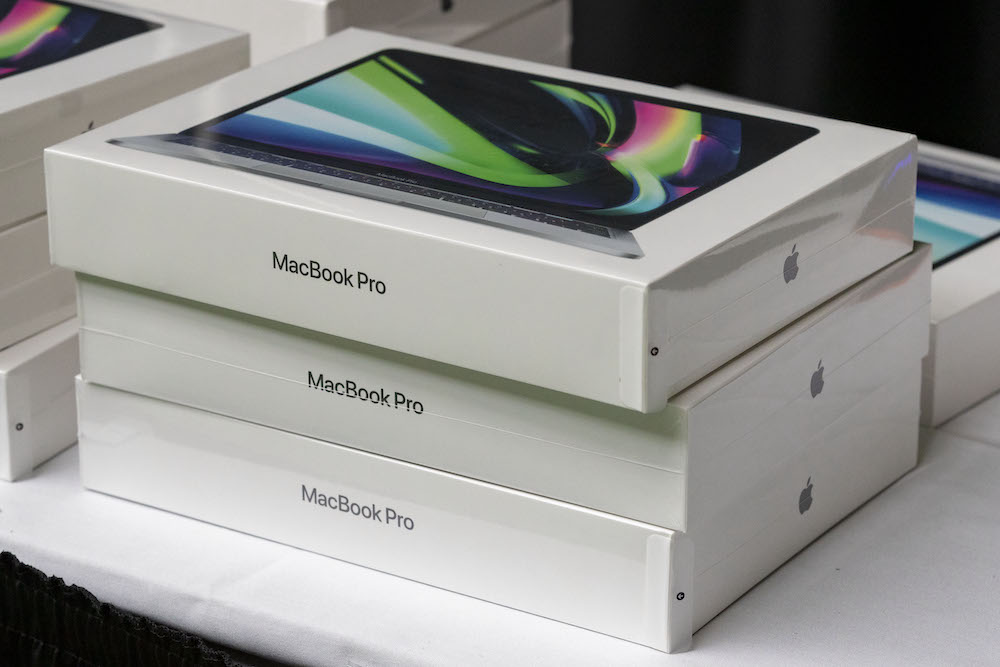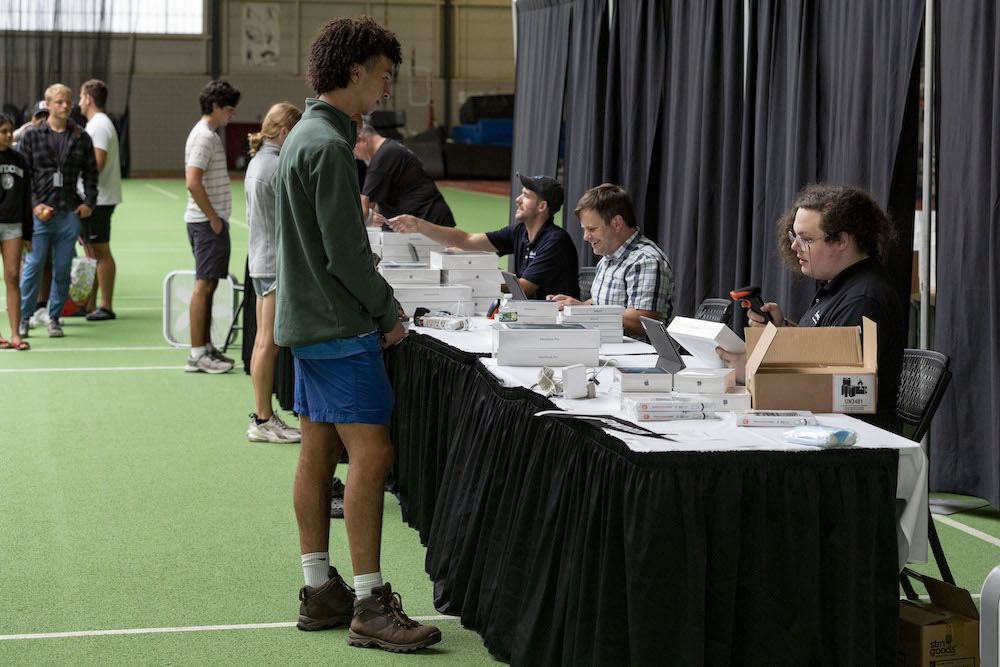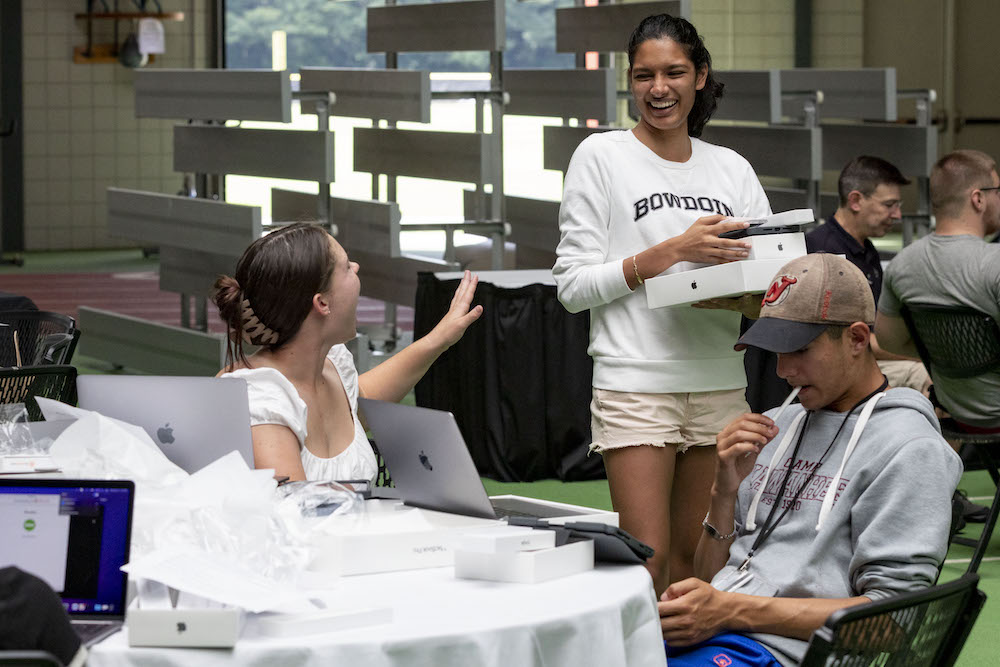 First-year students are receiving all new equipment and software; returning students will use the iPad Pro and Apple Pencil they have already received, supplemented by a new 13-inch MacBook Pro with a full software suite.

"Our Digital Excellence Commitment allows us to level the playing field so that every student has the opportunity to fully benefit from the technology that plays an essential and growing role in the learning experience at Bowdoin," said Bowdoin College President Clayton Rose.

"Our central mission is to deliver an exceptional liberal arts education along with the knowledge and skills students need to lead in our increasingly digital world."
Bowdoin's transformative Digital Excellence Commitment will ensure that every student has consistent access, dependable support, a shared learning experience, and the tools they need to collaborate, innovate, and thrive in a digital world.
Lessons Learned
Bowdoin students, faculty, and staff have been engaged with digital technology and tools for decades, and the COVID-19 pandemic only amplified the importance of these digital skills. In summer 2020, the College issued each student an iPad Pro Wi-Fi + Cellular (activated and funded by the College for those students who had internet connectivity needs), an Apple Pencil, and an Apple Magic Keyboard.

While initially intended to ensure that every student had the tools necessary for learning in the remote environment caused by the pandemic, the experiences of Bowdoin students and faculty with iPad Pro and Apple Pencil during the pandemic spurred numerous and unexpected learning and teaching innovations.
Vyjayanthi Selinger, Stanley F. Druckenmiller Associate Professor of Asian Studies, has students peer review each other's papers in class on their iPads. Selinger reports that it is so much easier to provide quick feedback with the Apple Pencils. She also has students respond to PollEverywhere (an audience and classroom response system) prompts on their iPads during class.
When the weather permits, Matthew Botsch, associate professor of economics, holds office hours outside using iPads to discusses problem. Botsch also uses the Microsoft Whiteboard app in class so he and his students can solve problems together.
Chemistry department faculty, lab instructors, and their students are using OneNote on their iPads in classes and for labs, where instructors can distribute digital instructions and images to students in advance. Students use their iPads to record data and document observations and can easily insert graphs, take photos of lab set-ups, and use time-lapse videos to showcase the steps of an experiment.
"In class, it's nice to have both laptops and iPads available," says Phil Camill, Rusack Professor of Environmental Studies and Earth and Oceanographic Science. "Students will have their iPads open with class slides and take notes on their laptops. This makes multitasking easier."
"I wanted to make access to our courses much easier for students," says Professor of Education Charles Dorn, who has been using One Note to organize, share, and present course materials since before the pandemic. "On the first day of class, I would send an email to all students and they would open a link to One Note and everything they need would be there: readings, homework, syllabus, videos—even my own notes."
Visiting Assistant Professor of Art Audrey Shakespear used iPads in her class, Abstraction. Students were assigned the Nomad Sculpt iOS app; the 3D modeling software simulates a clay-like modeling experience, responding to stylus movement and pressure, empowering students she says, to carve up, warp, and distort that object into something completely new and unique.