Published August 31, 2022 by Tom Porter
221st Convocation: Bowdoin Officially Opens the Academic Year
The College celebrated its 221st Convocation in Pickard Theater on August 30, 2022, with a full audience of students, faculty, and staff.
Following President Clayton Rose's words of welcome, three others spoke at the event: recently appointed Director of the Rachel Lord Center for Religious and Spiritual Life Oliver L. Goodrich; Senior Vice President and Dean for Student Affairs Janet Lohmann; and Professor of History and Environmental Studies Connie Chiang. 
Invocation
"Class of 2026, you have arrived at Bowdoin College in the midst of a perplexing moment in human history," declared Oliver Goodrich, in his invocation.

"Each day, with each new push notification we receive, we witness both the best and the worst of humankind."
Goodrich observed how extraordinary technological advancements are occurring at the same time as people are becoming more disconnected—a situation fueled, he said, by the proliferation of disinformation.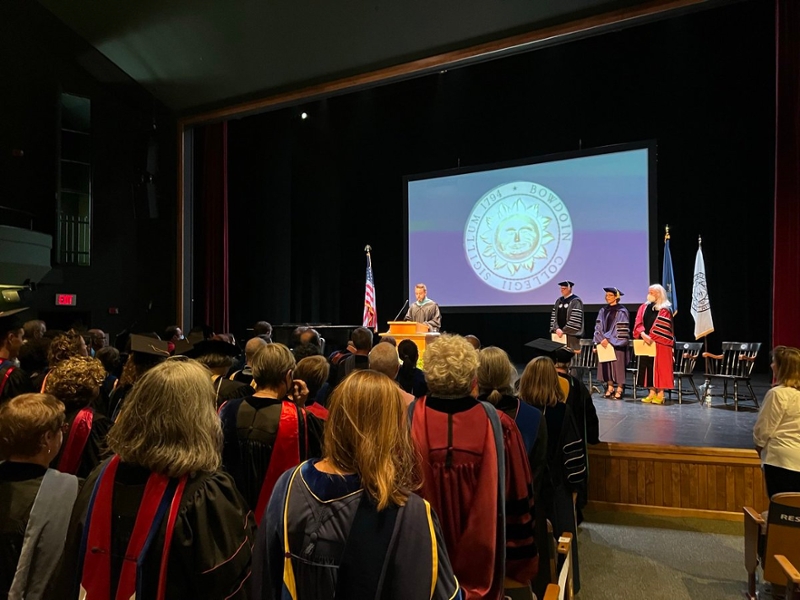 "How do we hold together these extremes? What does this moment ask of you?" said Goodrich. He went on to urge listeners to "cultivate the courage to not settle for easy answers," and "to speak out against injustice."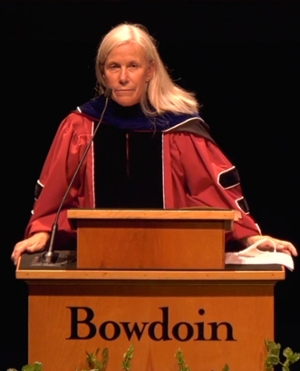 Voices from Bowdoin's Past
In a longstanding tradition, Senior Vice President and Dean for Student Affairs Janet Lohmann shared some of Bowdoin College's history with the students. On this occasion she talked about Bowdoin's historic ties to the Arctic region, looking ahead to the opening next spring of the new John and Lile Gibbons Center for Arctic Studies—one of the two new buildings under construction behind Smith Union. 
"Along with labs and classrooms, the building will also serve as the new home for our renowned Peary-MacMillan Arctic Museum," said Lohmann. Bowdoin's connection with the Arctic goes back to 1860, she explained, when some students went on a field trip to Labrador and Greenland. The College's commitment to Arctic exploration was firmly rooted in the work of two men, said Lohmann— Robert Peary, of the Class of 1877, and Donald MacMillan, of the Class of 1898.
Throughout the late nineteenth and twentieth centuries, both men led numerous expeditions to the region, becoming internationally recognized experts. Many of their artifacts, photographs, and journals ended up at Bowdoin's Arctic museum, which opened in 1967 and which is "one of only a handful of northern-focused museums in the world," said Lohmann.
"Today," she continued, "Arctic issues are increasingly important throughout the world. Tensions over the commercial use of the now seasonally ice-free Arctic Ocean; effects of global warming on species, food security, and communities; technological and economic developments, and a growing recognition of identity politics among Indigenous groups are just some of the many issues that are relevant and in need of scholarship and understanding."
Convocation Address
Professor of History and Environmental Studies Connie Chiang delivered the convocation address, which was titled "Cultivating Our Common Natures." She reflected on the fact that this year marks the fiftieth anniversary of the Environmental Studies Program at Bowdoin, making it one of the oldest such programs in the country.
"Fifty years ago," said Chiang, "the state of Maine's environment was grim: rivers foaming with industrial waste and beaches covered in litter. Bowdoin's ES faculty determined that students were best equipped to address environmental problems by embracing an interdisciplinary course of study drawing from the arts, humanities, social sciences, and natural sciences. This ethos continues to animate the program."
Chiang also observed how the study of the environment is generally considered to be the realm of affluent white people "who like to go backpacking or skiing, kayaking or birding," and went on to make the case for adopting a more expansive and inclusive understanding of the environment and the people who are engaged with it.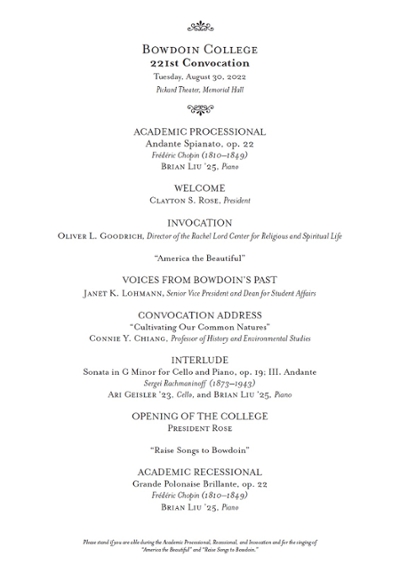 She talked about her own unlikely path to the subject, as the child of Chinese immigrants growing up in a suburb of San Francisco. Although she didn't do a lot of hiking or camping as a child, Chiang said she developed an appreciation for the natural world on her doorstep, such as "the majestic, gnarled live oak trees that dotted the nearby foothills… I also remember when those same trees were eaten up by office parks and housing subdivisions over the course of my adolescence. It was the nature next door that offered joy and comfort as a kid. And it was its disappearance that troubled me and sparked my desire to do something to protect it."
Chiang went on to discuss her latest book project, Nature Behind Barbed Wire, which explores how the environment shaped the confinement of over 110,000 Japanese Americans during World War II ("one of the most egregious violations of civil liberties in U.S. history"). The experience of these internees, and how they adapted to their challenging circumstances helped reinforce Chiang's conviction that "the environment is not a passive backdrop for human lives. It's not someplace over there. It's all around us, an active force that has profoundly shaped us all, past and present—whether we realize it or not."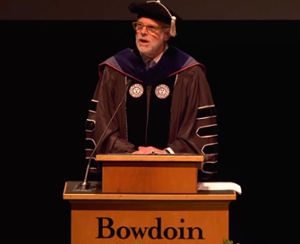 Opening of the College
Before announcing the official start of the academic year, President Clayton Rose reflected on his own undergraduate experience and the feelings of both excitement and uncertainty he had to deal with. "I didn't know how to study properly—in high school, I had gotten by on my wits and some natural gifts. I didn't understand or respect that the expectations and work in college would be very different. I mostly looked around and I knew I was overmatched by my peers—they had it all together and knew a lot more than I did (here's a spoiler—that's actually so not true).  Sound familiar?"
At the same time, said Rose, he was eager to learn and "thirsting to be in the college classroom... I was ready to manage my life… I was ready to begin to find out who I really was and what I was capable of doing. Does that also sound familiar?"
Rose went on to tell students that, when they arrive on campus, they "have the gift of being a blank piece of paper—a clean slate—that you can fill in in any way that you want. College," he continued, "is a place to shed yourself of unwanted baggage." There will be tough times ahead, warned Rose—academic challenges, failures, and possibly "heartbreak in your friendships and love."
"And please, and I cannot say this strongly enough, do not deal with the challenges, issues, self-doubts, or anxieties all by yourself. We are a community, we have each other, and we have among the best resources of any college to help you," said Rose, before going on to declare the College formally open.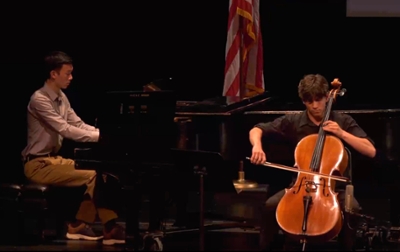 Music
The academic processional, Frédéric Chopin's Andante Spianato, op.22, was performed by Brian Liu '25 on piano. For the academic recessional, Liu chose another work by Chopin— the Grande Polonaise Brillante, op. 22.
For the interlude, Liu was joined by Ari Geisler '25 on cello to perform the third movement of the Sonata in G Minor for Cello and Piano, op. 19, by Sergei Rachmaninoff.
During the ceremony, the crowd, led by three students singers, sang "America the Beautiful" and "Raise Songs to Bowdoin," accompanied by Liu on piano.