Published June 03, 2022 by Bowdoin
A Fulbright Leader Over the Decade
In a 
recent tally
of Fulbright scholarships awarded in the past ten years, Bowdoin ranks nineteen among the top twenty-five universities and colleges.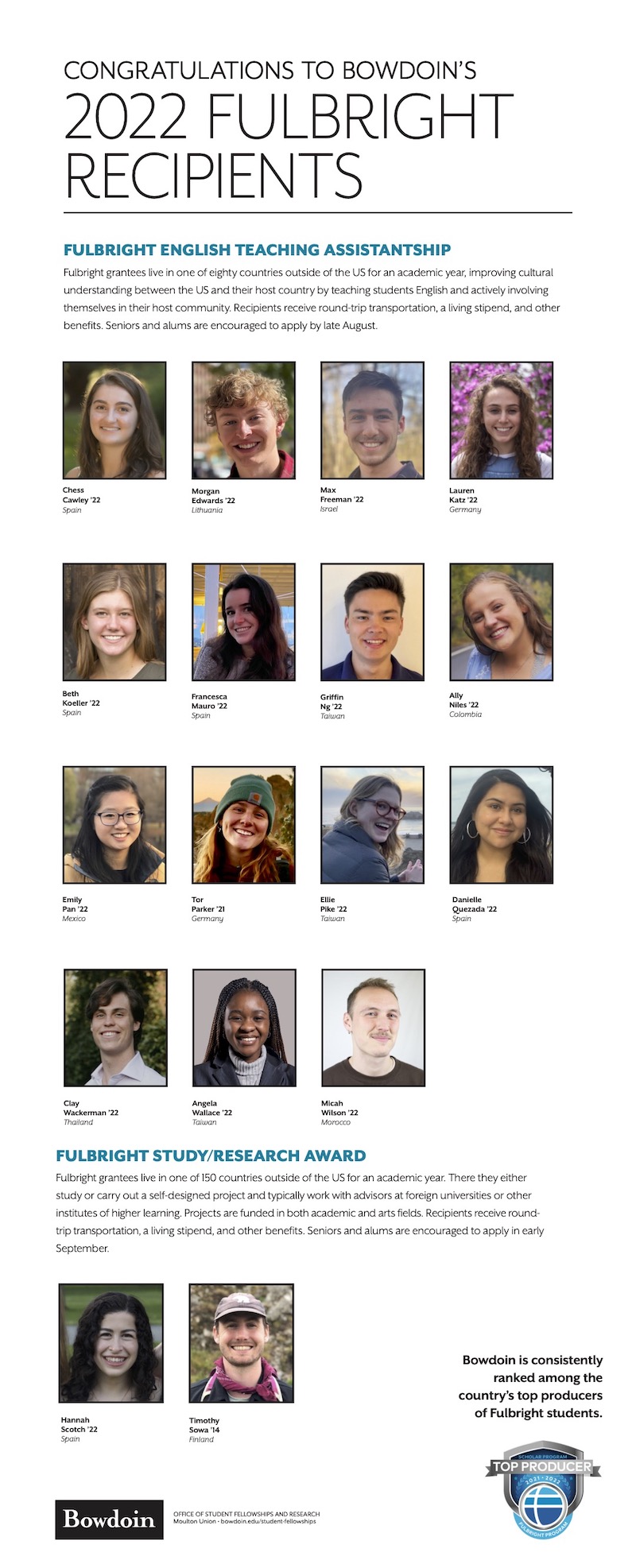 The awardees in this study include students at the bachelor's, master's, and doctorate levels, as well as graduates. 
Bowdoin, at number nineteen, has had 145 awards granted to undergraduate students and alumni between the academic years of 2011-2012 and 2021-2022.
"...Bowdoin credits its strong mentorship program with helping so many graduates secure the award," said Stacker, a media group that produces data-based journalism for news organizations. 
Harvard University, Brown University, and the University of Chicago were the top three producers. Other top-producing liberal arts schools include Bates, Pomona, Smith, and Williams Colleges. 
Most of Bowdoin Fulbright recipients teach English, while others pursue research, often in prestigious labs.
Since the international exchange program was established by the federal government in 1946, 370,000 people have participated, according to Stacker.
Each year, approximately 8,000 students, researchers, teachers, professionals, scientists, and artists in the US receive Fulbright scholarships to study, teach English, or conduct research abroad for eight months to a year. 
To calculate its list, the admissions consulting agency AdmissionSight used data from the State Department's Bureau of Educational and Cultural Affairs and The Chronicle for Higher Education.