Published June 01, 2022 by Bowdoin News
Their Stories, Their Words: Honorary Degree Recipients Share Triumphs and Challenges
In recognition of the 
fiftieth anniversary of women at Bowdoin
, the College bestowed honorary doctorates to five women who have soared to the tops of their fields in athletics, art, economics, journalism, and storytelling.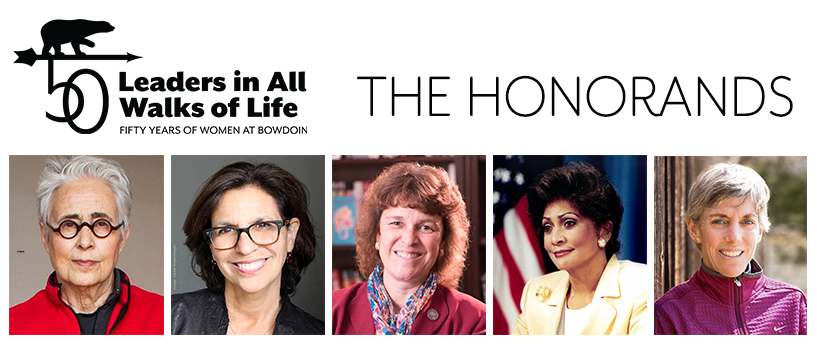 This year's honorary degree recipients include (above, from left) contemporary artist Katherine Bradford, best-selling children's author Raquel Jaramillo (R. J. Palacio) P'18, economist and president of Thomas College Laurie Gagnon Lachance '83, P'13, award-winning journalist and social activist Janet Langhart-Cohen, and decorated marathoner Joan Benoit Samuelson '79, P'12.
In the days leading up to Commencement and during the ceremony itself, this year's honorands each shared a bit of themselves.

Jarmamillo delivered the keynote address at Baccalaureate and Lachance delivered Greetings from the State of Maine during Commencement.
Bradford, Langhart-Cohen and Samuelson delivered talks and engaged in conversations on campus that were also streamed live, the recordings of which can be viewed below.