Bowdoin College Celebrates 217th Commencement
Published by Tom Porter. Photography by Michele Stapleton.
Graduating seniors were joined by friends and family as Bowdoin College conferred 450 bachelor of arts degrees on the Class of 2022. The 217th Commencement ceremony was held on the steps of the Walker Art Building on the morning of Saturday, May 28, 2022.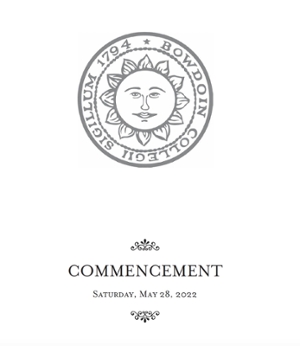 The class includes students from forty-three states, including Massachusetts with sixty-four students, New York with fifty-seven, California with forty-one, and Connecticut with twenty-two. Fifty-two graduating seniors hail from outside the US, representing twenty-nine countries and territories.
College Marshal Jean Yarbrough, who is Bowdoin's Gary M. Pendy Sr. Professor of Social Sciences, officially opened the commencement exercises ceremony. Eduardo Pazos Palma, director of the Rachel Lord Center for Religious and Spiritual Life, then offered the invocation.
"Class of 2022, through some of the hardest times we have ever experienced, you've made it to this day," said Pazos Palma, urging them to go forth without fear and "full of hope for the brighter and better days you are about to encounter." Read the full text of Pazos Palma's invocation.
Chair of the Board of Trustees Robert White '77, P'12 introduced Thomas College president and honorary degree recipient Laurie Gagnon Lachance '83, P'13, who delivered Greetings for the State, which is customarily offered by a representative from Maine.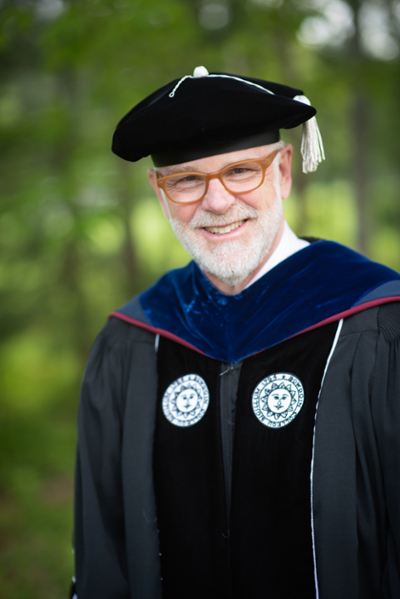 Lachance talked about how the rich histories of Maine and Bowdoin College are "inextricably linked." The "bold and visionary leadership" of Bowdoin graduates, she said, has "shaped the unique character and heritage of Maine for over two centuries and played a hand in shaping our nation as well. What an awesome thought—and what fun to look across these 450 faces and wonder who will rise to fill these shoes going forward." Read the full text of Lachance's greeting.
President Clayton Rose welcomed the graduating seniors, family, friends, and members of the Bowdoin community, describing the event as a "joyous occasion." Before celebrating the accomplishments of Bowdoin's most recent graduates, however, Rose took time to remember those who have perished in the global pandemic and to recognize the ongoing challenges faced by many in the nation. "We remember those who have been the target of death and violence because of their identities—racial, ethnic, religious, gender, sexuality—most recently in Buffalo two weeks ago. And our hearts break for the families and loved ones of the nineteen children and two teachers who were murdered on Tuesday in Texas."
Rose went on to celebrate an important milestone the history of the College, one that has been honored throughout the past year. "In the spring of 1971, transfer student Susan Jacobsen became the first woman to graduate from Bowdoin College. That fall—the fall of 1971—147 women enrolled here as our first official coeducational class," he said. It is a fitting tribute to this achievement, added Rose, that this year's cohort of honorands comprises "five distinguished women who have given great service to the common good and whose accomplishments and character set amazing examples for all of us." Read the full text of President Rose's welcome address.
In his remarks, Rose recognized graduating senior Alex Tyson, who, a day earlier, was commissioned into the United States Marine Corp in a ceremony in front of the Bowdoin Chapel. He also offered the graduating seniors his thoughts about what he said was "one of the most important things" that he has learned in his own life: that "true happiness is found not in material success; rather, it is found in the bonds of family and friends. Happiness is about your heart—finding and nurturing those special relationships that make you whole...If we have learned anything from the past two years, it is how much this matters—how essential it is."
Rose also paid tribute to Henry Zietlow '22, who died in 2019, and to Theo Danzig '22 and Finn Woodruf '21, who died just seventeen days apart last fall. "They were men full of promise who were beloved by their family, friends, classmates, teachers, our staff, and all those so fortunate to come to know them," Rose said. Both Danzig and Woodruff had completed enough academic credits to earn their Bowdoin degrees. Rose invited family members to the steps of the Walker Art Building to receive their diplomas, noting that both Danzig and Woodruff had also earned Latin honors (cum laude) as students, and that Danzig had been inducted posthumously the previous day into Phi Beta Kappa. "These were each immensely talented and wonderful men," said Rose. "They were deeply loved by their families and friends, and they returned that love in full measure. We are so much better for knowing them, and their absence creates a permanent void in each of us."
Commencement Speakers
As has been the tradition since Bowdoin's first graduation ceremony in 1806, Commencement addresses were delivered by graduating seniors. This year's speakers, chosen through competition, were Ryan Britt '22 and Journey Browne '22, who are both Geoffrey Canada scholars.
Class of 1868 Prize Winner Journey Browne '22
The main focus of Browne's speech, called "The Victory Mindset," explored the importance of positive thinking and self-respect. "What is the victory mindset, exactly?" she asked. "It is a mindset that declares that any action you take, no matter how small, especially in a time of hardship, whether global or personal, is a victory."
Browne, who is a sociology major, stressed that it's not only the big accomplishments, like finding a valued job or moving to a new city, that should be considered victories: "What about the small moments? Putting yourself out there after heartbreak. Finding the will to eat when someone you love passes away. Finally taking a shower after an internal mental battle… These are victories too and they deserved to be celebrated like every other victory."
It is crucial, she said, to embrace these small victories and to nurture that voice of optimism within yourself. "Once you affirm this voice and hold true to the belief that victories come in all shapes and sizes," she said, "you will never lose, no matter what you experience." Read the full text of Journey Browne's speech.
Goodwin Commencement Prize Winner Ryan Britt '22
Britt's speech, titled "The Great Hope of a Bowdoin Education," reflected on his upbringing in an economically deprived corner of northeast Ohio, where he and his family "faced the everyday struggles of poverty that are shaped by substance abuse, violence, and trauma." Britt described how it became part of his daily ritual to embrace the hope that one day he would be able to break out of what he called the "vicious cycle of poverty" that ensnares many parts of the nation.
"Each day," he continued, "I would look up over the low roofs of my trailer park into the sky while I walked home from the bus, blaring Eminem's 'Lose Yourself' through my headphones as I imagined myself being somewhere else. It was in these short moments of transition that I allowed myself to cling to hope for a better life and future until Bowdoin College gave me the opportunity to fully realize that hope."
Britt said his years at Bowdoin have helped him "to understand the many factors that underlie my upbringing and how cycles of poverty are created and sustained." He said his education has fostered with him a "strength of voice" that he has every intention of using. Read the full text of Ryan Britt's speech.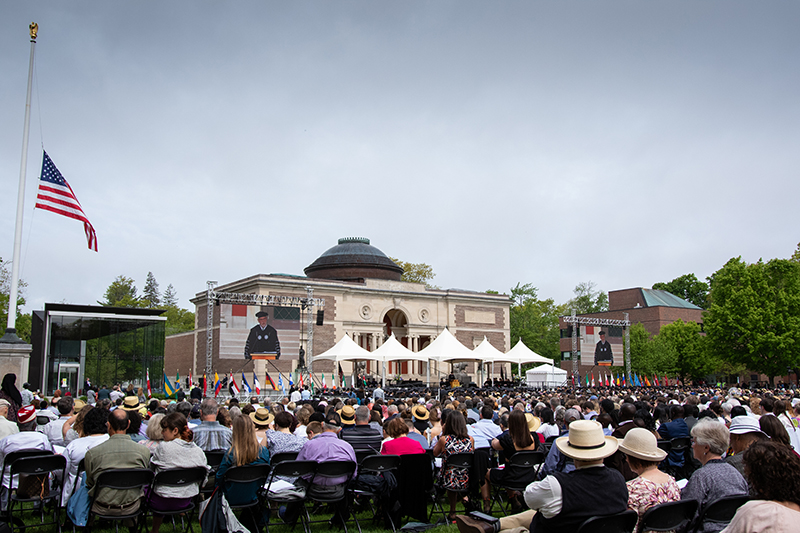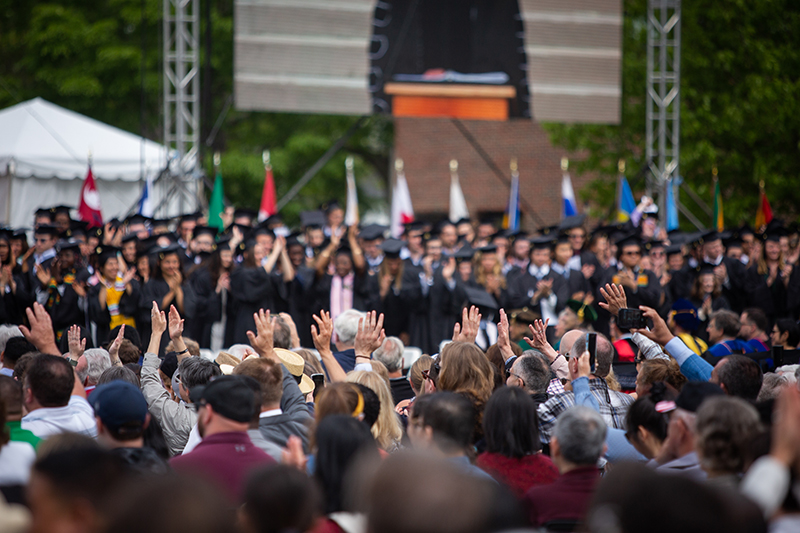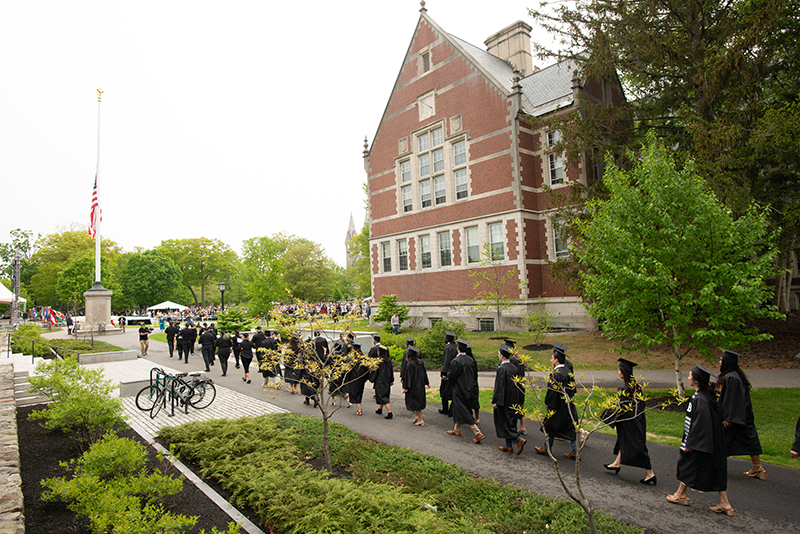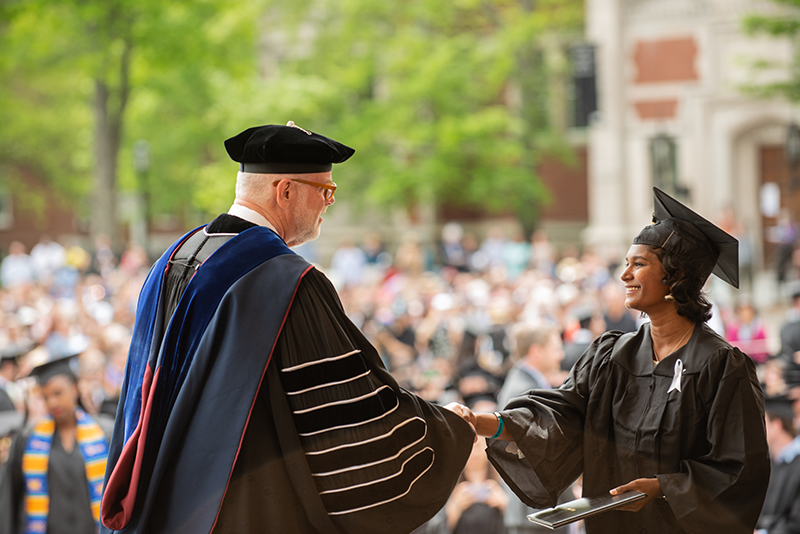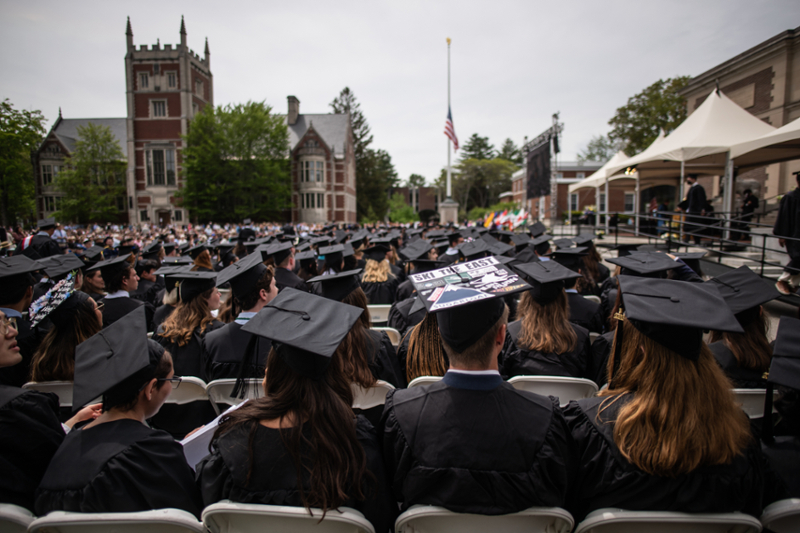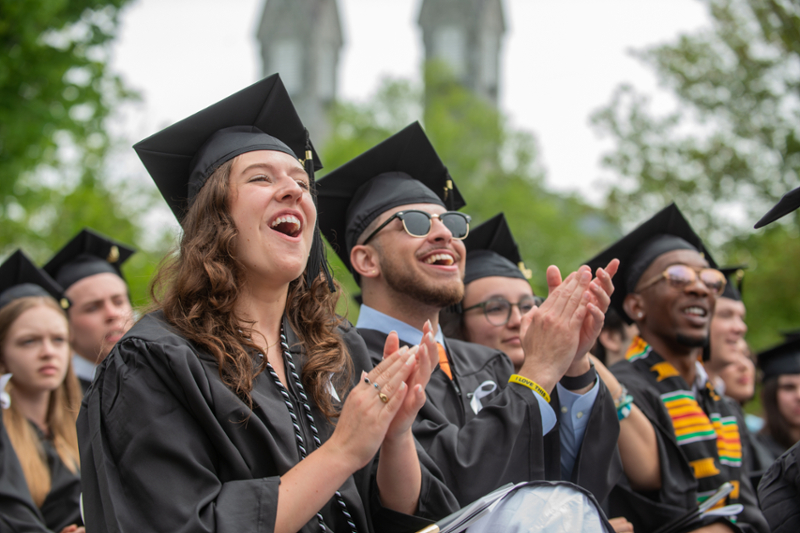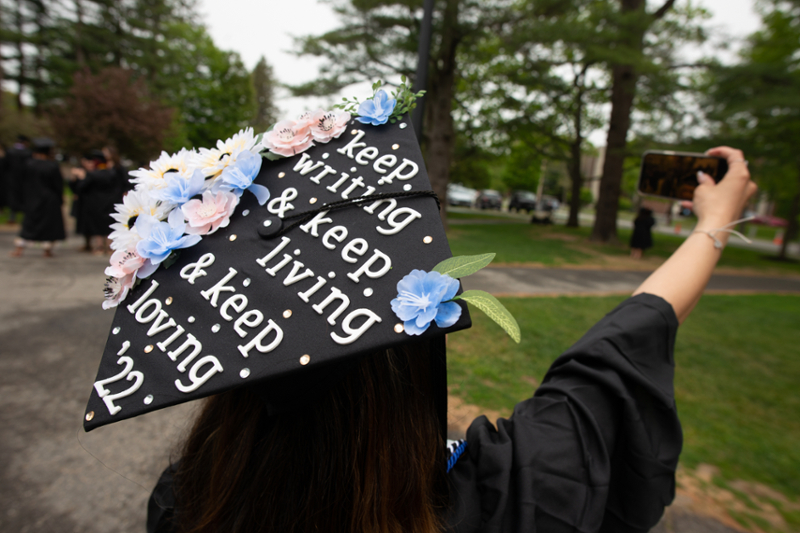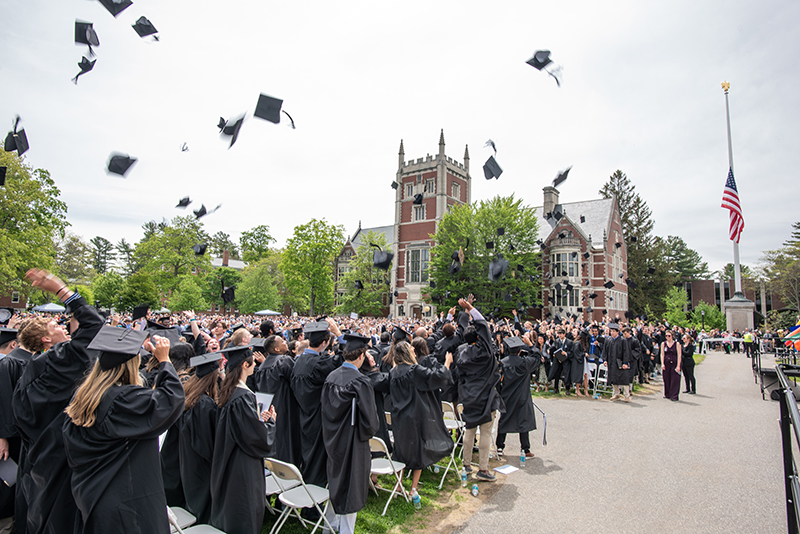 Honorary Degree Recipients
Bowdoin awarded five honorary degrees at the ceremony: 
Contemporary artist Katherine Bradford
Best-selling author Raquel Jaramillo (R. J. Palacio) P'18
Economist and Thomas College president Laurie Gagnon Lachance '83, P'13
Journalist and social activist Janet Langhart-Cohen
Decorated marathoner Joan Benoit Samuelson '79, P'12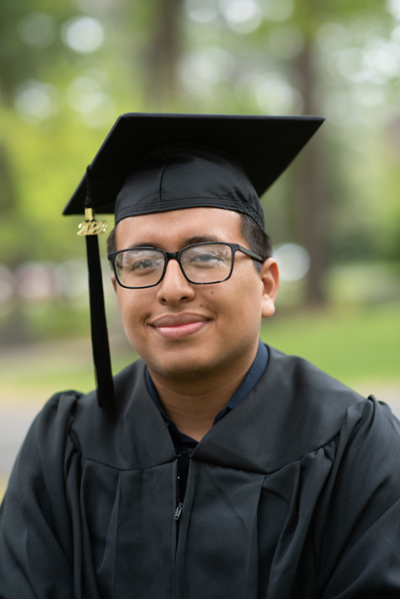 Senior Class Gift
Class President Carlos Campos '22 delivered the dedication of the Senior Class Gift, a scholarship fund for an incoming member of the Class of 2026. In his remarks, Campos paid tribute to his parents, who, he said, survived the Peruvian civil war and arrived in the US "with only twelve dollars in their pockets." Now that he and his classmates are graduates, Campos said they now have the "choice to reengage with the communities where we came from." Read the full text of Carlos Campos's address.
Commencement Music
Senior members of the Chamber Choir, Chorus, and student a cappella groups performed "The Star-Spangled Banner" and "Raise Songs to Bowdoin," while Chandler's Band bookended the ceremony with the Commencement March and the Recessional March.
Watch the Ceremony
Read about Bowdoin's Baccalaureate ceremony, held Friday, May 27, 2022 in the Watson Arena.