Published May 11, 2022 by Bowdoin News
Diverse Class of 2026 Includes Bowdoin's First Community College Transfer Students
Following the May 1 commitment deadline, Bowdoin's Class of 2026 has taken shape, currently including 521 students representing 423 high schools across the US and around the world.
"The incoming students are activists, published writers, caretakers, risk-takers, at least one goat farmer, and a Super Bowl half-time performer," said Claudia Marroquin '06, senior vice president and dean of admissions and student aid.
"Their intellectual firepower is remarkable, surpassed only by their empathy and kindness. They are genuinely good humans."
Sixty percent of the students who had been admitted have decided to join the Bowdoin community as members of the Class of 2026.
Bowdoin's strong yield continues to indicate the College's strength in attracting students who are invested in its values and ethos as an institution.
"The Class of 2026 is the most ethnically and racially diverse incoming class Bowdoin has ever seen," Marroquin said.
"These statistics and figures do not fully capture the breadth of experiences and identities of the incoming class."
Joining the incoming first-year students are nine transfer students, six of whom are community college students.
"This is Bowdoin's first cohort of community college transfer students, and we are thrilled they have chosen to continue their college educations at Bowdoin," Marroquin said.
This year's admitted student events included twenty virtual programs, three Friday receptions, and a large, admitted student program in late April with over 500 students and family members visiting campus.
"Meeting students and their family members on campus was a highlight of April for everyone in admissions and student aid. Bowdoin is a remarkably special place and having admitted students experience it for themselves, having them connect with students, faculty, and staff who will be part of their next four years, was truly special."
The College covered the cost of travel, overnight accommodations, and meals for more than 100 low-income students, including some guests, to ensure they could participate in the on-campus admitted student weekend.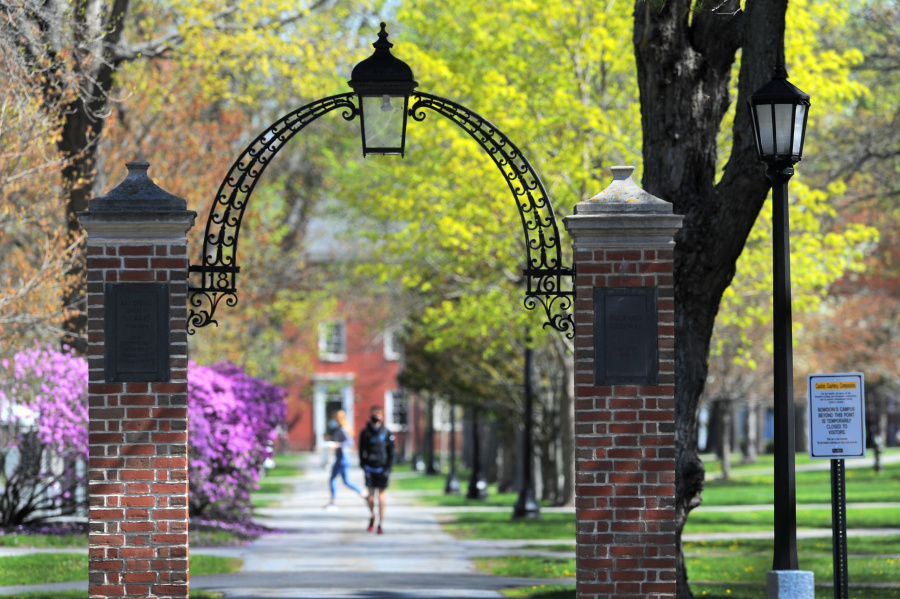 Students of color (domestic): 42 percent
Students with an international background: 11 percent
Students from Maine: 9 percent
Students from outside New England: 70 percent
First generation to college: 17 percent
Pell grant recipients: 17 percent
From public or charter schools: 53 percent
Female (sex assigned at birth): 55 percent
Male (sex assigned at birth): 45 percent
Do not identify on the binary gender spectrum: 6 percent
Chose not to submit testing as part of their application: 46 percent
The College will provide need-based aid to nearly half of the Class of 2026, consisting of scholarship and grants (funds that do not have to be repaid). The average financial aid package for students in the class is $62,334.
All members of the Class of 2026 will also receive a MacBook Laptop, Apple iPad mini, and an Apple pencil through Bowdoin's new Digital Excellence Commitment announced in February.