Awards Luncheon Recognizes Campus Stars
Published by Rebecca Goldfine
The annual President's Award Luncheon, fondly called PAL, is a chance for the College president, deans, and others to applaud a few stand-out students, particularly seniors, for their exemplary leadership, service, and narrative skills.
Seven students this year were selected to receive the College's eight Commencement, Leadership, and President's Awards (one student, Ryan Britt '22, received two): Jessica Bae '22, Britt, Journey Browne '22, Brie Cunliffe '22, Christopher Dehney '24, Matt Hikida '22, and Elise Hocking '22.
The lunch was held last Friday in Moulton Union's Main Lounge.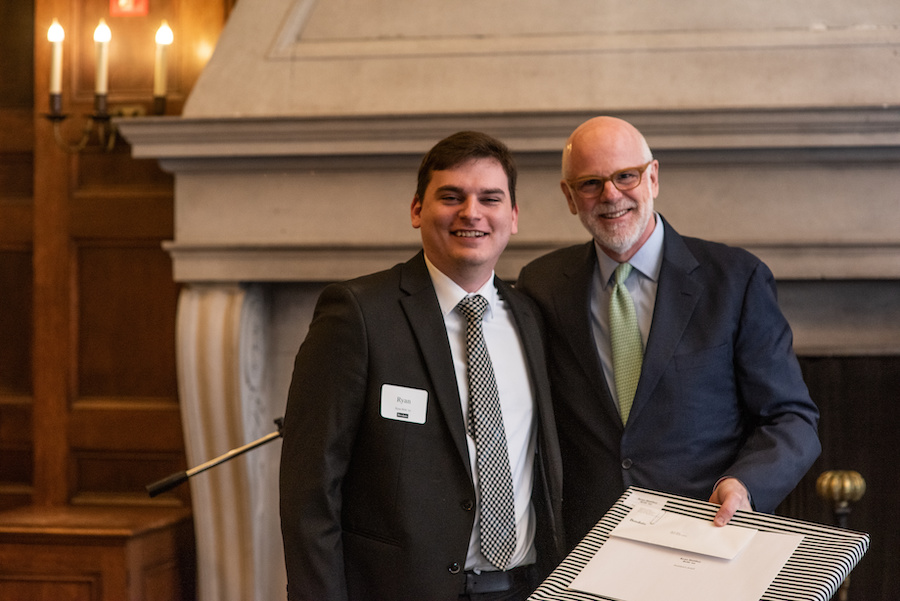 President's Award: Ryan Britt '22
The President's Award was inaugurated in 1997 by President Robert H. Edwards to recognize a student's exceptional personal achievements and uncommon contributions to the College.
This year, President Clayton Rose gave the award to Britt, who over the course of his college career has been elected by his peers to be Bowdoin Student Government president, class president, class vice president, and chair of the Student Affairs Committee for student government.
During his term as president of Bowdoin Student Government, he elevated the visibility of student governance and enhanced its effectiveness, especially around student mental health.
One of his most meaningful experiences at Bowdoin was working with the Division of Student Affairs to create a mental health board that meets monthly and provides students a shared space to talk directly with administrators and counseling services leadership about their opinions, challenges, and ideas.
Britt, a religion major and government and legal studies minor from Mantua, Ohio, has been described as someone who has "one of the biggest hearts I know" and who "wants to do everything in his ability to make this community a better place."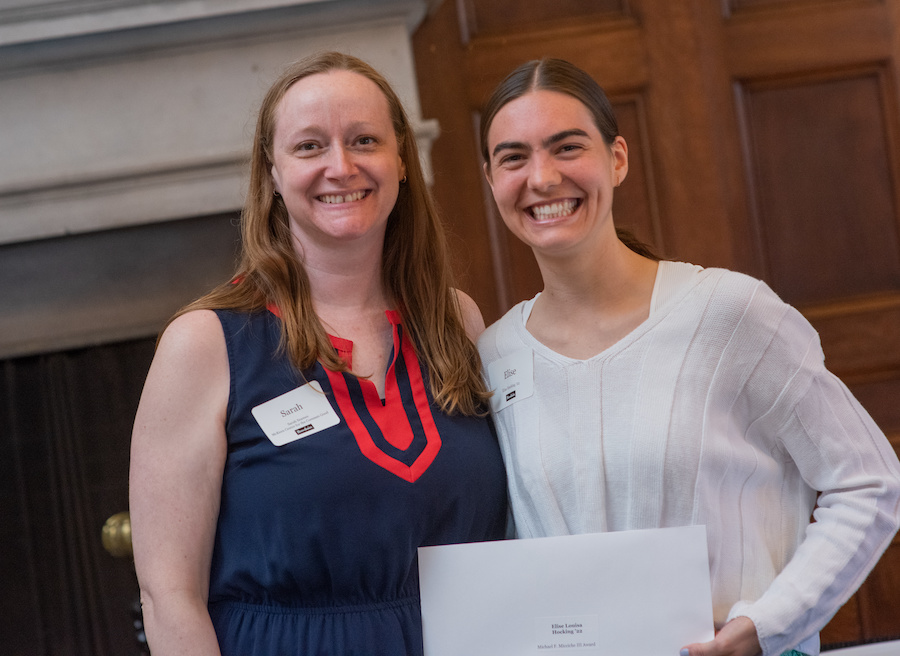 Micciche Award: Elise Hocking '22
The Michael F. Micciche III Award is given annually to that individual who embodies the entire Bowdoin experience, who engages the College community, achieves academic excellence, and earns the respect of their peers and professors. This individual must plan on broadening their education following graduation, either through enrollment at a graduate school or through a structured travel or volunteer program.
An Asian studies major and a government and legal studies minor, Hocking has been involved in multiple aspects of college life. She was the head staff leader in Residential Life through two of the College's most challenging years during the pandemic.
She has served as co-president of Hillel; as an eco-rep (a peer-to-peer educator for Bowdoin's Sustainability office); and as a member of the town of Brunswick's Recycling and Sustainability Committee.
Hocking has also been involved with the McKeen Center, where she was a member of the Common Good Grant program for each of her four years here and was one of its two leaders, with Jessica Bae '22, this year.
She also was involved with the Writing Center and the Program for Nonviolence and Conflict Resolution.
One of her nominators wrote: "Elise has been wise beyond her years since the day she stepped foot in our office as a first-year. She has been organized, sees the big picture, and cares so much about the Bowdoin community. We have been impressed with her poise, tact, intelligence, and creative capabilities."
After graduation, Hocking is headed to law school at the University of Michigan.
Andrew Allison Haldane Cup: Jessica Bae '22
The Andrew Allison Haldane cup, given by fellow officers in the Pacific in memory of Captain Andrew Haldane, United States Marine Corps Reserves and a member of the Class of 1941, is awarded to a member of the senior class who displays outstanding qualities of leadership and character.
An anthropology major and computer science minor, Bae has been described as a natural leader.
Her peers call her approachable and kind and say that she easily builds trust in the spaces she leads. As a proctor at MacMillan House, Jess fostered a welcoming environment and built relationships with virtually everyone in that community.
She has been part of Bowdoin Outing Club's leadership team, where, as a woman of color, she helped transform traditionally white spaces.
She is a McKeen Center Fellow and has been involved in the center since her first year at Bowdoin. During the summer after her first year at Bowdoin, she was a Maine Community Fellow with the local nonprofit ArtVan, and in her sophomore year she worked as a Common Good Day assistant.
Themes of equity and inclusion inform much of Bae's work. She helped the McKeen Center develop its Antiracism Fellowship and worked with the center to broaden and deepen relationships with BIPOC‐led nonprofits.
Her other achievements include taking part in the Bears and Cubs program as a mentor for local children and helping to organize a Red Cross blood drive.
One colleague spoke for many when she described Bae as a ray of sunshine who brightens the lives of those around her. She is thoughtful, caring, and, despite being incredibly busy and involved on campus, is always ready to drop everything to help a friend.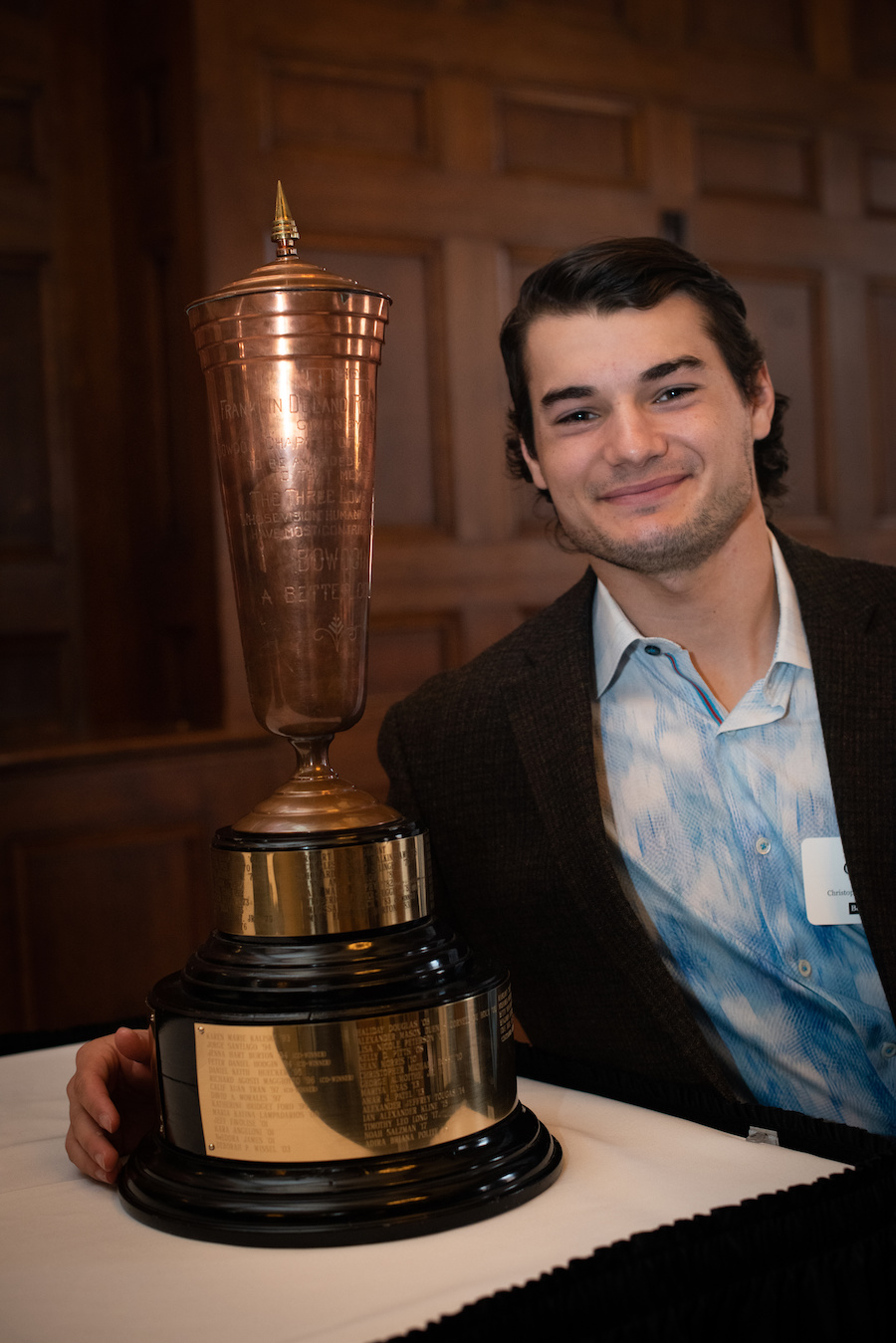 Franklin Delano Roosevelt Cup: Christopher Dehney '24
Furnished by the Bowdoin chapter of Alpha Delta Phi Society, the Franklin Delano Roosevelt cup is awarded to the member of the three lower classes whose vision, humanity, and courage most contribute to making Bowdoin a better college.
A biology major and psychology minor, Dehney is a member of the men's lacrosse team and is responsible for setting up Bowdoin's Peer Counseling initiative, which is run by the student group Peer Health.
At his all-male high school, Chris participated in a weekly peer counseling program in which the school counselor conducted a live session with a student for all to observe before students broke into pairs to have one-on-one discussions.
Dehney brought this program to Bowdoin to help destigmatize counseling by providing an informal entryway, and to create another outlet for students who want to talk with someone outside of normal nine-to-five business hours.
He worked with Counseling Services and Peer Health to formulate a program with ground rules that would work at Bowdoin. The program's first session had about ten participants, but the following week the number grew to around fifty, such that the program increased the number of meetings held throughout the spring semester due to increased demand.
One of Dehney's nominators wrote: "I was deeply impressed by Chris's passion not only to fill a need he saw at Bowdoin but also to take initiative and follow through. He was going to do everything he could to make this program happen—and continue to happen—and that is exactly what he did."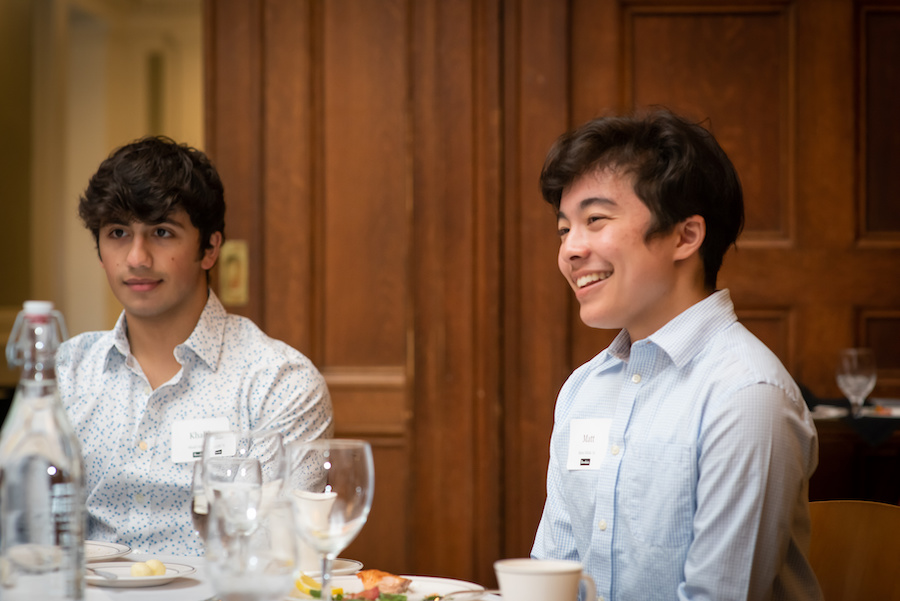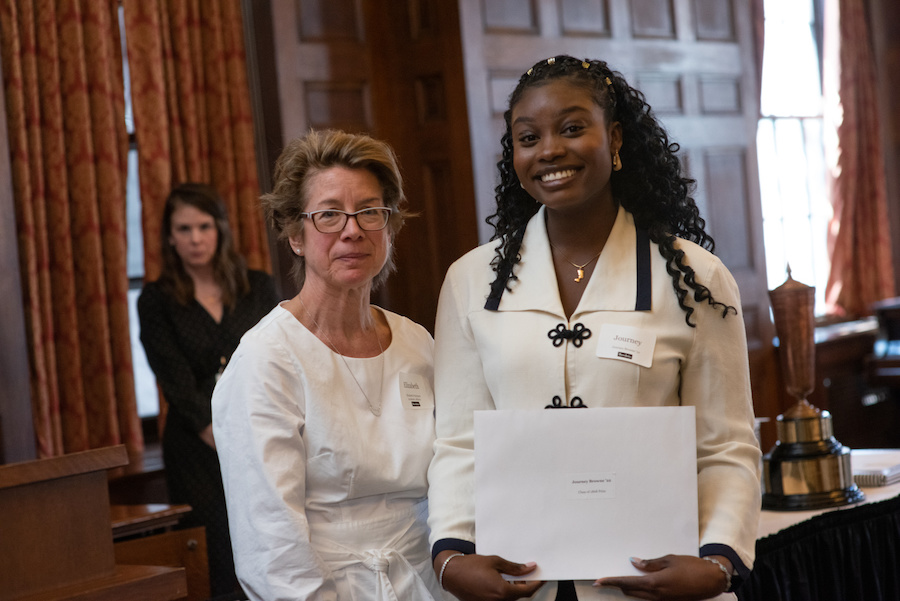 Commencement and Baccalaureate Speakers: Ryan Britt '22, Journey Browne '22, Brie Cunliffe '22, Matt Hikida '22
Elizabeth Pritchard, associate professor of religion and associate dean for academic affairs, presented the awards for the four students selected by committee to be speakers at the upcoming Commencement and Baccalaureate ceremonies.
This year, two Geoffrey Canada Scholars—Britt and Browne—will speak at Commencement. For this honor, Britt received the Goodwin Commencement Award and Browne the Class of 1868 Prize.
Britt, from Mantua, Ohio, will deliver a speech called "The Great Hope of a Bowdoin Education," about his journey to Bowdoin as a low-income, first-generation college student. In his address, he describes "how his practice of holding onto hope has helped him continuously reach for something better and to fight to break his family's cycle of poverty," Pritchard said.
Browne's speech, "The Victory Mindset," will narrate her story recovering from the devastating loss of her mother in October 2021. She describes the "victory mindset" she adopted in the aftermath of losing her mom, in which she saw the small steps she managed each day—getting up in the morning, eating a meal, attending class—as victories. "It was the accumulation of those small wins that helped her 'claw her way out of depression," Pritchard said.
Two other students' speeches were selected for the Baccalaureate ceremony and as an alternate. Brie Cunliffe '22 received the DeAlva Stanwood Alexander First Prize for her talk called "A Luminous Endeavor." In it, she uses the metaphor of diving into a sea of bioluminescence to describe the community she found at Bowdoin.
The speech "Maybe, Will Be, Change," by Matt Hikida '22 was selected as an alternate. Hikida's efforts were recognized with the DeAlva Stanwood Alexander Second Prize. His talk explores the messiness of life—its unpredictability, its losses, and the mix of emotions we experience around all of it.