Published April 25, 2022 by Mira Pickus '25
"The Manic Monologues" Creator Zack Burton '14 Visits Bowdoin
On a Tuesday night in the middle of spring midterms, Kresge Auditorium was filled to near capacity with students who came out to see The Manic Monologues and hear director Zack Burton speak about his experiences with mental illness.

Burton started his career as a geologist, adopted acting and directing along the way, and now has become a sought-after advocate. He has also been diagnosed with bipolar disorder and has struggled with suicidality.
A graduate of Bowdoin's earth and oceanographic science department and a Stanford alumnus, he exemplifies the trope of someone highly intelligent, personable, successful, and mentally ill.
Kate Nicholson, Bowdoin's assistant director of student wellness programs, and Olivia Groell '23, who leads the student club Bowdoin Active Minds, invited Burton to campus recently to share his stage debut, The Manic Monologues.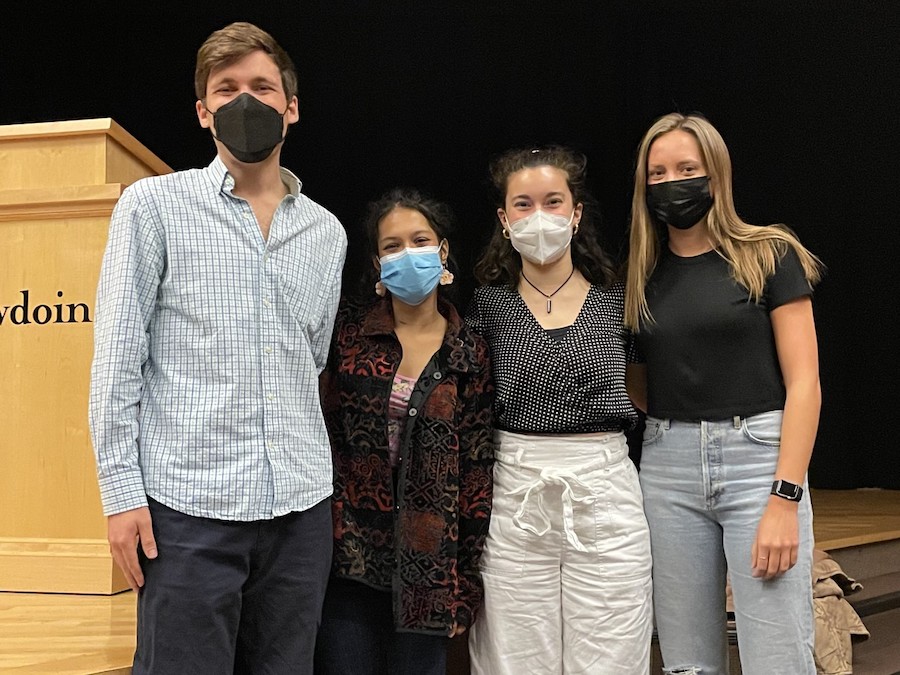 Created with co-founder Elisa Hoftmeister, The Manic Monologues comprises a series of performed pieces about the real and messy stories of those who struggle with mental illness. Productions of the play have been performed around the nation, from well-known repertory theaters to college campuses.
The narratives not only touch on a myriad of clinical conditions—manic depression, bipolar disorder, suicidality,  schizophrenia—but likewise bring to life the stories of those caring for mentally ill loved ones. They also highlight the stigma surrounding mental health and how that impacts those who are struggling. As one actor notes, "the stigma was more fatal than the illness itself."
The monologues themselves are raw, jarring, and moving. The play begins with a black screen and a rousing audio overlay. In a dark theater, the audience hears:
Out of her mind.
Deranged.
Psycho.
Irrational.
Not capable.
The words are uttered one at a time initially. Then slowly, the voices speak over each other shouting:
Out of her mind
Deranged.
Psycho.
Irrational.
Not capable.
When the last "psycho" is uttered, lights come up in the televised theater. We see a young Black man (Emery Ahoua '14) in simple dress slacks and button-down shirt take center stage. He opens the first story, the account of a man who "scratched his skin raw" and was "furious that [he] was still alive." Burton narrates his own story, describing how he paced the confines of his room in the psychiatric hospital until his feet bled. 
The content is heavy. Burton prefaced the showing with an open invitation for people to step out at any point if that was best for them.
The range of experiences covered in the production are expansive; not all are about the hospitalized, diagnosed, or suicidal. Some are about their loved ones. Rona Hu, associate dean and clinical professor at Stanford School of Medicine, speaks about a woman who dates a man she later finds out was diagnosed with bipolar disorder. The person with whom she had the "best first date in the history of the known universe" was also plagued by deep psychological turmoil. In reevaluating their relationship with the knowledge of this medical condition, she decides to become a psychiatrist.
After the production, Burton opened the floor up for questions. The students had lots of them: 
How did you separate your self from your mania?
How were you supported best? What was not helpful?
What are better ways to support friends you see struggling?
With that exchange, Burton's event differed from the customary lecture presented on campus. Guest speakers do not normally share their worst, most frightening moments with a roomful of strangers. And college students do not usually entrust unknown adults with questions about how to care for themselves, their psychological or emotional well-being, and the minds of the people they love.
With this event, Burton, Nicholson, Groell, and the members of Bowdoin Active Minds created a space on campus that laid out both the subtle nuances and pointed realities of mental illness, so that a spirit of vulnerability could arise to meet the needs and experiences of audience members.