Published March 15, 2022 by Bowdoin Magazine
Welcome
Stephanie Frost, Bowdoin's new senior vice president for development and alumni relations and the first woman to hold the position, talks about listening, learning, engaging, and creating space where all alumni can feel a sense of home at the College.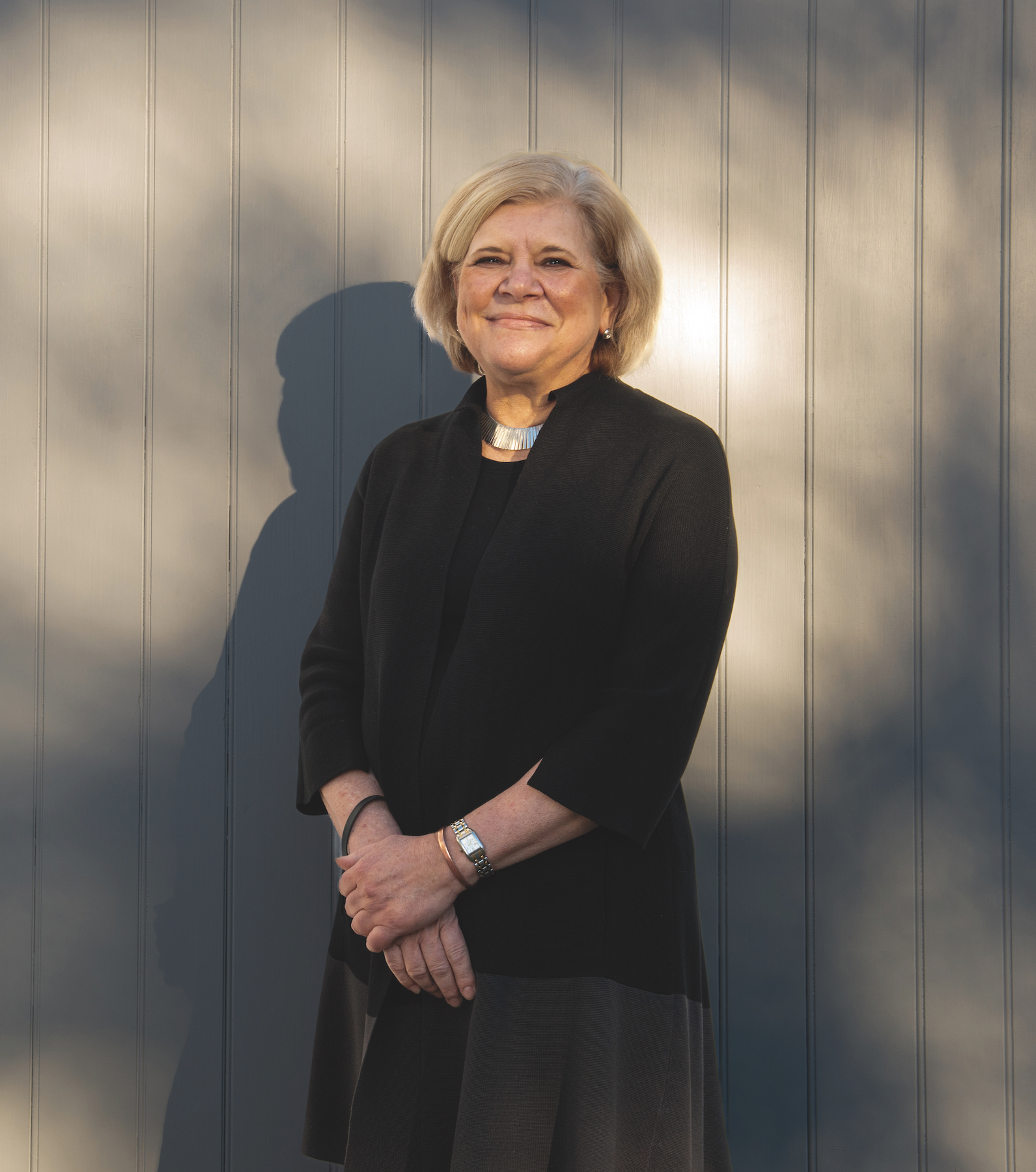 How does Bowdoin's relationship with its alumni base compare to other institutions where you've worked?
The level of participation and engagement across so many departments and activities and programs within the College is outstanding. When I think about the thousands of alumni who participate in admissions, career counseling, alumni relations, reunions, as class agents—I could go on and on—I honestly can't imagine how the College would function without them. That's true at some institutions, but at the level that we have it here, it's almost unheard of. The base is so strong—we're building on strength.
The question, the opportunity, is how do we engage even more? President Rose talks about creating an environment where every alum feels that Bowdoin is a place that he or she belongs. We want to make sure that's true even for those alums who may not have had the most positive experience as students, but now they can say, "This is a place that has evolved where I do see myself belonging."
What are some of the possibilities for how connections with alumni can be strengthened?
Our opportunity in connecting with alumni is making sure that we are being informative and authentic in our communications, programs, and events with the spirit of the College and that it resonates with what our alumni are looking for from Bowdoin. We want to make sure we are providing alumni with the activities and programming that they are seeking—professionally, intellectually, creatively. An alum's relationship with Bowdoin should be lifelong, and our job is to provide resources that our alumni want and can use in all chapters of their lives.
What are some of the steps that your office is taking so far to diversify, and what are you envisioning in the future to continue that?
We're broadening our scope, widening our aperture, if you will, to look more holistically at our alumni base and identify those alumni with whom we have not had much contact. We're trying to ascertain why that is and engage them in conversations. We have a new director of multicultural alumni engagement, Joycelyn Blizzard, but this does not fall just within her purview. It's actually the purview of everyone on our team who is working with alumni.

We need to be open to hearing the stories of the experiences of all our alumni, and that cuts across socioeconomics, gender, race and ethnicity. We need to listen to our alumni and recognize where we may have fallen short and how we can move the relationship forward. Bowdoin is a tremendous resource for our alumni and an opportunity for them to engage not only with each other, but with the student experience now.
We recently launched the Black Alumni Association. We are working with other alumni [groups] to identify opportunities for similar engagement so that all alumni will feel they have a place at the College that they can call their own, that they will have a voice at the College. We're building on the fiftieth anniversary of women at Bowdoin this year by launching the Women's Leadership, Engagement, and Philanthropy Initiative to help create a more robust pipeline for alumnae. I'm hoping that some of the learnings from that initiative can be applied to our engagement with our Black alumni, our Latino and Latina alumni, our Asian alumni, our LGBTQ alumni. There's so much that we can learn from each other. I'm sure there will be many other opportunities down the road, but this is what we're focused on right now.
It sounds like you and your team are looking to establish a much more customized approach to interacting with various groups of alumni. How do you put it into practice in a way that feels personal and genuine?
Much of our strategic approach is informed by the investment of time, energy, and experience that we receive from our incredible volunteers. That's both within organized volunteer groups such as the Alumni Council, the Fund Directors, BRAVO, the Board of Trustees, volunteers at CXD [Career Exploration and Development], as well as the volunteers that we engage in communities across the world as class agents and as representatives of our alumni relations team. That group has become exceedingly diverse and looks much more like the Bowdoin of today.
What is going to get us to our $500 million From Here: The Campaign for Bowdoin goal?
We're at $417 million as of January 31 with just about two and a half years to go. What's going to help get us to the $500 million goal? We're going to need everyone's participation.  Every gift to annual giving matters. And, it's not just about a $500 million goal. We have a goal of engaging 85 percent of our alumni in a variety of different activities at least once over the course of the campaign, and we have work to do there.
Many people think of that as attending Reunion, going to an affiliate event, donating—what are some of the other important ways alumni can engage with Bowdoin that might not be so obvious?
Alumni engage every time they identify as Bowdoin alumni. Alumni are our best representatives, our biggest ambassadors to the world. So, when they leave a copy of Bowdoin Magazine on their table, and somebody walks into their office or their home and sees it, every time they reference Bowdoin to a sixteen- or seventeen-year-old who's looking at colleges, by saying, "I went to Bowdoin. You may want to check it out," they are engaging. Every time they take the time to write a class note or speak to or email their class agent, they are engaging. Every time they open an enewsletter and learn something new about the College, or even better take action on what they just read, they are engaging. 
Is this focus on engagement in our current campaign different from other campaigns? Why is this important now?
High engagement is important because it reflects alumni interest in identifying with the College. Submitting a class note to the magazine, coming to an event, volunteering, making a gift—these demonstrate affiliation, affection, pride. They are the basis for any strong relationship between alumni and the College, and alumni involvement is a significant part of the lifeblood of the College. It's highlighted now because I think there is a greater recognition of the importance of alumni involvement with the College. I think we have always been exceedingly blessed by having a strong volunteer program and outstanding annual giving participation. It's just unbelievable how many people we have volunteering on so many levels for our students, our fellow alumni and the greater College community. Truthfully, it's absolutely necessary for the success of the College. We should focus on this engagement, celebrate it, and make sure it continues to grow. That's one of our goals with this campaign, and moving forward.
What is something that you want alumni to know about giving to Bowdoin?
I'd like to touch on the value and the impact of individual actions. I'd like to highlight the importance of alumni who give $10, $25 or $50. By doing that, you are saying, "I believe in this organization. It means something to me. It means so much to me that I'm willing to share some of my precious resources with this institution. I am part of a special group of individuals who support this College and who are working on behalf of the College to ensure its future success." Do we have challenges? Yes. Do we have things that maybe we need to change and do better? Yes, but I know that we can, working together. The term philanthropist applies as much to a person who makes a $25 gift to the Alumni Fund as it does to a billionaire donor.  $10, $25, and $50 gifts, as we have witnessed, when multiplied, can have tremendous impact. We're often asked by institutional funders, by foundations, for instance, "What is the percentage of your alumni who participate in giving to the College?" We are very proud to say that at Bowdoin we have around 50 percent of our alumni participate. That is rare. There are few places that can say that, and that speaks volumes to the world about the awesome strength of the Bowdoin alumni community.
---
Stephanie Frost, senior vice president for development and alumni relations, started in her new role last July. Before joining the Bowdoin community, she was the associate dean for external relations at the Stanford Graduate School of Business, and before that was in leadership development and alumni relations positions at Fairfield University and at Yale University.
---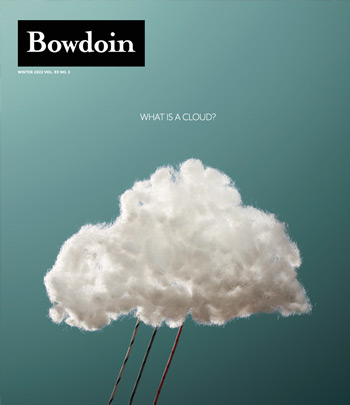 This story first appeared in the Winter 2022 issue of Bowdoin Magazine. Manage your subscription and see other stories from the magazine on the Bowdoin Magazine website.