Published November 10, 2021 by Jane Godiner '23
Santagata Lecture Series Brings Novelist and Photographer Teju Cole to Bowdoin
On
Monday evening
, Teju Cole shared his photographs, words, and insights for the biannual Kenneth V. Santagata '73 Memorial Lecture series, which since 1983 has been bringing prominent voices in the arts, social sciences, and humanities to Bowdoin.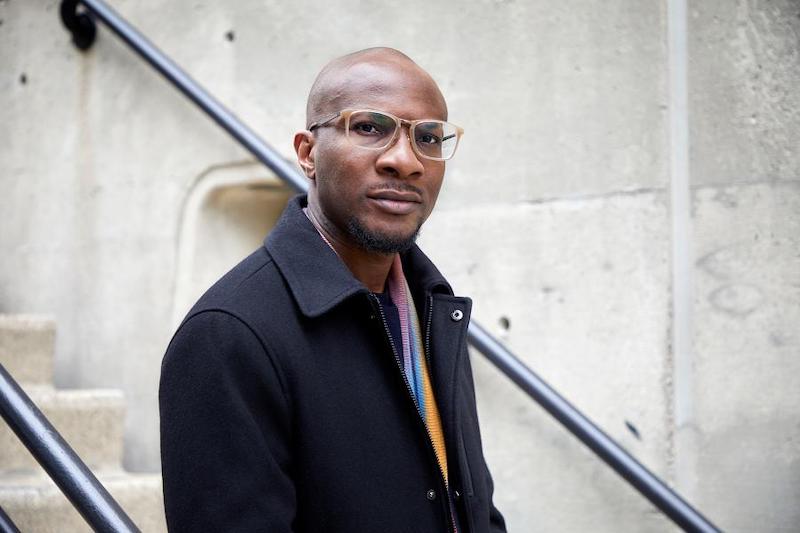 Cole—who has published eight books, many of which double as photographic anthologies—shared prose, pictures, and insight from his creative portfolio with the Bowdoin community during his talk.
"I suppose, when I look back on it, it's been a busy few years," Cole said. "I would like to give you an account of what I've been doing in particular with words and photographs, trying to understand the way those two forms might be talking to each other."
Cole believes that his tenure as Gore Vidal Professor of the Practice of Creative Writing at Harvard University has been instrumental in shaping his creative work and his philosophy about the interplay of text and image.
"It just so happens that, this term, I am teaching a course called Words and Photographs, so it's on my mind a lot," he said. "It's been on my mind for many years, but now, every week, I'm meeting with students and trying to think through the affordances and possibilities of each of these forms—what is the synergy that happens when they're next to each other?"
During Cole's overview of his work, he paused on his 2017 book Blind Spots, which was shortlisted for the Aperture Paris Photobook Award and named one of the best books of the year by Time Magazine. 
"Blind Spots was my first work in which I was really exploring this tension between text and photographs, and it was something that emerged after a moment of personal frailty, in which I lost vision in my left eye, temporarily," Cole said. "That topic had shown up in my earlier books, about what our blind spots are, ethically and socially….[it was] an alarming irony."
Cole also discussed his experience curating his book Fernweh, which was the byproduct of five trips to Switzerland.
"It also became this exploration of how visualized the landscape around me in Switzerland already was—the book contains pictures of pictures; a view of a view," Cole said. "The whole place kind of looks like a stage set. For photographing the world, we have to photograph the ways in which the world is already pictorialism itself."
While Cole's writing has been examined in a variety of academic contexts, including in Bowdoin English classes, Cole believes that his work resonates especially strongly with those who share his lived experiences as both an American-born boy raised in Nigeria, and as a Black man currently living in the United States.
"People who don't know better might think that I'm writing for my colleagues at Harvard; I'm not," Cole said. "I am writing precisely for those eighteen-year-olds in Lagos, Nigeria, because that's exactly the kind of eighteen-year-old I once was—people get it."
Cole's work explores a breadth of thematic elements; however, he also intends to keep his work grounded in his personal beliefs and observations.
"One thing that's common to all eight books is that landscapes retain traces of the things that happened, and I kind of draw that out in various ways," he said. "It suits people well to pretend that their environment is somehow innocent and that they are somehow innocent, but that 'innocence' is a moral crisis." 
Cole hopes that his multimedia work will not only continue to serve as food for thought, but also to act as a catalyst for long-term change, personal reflection, and outward sensitivity to the spaces we inhabit.
"Maybe that's the next revolution: we become aware that we are on unseeded territories and unsettled territory, and that we have responsibilities towards them, no matter whether your ancestors came to us a long time ago or whether you're a recent arrival," Cole said. "There's something that's not being acknowledged."