Published October 29, 2021 by Tom Porter
When Yes Means No (Energy Corridor)
Even a seasoned political scientist and ad watcher like Michael Franz has to take an extra moment to remind himself who is proposing what on Question One in this year's Maine ballot, which many Bowdoin students will likely be voting on come November 2.

"If you vote No on Question One, you're saying Yes to the energy corridor, whereas the Yes people oppose the corridor. I always have to flip it in my mind to remind myself," said government professor Franz. As codirector of the Wesleyan Media Project, he specializes in issues like campaign finance, political advertising, and interest groups.
He recently teamed up with Assistant Professor of English Morten Hansen, who is also a media studies scholar, for a conversation with members of the Bowdoin community. The event—billed as "Confusion at the Ballot Box: A Feature or a Bug?"—was held in the Lantern at the Roux Center for the Environment and aimed to clarify this complicated issue.
The Citizens' Initiative listed as Question One "prohibits the construction of electric transmission lines in the Upper Kennebec Region and requires a two-thirds vote of each state legislative chamber to approve electric transmission line projects defined as high-impact." Essentially, the proposal seeks to thwart a project already underway to ship Canadian hydropower through Maine to Massachusetts. This would involve the clear-cutting of about fifty miles of Maine woodland, although about twenty miles of clear-cutting has already been done, says Franz. The proposal has led to a highly charged (and very costly) advertising war via the airwaves, the internet, and in print—a battle that has intensified as election day approaches.
"The environmental message is key to both sides." Morten Hansen.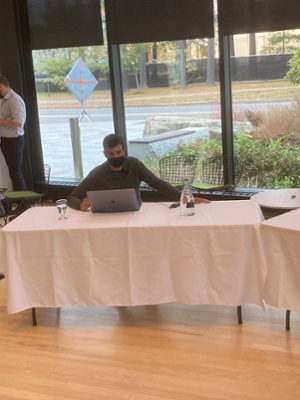 Proponents of the so-called clean energy corridor tout the project's green credentials and the benefits they say will accrue to Maine as a result, including thousands of jobs and cheaper energy. Opponents also play the "green card," warning of the environmental damage that a 150-foot wide corridor would do to Maine's pristine wilderness, without bringing any benefit to the state. They call the proposal a "bad deal for Maine" that will do little to lower energy costs or to create jobs, despite what the opposition says. "The environmental message is key to both sides," said Hansen. This was heavily on display in the early stages of the advertising campaign, he explained, with clean energy advocates on one side and environmental protection activists on the other. Two television ads from 2019 were played to the audience to demonstrate this point.
"As the election gets nearer, however, the messaging has changed," said Franz, "with both sides getting more negative." The ads opposing Question One, which are largely funded by CMP and Canadian hydropower interests, are now telling voters to "say no to retroactive laws," claiming that because the proposal aims to roll back a program that's already approved and underway, it sets a dangerous precedent.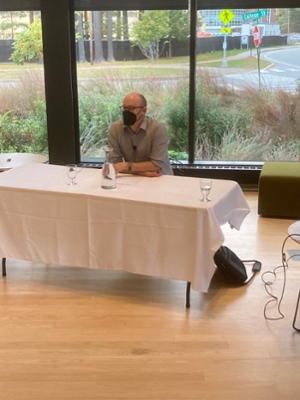 Consequently, Question One opponents are now saying this could impact other projects and other issues—affecting, even, the Second Amendment right to bear arms. Hansen said this is a bit of a stretch: "The retroactive idea is made to sound like a sinister plot where nothing is safe."
Both sides also seek to blame lawyers for what's happening. "The No lobby says the proposal's supporters are involving lawyers in a political conspiracy to undermine Maine values," said Franz, "while the pro-Question-One folks say they're up against paid mercenaries from out-of-state."
Voters are being faced with a very complex issue, said Franz, and many of them will likely be undecided until the last minute.
"Apart from the whole 'Yes means No' thing," he explained, "there is also the fact that, unlike most ballot initiatives, this one does not run along party political lines. It's not a question of right versus left."
Media mention: Listen to Professor Michael Franz on public radio offering his perspective on the Question One in this recent report on Maine Public.