Published March 15, 2022 by Bowdoin Magazine
Space for Everyone
The College's small, tight-knit community is one of the reasons Bridget O'Carroll '13 says she was so happy at Bowdoin, where her sister, Fiona O'Carroll, is now a senior. And community impact is a central tenet to Bridget's mission with her business, Studio Qila, especially "supporting underresourced communities, and amplifying Native and Black voices," she says. "We believe wellness should be accessible to everyone."
Can you tell us a little bit about your background? How did you end up at Bowdoin?
Growing up, I lived in more than forty houses across the four corners of the [continental] US, Alaska, Hawaii, Ireland, and the Caribbean. Bowdoin's excellent need-based financial aid is truly one of the reasons that brought me to Brunswick; it's maybe the most important way to foster diversity and inclusion.

You mention "strength that goes beyond physical" and emphasize the value of connection in your practice. Can you talk about the importance of these mental aspects to fitness?
My method centers creating constant tension in a single muscle group, leveraging your slow-twitch muscles until you start shaking, which means you've hit muscle failure. This creates tiny little tears in your muscle fibers that forces them to rebuild tomorrow. It's tough, it's uncomfortable, and it requires mental focus. It also requires thoughtful recovery.

Studio Qila is about connecting mind to muscle, developing body awareness, and truly staying present. By leveraging both the mental and the physical, my goal is to help you to develop confidence in your ability, in your body, and to show yourself how strong you are.  
Is there anything you learned running cross-country at Bowdoin that you employ in your fitness or your life today?
Cross country is so much about mental strength and generally being at peace with discomfort. I continued to run after college and did a variety of half marathons. Eventually, the impact of running didn't feel great to my body, but I definitely still bring the mental grit that I learned from distant running into my Pilates practice.
How did you get interested in Irish dancing? Do you still find ways to dance?
My dad is from Ireland, and I attended my first couple years of high school there, in Galway, then County Cork. The last time I danced for an audience was at Bowdoin. Louisa Cannell '13 was helping put on a talent show and convinced me to perform. She is now my creative director at Studio Qila!
You highlight the fact that Studio Qila is both Indigenous- and woman-owned in your marketing. Are there ways those aspects of your identity affect your approach to your business or to fitness?
When I was young, I spent a lot of time in the Pacific Northwest (PNW), where there was an incredibly strong indigenous community. I would go to the Intertribal Intergenerational Women's and Girl's Camp every summer and learn traditions like basket weaving and moccasin making, as well as values like respect for elders, the collective, and the earth. Once I left the PNW, I no longer saw people like me anywhere. There was no representation in the media. There were no affinity groups for us at work or at school. Even in my US history classes in high school, we would skip the Native American history chapter because it wasn't on the test. I realized some people didn't even know Native Americans are still here.

Representing myself as a Native woman, and Studio Qila as an indigenous-owned business, is incredibly important to me. There is such a lack of diversity in the wellness space, an industry where there is already so much cultural appropriation. By representing myself as a Native woman in business and in wellness, I hope to do my part to increase representation, spur new awareness and a sense of belonging to those who need it. I'm also committed to raise other Indigenous and Black voices through my platform.
How does your other training come into play at Studio Qila?
I have worked in strategy and operations for almost a decade. I'm a product strategist at Google now, was formerly the Chief of staff to the head of rides at Uber, and was a strategy consultant at Kaiser Associates earlier in my career. I leverage my background in Tech to ensure a seamless online experience, my background in data analysis to constantly evolve my offerings, and my background in strategy to constantly evaluate the market need and the best way to grow. I also leverage my background in business to know I am not the right person to do everything. I am incredibly fortunate to have a team that fills the gaps of expertise that I don't have—most notably, Louisa.
Can you talk about your wide-ranging commitment to community support? Why is that important to you? How does it seem to resonate with your clients?
At Studio Qila, my method is centered around pushing through discomfort in order to create change. I bring that same mentality to create change within our broader communities, and am always looking for ways to extend this impact. As a Native woman, I am especially passionate about supporting under-resourced communities, and amplifying Native and Black voices. Studio Qila supports our communities several ways.
Donation Classes: We've raised $15,000 through donation classes, with 100% of those funds donated to nonprofit organizations supporting our broader communities, including the Loveland Foundation and Native Wellness Institute.
10% pledge: We donate an additional 10% of all proceeds organizations supporting BIPOC communities.
Qila Scholarships: We believe wellness should be accessible to everyone. We offer scholarships to cover the cost of Qila classes for anyone who needs it.
How has your government and legal studies major had an impact on your career?
My liberal arts degree from Bowdoin taught me to learn and stay curious. The ability to learn new things quickly, rather than a deep specialization in a single topic, has helped me immensely throughout my career. When I was a consultant diving into different market research every month; when I was at Uber navigating an industry that had just been created; at Google where our products are constantly evolving; and as an entrepreneur, when suddenly I am the strategist, the operator, the marketer, and the leader.
Do you have tips for people who are working to start a business or "side hustle" while still in a full-time job?
I work at Google and as founder of Studio Qila, so I essentially have two full time jobs. Both jobs are incredibly satisfying and constantly contribute to my continued learning and growth. Both roles allow me to flex my ability to develop strategies, influence, be a thoughtful decision maker, manage stakeholders, and generally help me to become a better leader.
I started my career in consulting and worked my way up to become a Chief of Staff at Uber, while also becoming a master Pilates instructor. I was halfway through an MBA when the pandemic hit, and I began teaching Pilates classes online to my friends. When 500-plus people started attending, I founded what became Studio Qila. I built the company through my second year at Wharton and continue to grow it while working full time at Google.
My tip for others who want to start a business is to start small—you don't necessarily need a big team and a bunch of capital to build something meaningful. I started Studio Qila with $16: enough for a zoom account and some background music. In my first year, everything I built was self-funded through revenue we already made. Find a problem and start testing different ways to solve it. See what sticks, then be willing to constantly evolve while sticking to your core values.
---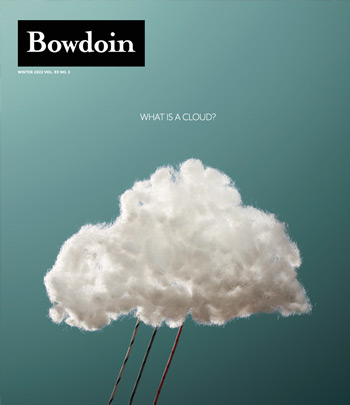 This story first appeared in the Winter 2022 issue of Bowdoin Magazine. Manage your subscription and see other stories from the magazine on the Bowdoin Magazine website.