Published March 15, 2022 by Bowdoin Magazine
Culinary Diplomat
Sam Chapple-Sokol '07 has combined a master's degree in law and diplomacy and a lifelong love of cooking into a satisfying role as editorial director for the humanitarian food nonprofit World Central Kitchen, based in Washington, DC.
You were a government and legal studies major at Bowdoin and went on to graduate from the Fletcher School of Law and Diplomacy at Tufts University—how did that path lead you to your current work?
It's been a bit of a winding road, but I think I can trace two tracks that have finally met up in my life. Since Bowdoin I've been interested in international relations, and my entire life I've been into food. I never imagined a career that would bring the two together, but during my master's program I started exploring "culinary diplomacy"—the idea that food and cuisine can be used as tools for building closer relations between people. Jobs for a culinary diplomat are few and far between, so I wended my way after grad school—through the White House pastry kitchen, a culinary education startup, a couple of wine bars and bakeries, some freelance writing—and ended up where I am today, thinking about the world through the lens of food. 
Can you explain a little about World Central Kitchen and your role with the organization?
World Central Kitchen (WCK) is a nonprofit that feeds people in the aftermath of disaster—both natural and manmade—and works to build strong long-term food systems in areas vulnerable to disaster. It was founded by José Andrés, the superstar Spanish-American chef and humanitarian, whom I've had the privilege of knowing for a decade. My role at WCK is as a storyteller, gathering stories from people and communities where we've worked and sharing them with our audience. While my focus is writing, I also work across a few different media—video, podcasts, photo collections—and we're even putting together a comic book. My big project now is to write the organization's first cookbook, which will (hopefully!) be out in September 2023. 
Can you talk about the importance of culinary diplomacy?
Culinary diplomacy is the idea that food can be used as a tool of international and intercultural relations. Sitting down to a meal can lead to better relationships and a deeper connection at all levels, from a community meal to a state dinner. It can be powerful stuff—as a pastry chef at the White House, I was able to see how the choice of ingredients and dishes were finely tuned decisions from the kitchen teams to project national pride and a friendly welcome. And in day-to-day interactions, one of the best ways to get to know someone is to sit with them for a meal and share stories, learning about where they come from and what they grew up eating.
What gets you out of bed in the morning? 
Both physically and metaphysically, my two-year-old son, Eddy. He wakes me up every morning, usually with a song or some new joke he made up, and the day's begun.
Who is your hero and why? 
My heroes are the people who keep our society functioning, the postal service and waste management folks and everyone behind the scenes without whom this whole thing would fall apart. Having worked in restaurants, I know that the most important but societally undervalued person is the dishwasher—without them, the kitchen's a disaster, but they never get mentioned in the reviews. I think that's heroic.
Is there something you believe few people know about you that they may find surprising?
I've got a small but growing collection of tattoos—basil, maple, rye, and an olive branch. I realize the content might not be surprising to people who know me, but my Bowdoin self would never have imagined my adult self getting ink. 
What pursuits do you enjoy in your spare time?
Cooking is the big one, plus I roast my own coffee, bake breads and sweets, make beer and wine, and ferment. I guess I'm like a personification of Brooklyn in 2009, minus the beard. 
Do you have a favorite?
These days I love baking with my son. I've baked for a long time, both professionally and at home, and learned from my parents, so it's deep in me. He stands next to me and mixes, kneads, chops, whatever he can do. The best way I've found for him to help is to take one of the ingredients—shredded cheese for muffins or chopped nuts for bread—and pour it from one bowl to another, back and forth. I explain to him that he's "aerating" the ingredients, a very important step in the process. Sometimes half the cheese ends up in his mouth or the floor but, hey, at least it's well aerated. 
---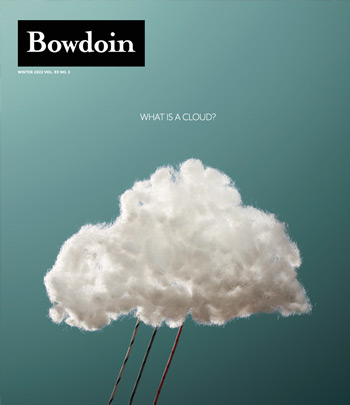 This story first appeared in the Winter 2022 issue of Bowdoin Magazine. Manage your subscription and see other stories from the magazine on the Bowdoin Magazine website.