Published March 15, 2022 by Bowdoin Magazine
Crossroads
Meredith Maren Verdone '85, recently retired from corporate life, on slowing down to take a breath and what comes next.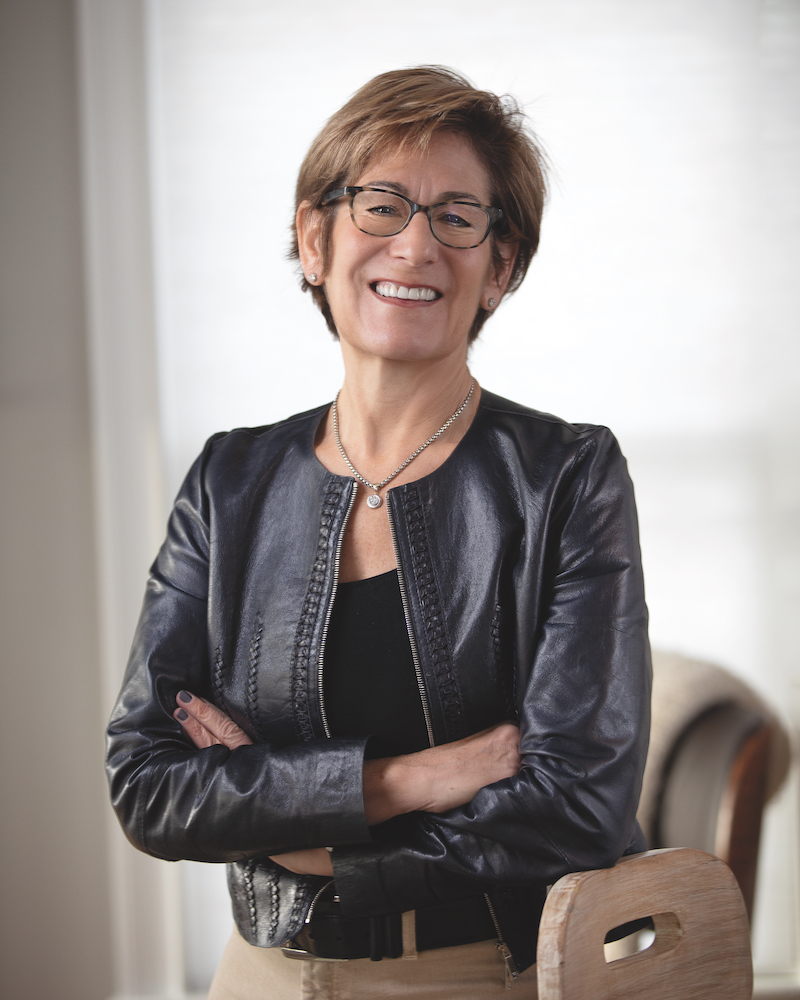 After twenty-three years, you're leaving Bank of America, during a time when Americans across the board are leaving their jobs for new horizons unlike ever before. Career transitioning has become an unexpected outgrowth of the pandemic. Can you talk a little about what shifting professional gears means to you?
It's an exciting time for me. I have had a rich and challenging career at Bank of America, helping position the company through two of the most significant business crises of the past twenty years: the financial crisis and the pandemic. Both situations required me to reimagine how the bank was showing up for its customers. We had to listen closely to what our clients were telling us and respond, sometimes on a daily or weekly basis. Those were the most challenging and exciting experiences in my career. 
During my tenure, the world evolved from predominantly analog to totally digital, so I learned how to be an early adopter. I developed digital fluency that allowed the bank to compete in a high-tech, real-time marketing world.
I also assembled an incredible team and honed my ability to orchestrate complex initiatives across an organization of 1,400 talented people. What's more, in the past twenty months or so we've had to make that organization hum from about 1,400 remote locations.

These experiences have gelled into skills and capabilities that I can take with me into my next endeavor, once I decide which chapter I want to write next.
What's your approach—tactical, mental, or otherwise? 
I'm focusing my energy in three areas:
Mindfulness—I'm taking a breath. Being more present and enjoying the everyday moments of life.
Intellectual—I'm pursuing things that I haven't had the time to do: traveling, reading, learning new things.
Physical—I'm listening to the athlete inside me, staying active and healthy.
What are you looking forward to regarding the possibilities ahead?
This is an amazing crossroads, because there are several possibilities to explore and ponder. So many interesting avenues to pursue: should I apply my skills to an emerging company? To a sports entity? To a nonprofit? Every conversation I have presents a new avenue of possibility and curiosity. It's a fascinating journey.

What I know right now is that I want to pursue purpose and make a difference, and I'm excited for the next chapter. Watch this space.
What sorts of things do you think you'll miss? Or what will you not miss at all?
I'll miss the people—my colleagues and the camaraderie. I have worked with some of the most talented people in the business, and I will miss the teamwork and being part of something bigger than myself. Though I thrive on pressure and the intensity that comes with it, I'm looking forward to taking a breath.
Beyond the economic and workplace implications of what's currently happening, what sort of cultural or societal implications do you think may be at play?
The crises of the past [many] months have impacted the workforce in two ways. One, it has helped people develop amazing resilience. The entire world had to relearn how and where to work. Our offices became our kitchens, living rooms, and bedrooms. We had to adapt overnight to a reality that was previously unthinkable.

The past two years have also put work and life into sharp perspective. Priorities have shifted dramatically. Being healthy and safe has taken precedence over climbing the corporate ladder for many. People are exerting more control over where they work, and they are taking stock of how they work. They are liberated to consider more choices and exert more control.
How does this play out in your life and among your family and friends?
There is definitely a greater appreciation of what we have. We relish time together and are really mindful of the fact that it's not a guarantee. When you aren't able to be with someone you care about for months at a time, you learn to savor the moments when you can be close. I don't think that will ever go away.

We've also developed a greater sense of responsibility to others and the world around us. I'll never forget the images of people in the streets applauding essential workers during a shift change in the early days of the pandemic. Or the fact that during lock-down, fish could be seen in the Venice canals for the first time in years. Or the companies that stopped producing their revenue-driving products to make hand sanitizer or face masks. The power of purpose was on full display. It's made us all look around more often and think, "How can I make things better for someone or for the planet?"
Do you have any advice—given or received—that you find useful in terms of coping with life's ups and downs?
I really try to focus on what I can control. There are so many forces at play that can feel overwhelming—economic, political, the news cycle, racial unrest. It's essential to first filter out the noise and then decide where you can take action. It's OK to make a difference in a small way, because small actions ladder up to major movements.
What gets you out of bed in the morning? 
The possibilities of a new day. I am a morning person and tend to sprint out of bed, unfortunately very early, so it will be interesting to see if that changes. I love the morning, as it's the start of something new.
What are you passionate about? 
Anticipating a positive outcome. I love to dissect challenges and turn them into solutions. I love to apply creative energy to a situation and make something exciting happen. I love to transform complex ideas into simple, powerful stories.
What makes you feel most alive?
I thrive on competition—whether it's competing against myself in a physical battle or in achieving a business goal, I do love having an outcome to strive for. I can be very deadline-driven and goal-oriented and, of course, I also love a little friendly competition.
Who is your hero and why? 
We have no shortage of heroes right now. Doctors, nurses, teachers. So many essential workers. So many acts of kindness. I'm inspired every day.
Is there something you believe few people know about you that they may find surprising?
It might surprise some people to know that I am a bit of an introvert. By that, I mean I typically get my energy from introspection and solitude. I've led a team of 1,400 people and presented to large crowds on multiple occasions. This demands a commanding presence and attitude, which are skills I've had to develop and nurture. I've gotten comfortable at it, but it also means I need a period of quiet reflection to refuel. 
Among your many accomplishments, what are you most proud of? Personal, professional, or otherwise?
No doubt, my two daughters. I know I didn't always provide the quantity of time in their early childhood, but as they grow into adulthood, I see so much evidence that I've had a hand in shaping independent, strong, and responsible young women who are prepared for the future.
What pursuits do you enjoy in your spare time?
I love winter sports, downhill and cross-country skiing and skating. These are activities I did at Bowdoin and continue to enjoy now.
Do you have a favorite, and if so, what makes it special?
Skiing. Not only is it exhilarating and challenging, but it is also one of the few sports you can enjoy as a family and as you go through life (i.e., get old). We spend a lot of time in the Mad River Valley [in Vermont] and have really enjoyed becoming part of the community and close to the slopes.
In what ways did Bowdoin remain with you after you left Brunswick?
I have kept in close contact with so many classmates and have made meaningful friendships for life. I was an economics major, but the art history and drawing classes I took in my senior year fueled my passion for the arts.
What are some favorite Bowdoin memories?
The cold winter nights, trudging through the snow, whether downtown to skate or to watch a hockey game. And I would be remiss if I didn't mention a few (late-night) visits to Miss B's.
---
Meredith Maren Verdone '85 recently retired as senior vice president for enterprise, consumer, and global wave internet marketing (GWIM) at Bank of America, where she led the brand, advertising, research, and sponsorships teams. She previously led the wealth and investment management marketing team there. Prior to her roles at Bank of America, she held leadership positions at FleetBoston and Boston-based advertising agency Hill Holliday. She has served as a senior faculty member at the Consumer Bankers Association's Graduate School of Retail Bank Management, currently serves on the Ad Council board, is a member of the Association of National Advertisers (ANA) board of directors, and is an executive sponsor of the LEAD for Women Boston chapter, providing leadership opportunities for women.
---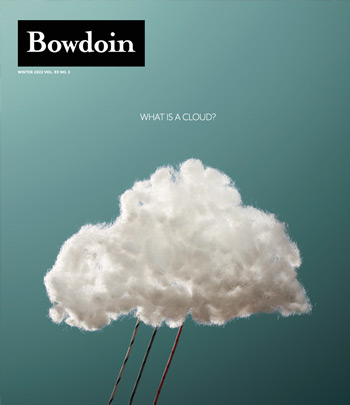 This story first appeared in the Winter 2022 issue of Bowdoin Magazine. Manage your subscription and see other stories from the magazine on the Bowdoin Magazine website.