Published February 23, 2022 by Rebecca Goldfine
Students Reflect on the Best Parts of Bootcamp
After a successful rollout of its career-education program for the entire sophomore class, Bowdoin's Career Exploration and Development (
CXD
) has had a chance to step back and evaluate its impact.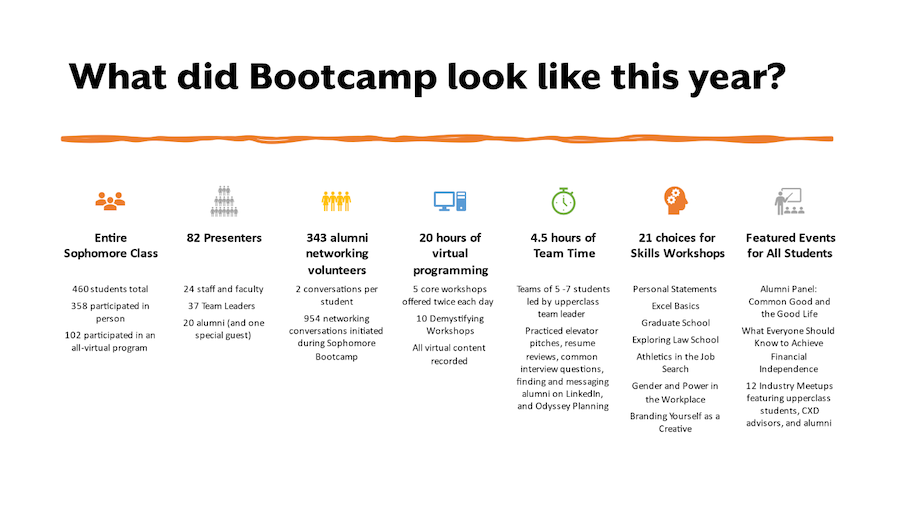 Every January, CXD runs its intensive Sophomore Bootcamp on campus, giving students a "soup-to-nuts" overview of what they need to know to find and apply for internships and jobs. The program includes both practical sessions on how to get hired (like writing résumés and practicing "elevator pitches") and more focused workshops on industry sectors and skills.
This year, the program ran from January 10 to January 21, with some elements in person and some online. For the first time since it launched in 2019, Bootcamp was mandatory for every sophomore.
According to the survey results: 
After Bootcamp, all students reported confidence writing a resume, with one-third reporting they felt "very confident."

Every aspect of Bootcamp received a "useful" rating, with the workshops on networking and application materials rated the highest.
No one identified as "not aware" of career options after Bootcamp. "Overall, career confidence, awareness of options, and clarity of plan went up more this year than in previous years," Walsh said.
The "fan favorite" was networking with Bowdoin alumni, friends, and family.
Student Comments
Sophomore participants answered a question on what they found most valuable about the experience.
On the value of networking with two professionals: 
This year, almost 350 Bowdoin alumni, family, and friends volunteered to field phone calls from sophomores to give them practice speaking about themselves and their aspirations in a professional context.
"Meeting with alums. I had some great conversations with professionals who were eager to share career advice and to simply advise me on how to make the most of my college experience. Both of my alums also offered to connect me with others in their field and offered themselves as resources for the future."
"Meeting with my student was truly the highlight of MY week! It was such a pleasure, and talking with these bright, energized, and engaged young people gives me hope for the future!" — Nancy Roberts Ransohoff '80
"Spending a handful of hours with such thoughtful, kind rock stars was a highlight during this challenging time." — Bree Candland '01
"I really enjoyed both meetings and am so impressed by Bowdoin students' curiosity and level of accomplishment at such a young age. Great program!" — Dianne Pappas P'21
"Speaking with alumni and becoming aware of how committed they are to our success was extremely encouraging." 
"The most valuable aspect of Bootcamp was the alumni connections. I thought the connection meetings were enlightening and useful. ...We were able to talk generally about internships and advocating for my own internship at companies that may not have existing positions."
"I appreciated that my first networking opportunity was with alumni who I knew were willing and excited to connect with me. It made the process feel less intimidating."
"...Now I am a lot less scared of [networking]."
On the value of connecting with fellow students:
Each sophomore was placed in a cohort of eight peers and an upperclass team leader. As a group, they reviewed one another's résumés and cover letters, and discussed other career-related questions.
"Connecting with peers made me understand that many of us are in the same place in the career-planning process."
"I was most grateful to get to know peers better through this experience."
"I really enjoyed speaking with my peers, and seeing the diversity of opportunities available." 
"The most valuable aspect of Bootcamp was being able to learn from each other and hearing different experiences from people [seniors and alumni] who were once in the same position as us." 
"I really loved the skills workshops (SQL [a database query language] and resilience in the job search were two great ones). I also loved the cohort activities."
Waking up!
"The most valuable aspect for me was the 'wake up' aspect of Bootcamp—it made me realize that I really needed to think about my summer and career options, and all the resources available to do so."
"Getting thinking about tough questions of what we want to do, how to get started, etc. It's not too late, but we need to be proactive about these things." 
Reflecting on Bootcamp as seniors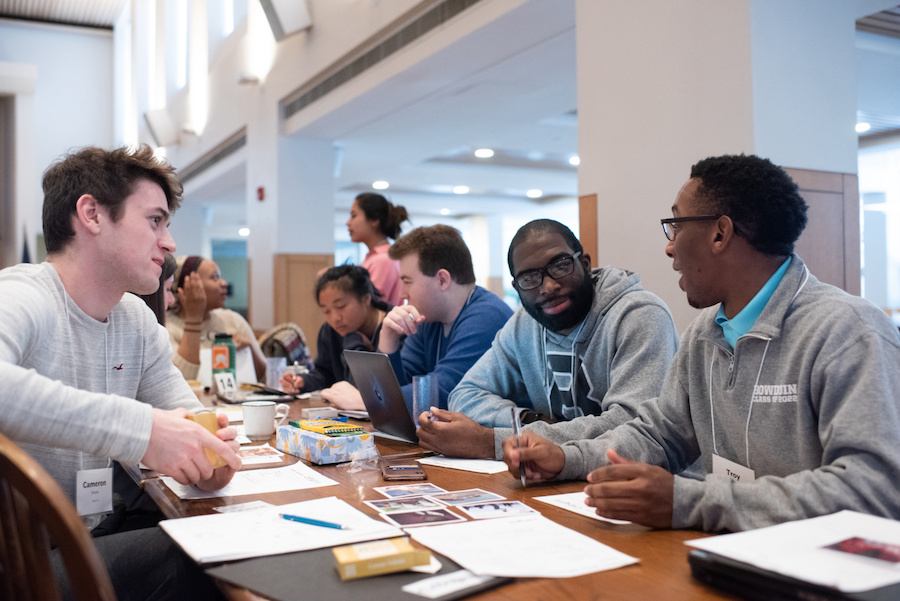 Abby Raymond '22 and Solomon Aborbie Jr. '22 also shared their reflections on participating in Bootcamp as sophomores in 2020 and then, two years later, turning around and working for the event as team leaders.
"The biggest thing I pulled from my experience in Bootcamp was just how supportive the Bowdoin community is," Raymond said, referring to staff, faculty, and alumni, as well as fellow students. "It was comforting to see that the sophomores can be concerned about themselves but also be so willing to help," she said. "It was nice to see that sort of friendship being made."
Aborbie agreed that the sophomores this year were collaborative—and very attentive. He joked that he started to get self-conscious when he realized how much they were hanging on his every word. "They were so locked-in and laser-focused," he said.
He also noted that, as someone who comes from a family of limited means, he had found the financial literacy workshop particularly valuable when he was a sophomore. Additionally, he had appreciated hearing from upperclass students about how they had navigated the job and internship process and, in some cases, jumped from one career track to another.
"The people-driven focus of the program made me feel like I can do it, too. Having a senior who showed me their résumé from two years ago, and saying, 'Look, you have so much more experience than I did, and look where I ended up. What do you think you can do for yourself?' It gave me a lot of confidence."