Bootcamp 2022: Sophomores Lace Up Their Boots for Future Careers
Published by Rebecca Goldfine
Bowdoin's fourth annual Sophomore Bootcamp—an intensive winter-break program focused on career exploration and development—was bigger, longer, and more ambitious this year.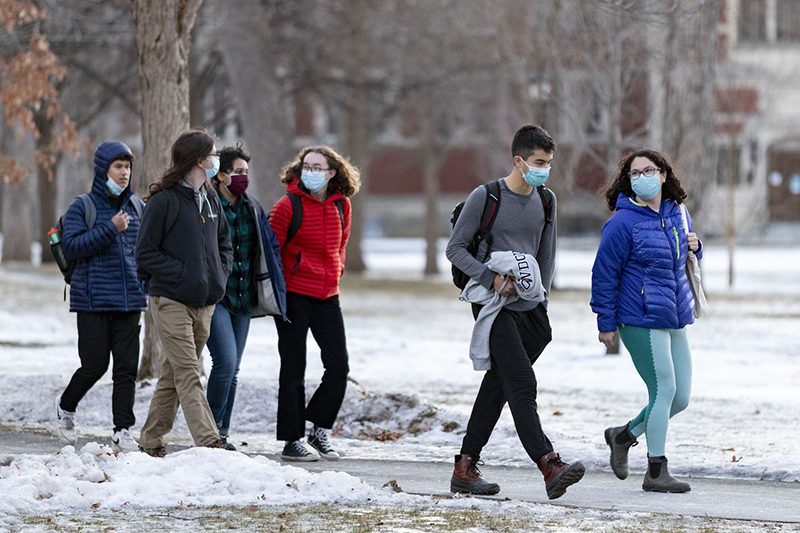 This January, for the first time, the program became mandatory and was expanded to accommodate every member of the sophomore class. In previous years, Bootcamp was voluntary, albeit popular and growing rapidly. The program piloted in 2019 with just twenty sophomores. The following year, 200 students enrolled, and last year 320 sophomores participated.
"We knew we had something valuable on our hands and didn't want any sophomores to miss a critical experience because they just hadn't heard about it or thought to sign up," CXD Executive Director Kristin Brennan said. "So we started planning a year ago for a universal sophomore experience."
Bowdoin's Career Exploration and Development (CXD) office designs and organizes Bootcamp to touch on almost every imaginable aspect of launching a career across the spectrum of industries—science, health care, tech, education, business, social justice, the arts, government, and more. The program, held halfway through the academic year, helps prepare sophomores as they begin to plan for summer internships, fellowships, and other opportunities. 
Students learn job-seeking fundamentals, like writing résumés and cover letters and figuring out how to search for available and preferred positions. They also network with alumni from fields they're interested in pursuing and get advice from upperclass students who've already laid the foundation for their own post-Bowdoin careers.
This year, the first week of Bootcamp was virtual. Morning and afternoon sessions were held Monday through Friday, January 10 through January 14.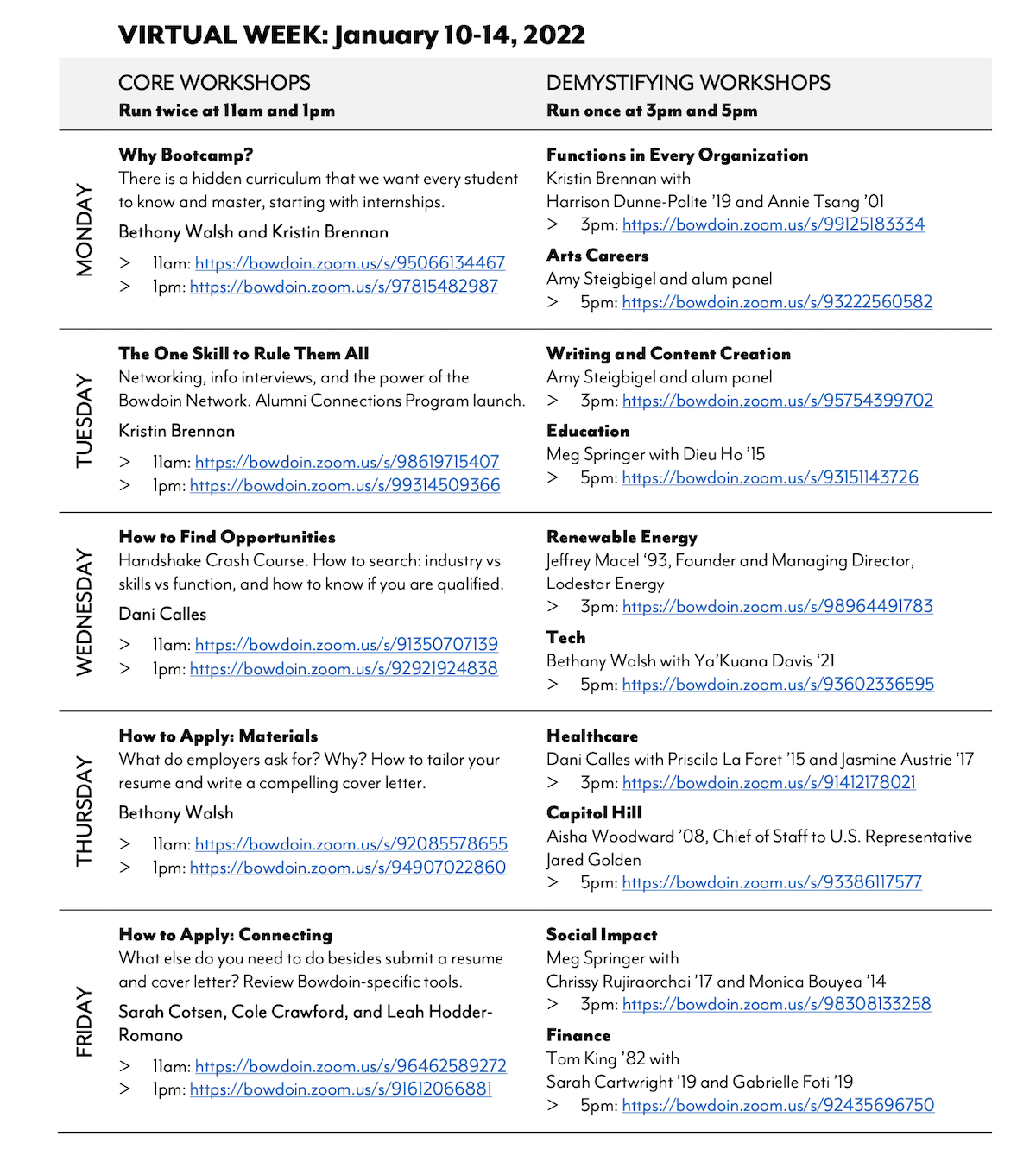 "Everyone here at Bowdoin wants you to succeed, and it is their job to help you succeed."
—Team leader Katie Filiakova '22
Boots on the Ground, on Campus
Students returned to campus for the in-person segment of Bootcamp from January 19 to January 21. The Wednesday schedule included meeting with their teams (sophomores were divided into small groups with an upperclass leader) to review résumés and LinkedIn profiles.
That same day, they were also invited to a fun evening event—a class skate in Watson Arena. Part of the strategy behind making Bootcamp a mandatory part of the curriculum was to give classmates a time to come together and have a shared experience.
Bethany Walsh, as associate director of skill development and programming, oversees Bootcamp each year. "Despite the challenges of the pandemic, this was really a great year to build community among the Class of 2024 and provide a special experience for them," she said. Especially bringing them together for small-group discussions with peers and upperclass students gave them a chance to meet new classmates.
Thursday and Friday were more intensive, with skills workshops and industry meetups offered in the morning and afternoon.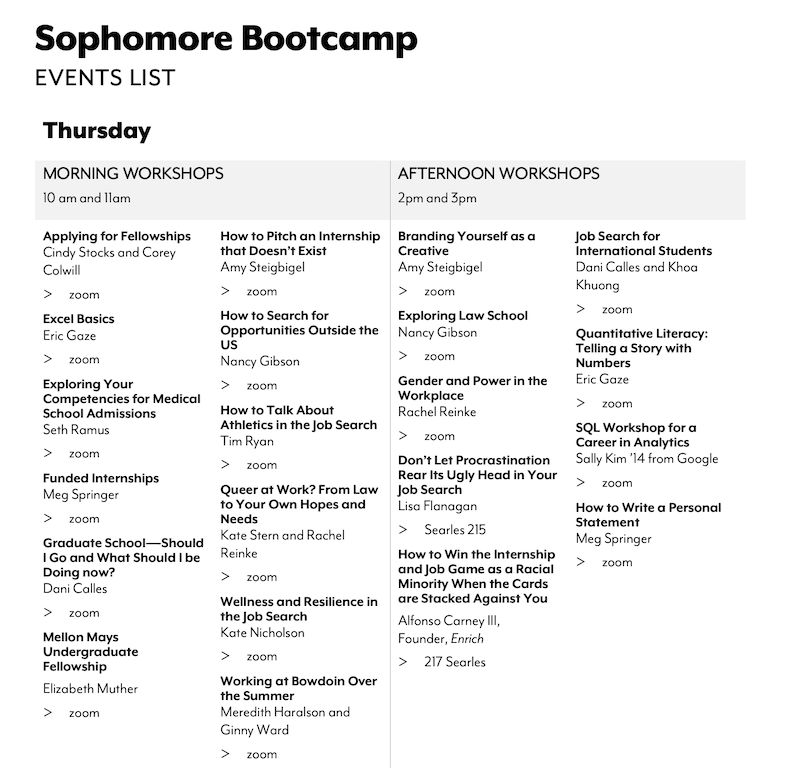 "Start talking up what you're interested in and start telling everyone."
—Associate Director of the Baldwin Center Lisa Flanagan, on networking
"Talk to people about what they do when they love what they do. They're inclined to share advice and wisdom from having done this work for decades."
—Team leader Lucas DiCerbo '23
Friday was filled with panels in which upperclass students shared the knowledge they've already accrued in a mix of fields. The morning sessions included the topics of the arts, writing, education, business, government, science, and health care. Afternoon sessions included discussions on social justice, tech, sales, and marketing.
Bootcamp concluded Friday afternoon with a session by Kevin Robinson '05—who goes by KAYR—on "what everyone should know to achieve financial independence." KAYR, who started a successful property-management company, covered topics related to financial literacy, including investing, borrowing, and building a monetary safety net.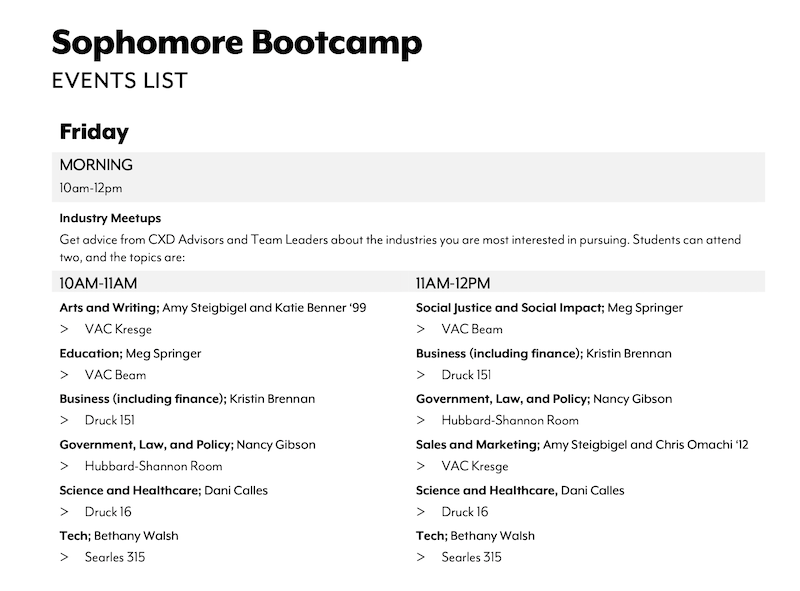 "Raise your hand if you've had a teacher who's had an impact on you."
—Bree Candland '01
Common Good and the Good Life
Sophomores filled Pickard Theater to hear a panel of alumni discuss how they have pursued both the common good and the kind of traditional markers many associate with career success—financial gains, prestige, and leadership.
New York Times Pulitzer prize-winning reporter and Bowdoin trustee Katie Benner '99 moderated the panel, which included National Board Certified County Teacher of the Year Bree Candland '01, IT executive and Bowdoin trustee Joe Adu '07,  and Alumni Council members technology entrepreneur Mai Le '00 and Chris Omachi '12, an executive with the online audiobook and podcast service Audible.

They had a candid, realistic conversation about juggling family expectations—and sometimes financial demands—with pursuing idealistic dreams to contribute meaningfully, and how their ideas about career priorities have evolved as they've grown older. Most said they feel freer now to make choices based on their own needs or ideals, rather than on what they think others around them expect or desire.
Benner acknowledged that having a career helping people, or in which you are trying to forge positive change, can be both fulfilling and depleting. "There is a challenge that comes with the work we're doing," she said, specifically speaking of journalism and teaching. "Purpose-filled work can be all-encompassing, and there is burnout that comes with these kinds of jobs."
Omachi noted, however, that there are myriad pathways to contributing to the common good, including both through one's job and through life outside of work. "There is more than one way to support both paths we're discussing today," he said. "I've found ways to support artists and artists working for social change," at his job with Audible and as a self-employed art advisor and dealer, he explained.
In some parting words, Mai Le reminded the young students that they had forty to sixty years to develop their career paths—which leaves a lot of time for exploration. "Set aside your ego," she said, "and don't be afraid to try and fail."