Sophomore Bootcamp Offers Self-Reflective, Social, and Skill-Based Week of Career Readiness
Published by Rebecca Goldfine and Samara Nassor '22. Photography by Michele Stapleton
Nearly two hundred sophomores returned to campus a week before spring semester classes to attend Bootcamp—a five-day program to develop career-building skills, from self-knowledge to résumé writing.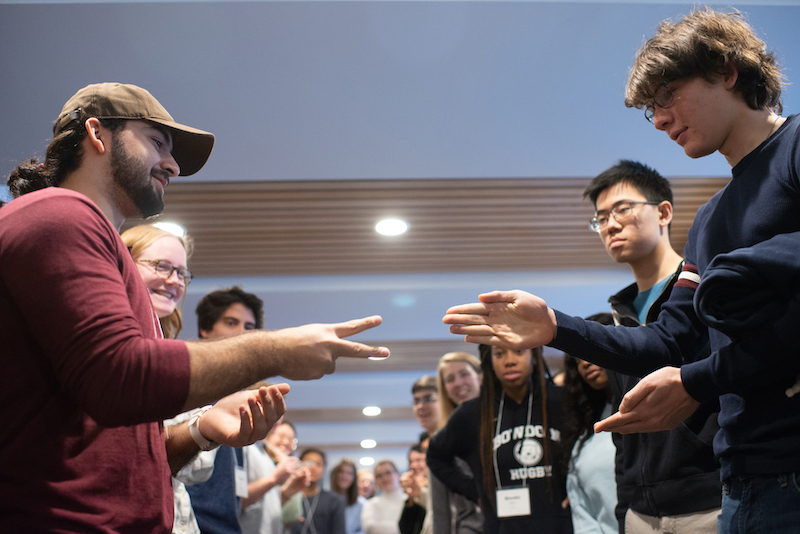 Bowdoin's spring semester started early for the many sophomores who signed up for the workshop run by Career Exploration and Development (CXD). By Monday morning, they were immersed in a series of exercises aimed to help them better understand their unique skills, interests, and values, and how these might align with a possible career, or careers.
Students should leave Bootcamp with "super concrete products," like polished résumés, cover letters, lists of internships to apply for, and new professional contacts, said CXD Executive Director Kristin Brennan said as she introduced the weeklong program to its attendees in Thorne Hall.
But students should also leave with "a deeper sense of you, and your own unique search—or searches,"  she added.
Throughout the day, CXD staff reiterated the message that there is not just one career or one job open to students. Indeed, statistics show that most people these days end up having three major careers over their lives.
So, instead of thinking that happiness comes with making the "right choice," Brennan suggested, "how about think that there is no right choice, just good choosing?"
Another assumption students often are told—that they should follow their passion to "live their best life" and "to be their best self"—can also be unhelpful, CXD Associate Director of Skill Development and Programming, and Bootcamp organizer, Bethany Walsh said.
"Talk about pressure," she added. "Eighty percent of 18 to 35-year-olds don't have a single solitary, well-defined passion." And even if they did, it doesn't always have to be one's vocation.
"Trying to find the best answer or path will get you stuck," Walsh continued. Rather, she recommended students use their curiosity as a guide, to consider work they're intrigued by. "Curious engagement is the key to purposeful work," she quoted.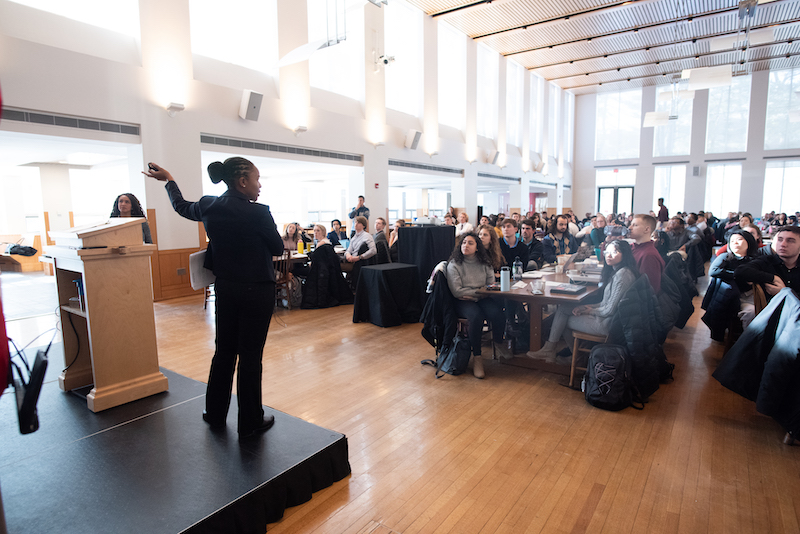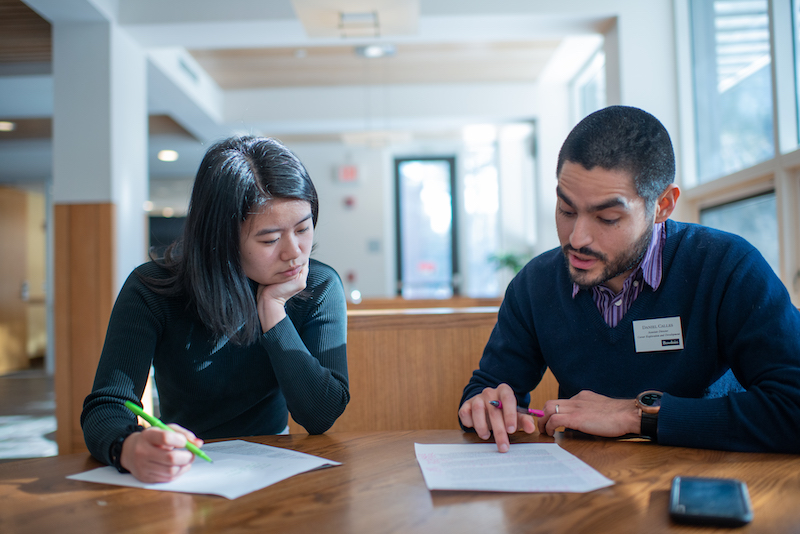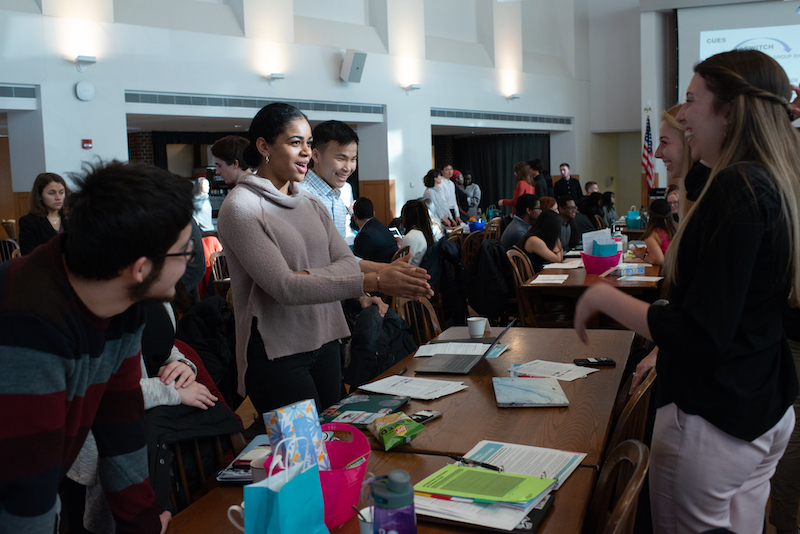 The first part of Sophomore Bootcamp was dedicated to teaching the skills helpful for all job seekers: résumé and cover letter writing, how to find jobs, networking, and more.
On Wednesday, alumni from around the country returned to Bowdoin to participate in panels to talk about their careers in a number of different fields, from consulting to journalism. This was followed by a Bowdoin Connections Event—a reception that gave alumni the chance to reconnect and students the chance to practice networking.
For the last two days of Bootcamp, students selected one industry workshop to focus on a specific skill, such as public speaking, using Excel, or coding.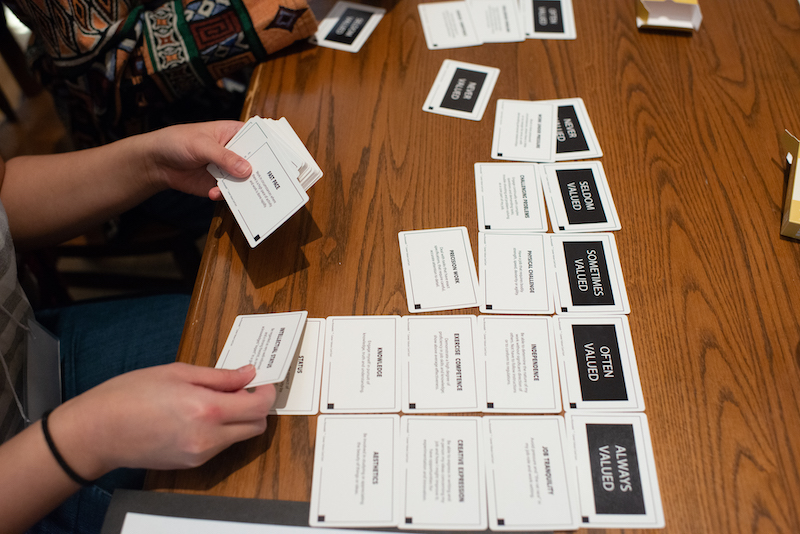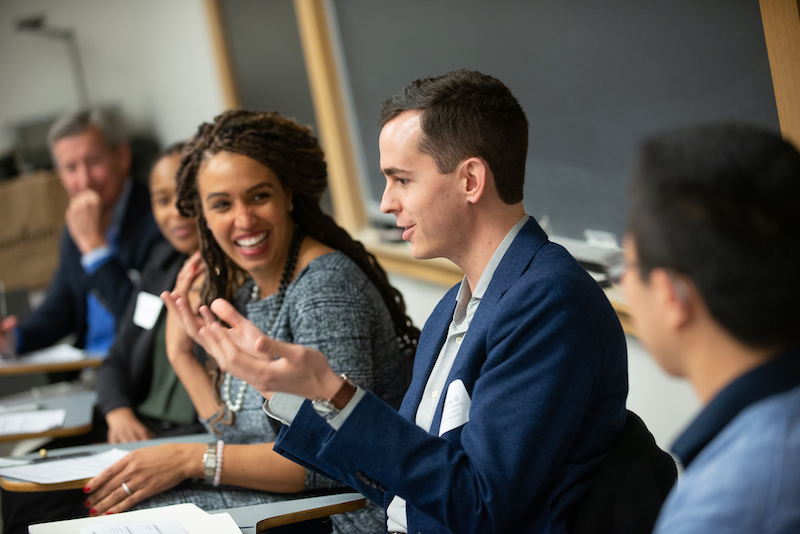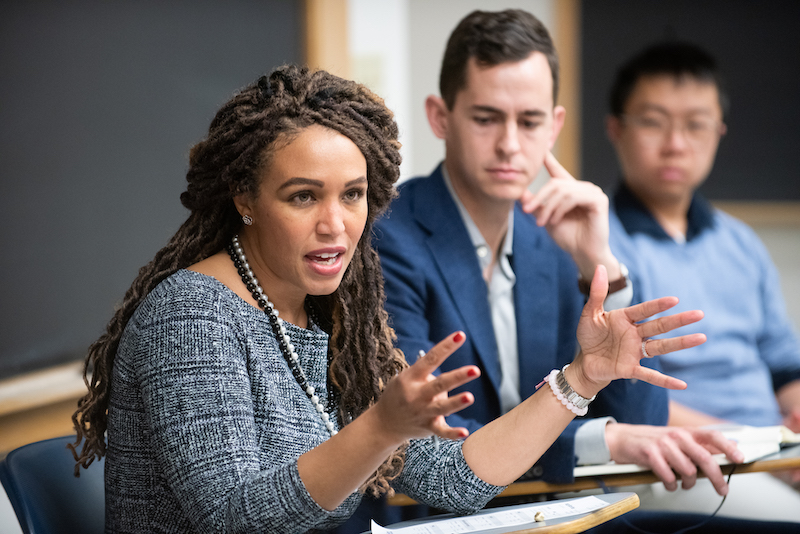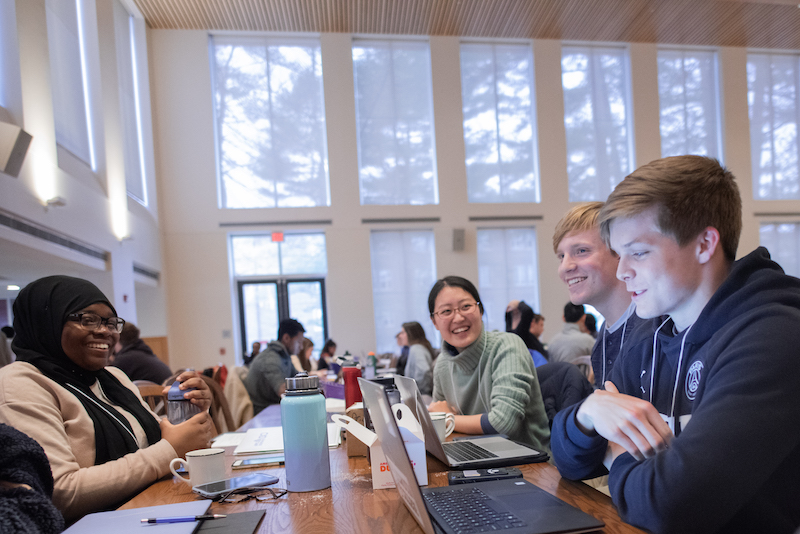 DAY 1: One of the exercises Walsh led students through on Monday was imagining three possible lives, to consider the "concept that there are many versions of you, and many versions of your future." Life 1 was what students would do if they could. Life 2 was what they would do if Life 1 was not possible. And Life 3 was what they would do if money or image weren't important.
The emphasis on day 1 of personal self-discovery did not preclude having a fun and collaborative experience. All sophomores were assigned to small groups (one student was an upperclass mentor), with whom they remained for the first three days of the program.
"You are building a team around you of people who care about your path," Brennan said. She encouraged students, when they make important decisions, to seek input from their own "informal board of directors," their parents, relatives, friends, and professors whose advice they respect and who can help them see their strengths and possibilities.
So throughout Monday's self-refection exercises, which encouraged students to consider who they are, values they hold dear, and what they are good at, they also reflected on the personalities, abilities, and dreams of the students around them.
"I see you working with other people, in a collaborative environment with people you like, with some aesthetic quality to the work you do," a student reported after analyzing her peer's list of interests, skills, and values—some of it self-generated, some of it created by a personality career assessment all the students took.
Another student suggested a theme emerging from her neighbor's list that might point perhaps to work as an art teacher or elementary school teacher. "You definitely need a creative outlet," she said. "And helping society is important to you. Education would fulfill that."
by Samara Nassor '22
Before considering a liberal arts education, I expected to hunt for a major that would effortlessly connect to my dream job. It only felt logical to combine my interests in government and environmental studies to be a lawyer, diplomat, or maybe a renewable energy consultant. 
"Your major is not going to decide your future. The liberal arts give you economic mobility," said Bethany Walsh, the assistant director of career planning.
This was the second round of Sophomore Bootcamp, a program organized by Bowdoin Career Exploration and Development to help sophomores jumpstart their internship search, meet remarkable alumni, and attain skills that employers are buzzing about. Walsh, along with Executive Director Kristin Brennan and Associate Director Nancy Gibson were on a mission to expand the scale of the bootcamp from twenty to two hundred students this year.   
For five days, from January 11 to 17, I began the process of launching the next steps of my professional career. I participated in a series of design clinics with my peers and became exposed to the nits and grits of branding, networking, goal setting, and financial planning.
On Monday, my team and I engaged in "radical collaboration" to become deeply curious about each other's game plans. We matched our individual skills with our career goals and values using our SkillScan Drive and iStartStrong reports. In order to stand out among a pool of candidates, we needed to enhance our marketability and leverage our strengths. After a ton of activities, our advisors guided us through to an exercise called Odyssey Planning. We created a prototype describing how our lives would unfold in the next five years.  Pre-med sophomore Warsameh Bulhan designed a blueprint for his three potential lives as a surgeon, physician, or physical therapist.
According to Bulhan, Tuesday and Wednesday were perfect days for him to map out his journey as an aspiring healthcare professional. "Drafting a résumé, cover letter, and an elevator pitch, as well as setting up a LinkedIn profile, gave me an opportunity to work on important facets of my future applications." The bootcamp sessions would not feel as complete without receiving solid career advice from industry panelists specialized in areas including education and community development, health care and science, government, law and policy, consulting, finance, business, marketing, advertising and public relations, technology, media, journalism, and publishing.
I attended the government, law, and policy panel, where I met alumni like Hilary Rapkin '88, who studied art history and Italian at Bowdoin. She currently works as the chief legal officer at WEX, a global provider of corporate payment solutions in the US, Europe, South America, Asia, Australia, and Canada.  Olivia Giley '20 asked panelists, "What do you look for in entry-level employees?" 
Rapkin replied, "Candidates should have tenacity, discipline, dedication, and leadership." 
Later in the afternoon, I participated in a finance panel, where I learned about commercial banking, investment banking, impact investing, private wealth management, and financial wellness. Thomas King '82, the former CEO of Barclays, shared some tips on how to succeed in this field. "Talk to five recent graduates and learn to speak the language of finance," King said. After that advice, I found myself amassing business cards at the networking event on Wednesday night! 
For the last two days, I was part of a workshop called "Intercultural Development and the Global Workplace." Through an image depicting shipping routes, I could imagine how supply chains, clientele, and demographics were shifting around the world. This image was the epitome of the global workspace. Undoubtedly, cross-cultural competence was the number one skill that anyone needed to thrive. "We will focus on observing and understanding cultural difference, learning to identify common intercultural friction points in the workplace, and beginning to develop competence in bridging interculturally," said Sarah Robbins, the workshop's instructor. According to Robbins, building an intercultural muscle boosts team efficiency, communication, employee satisfaction, and productivity globally.