Published January 21, 2022 by Tom Porter
Dance Therapy: One Way to Engage the Community
When Allie Pizzino '23 applied for a position at her local office of the National Alliance on Mental Illness (NAMI), the sociology major did not think she would end up leading a dance workshop.
"At the interview I was ready to talk about my commitment to helping people with mental illness and my general interest in the nonprofit sector."
Pizzino, a member of the Bowdoin Swing Dance Club who also danced in middle and high school, was not expecting this aspect of her résumé to come up, but when it did she jumped at the offer of leading a workshop. "I was like 'oh my gosh, this is a great idea!'" Over the winter break, the Florida native has been leading weekly dance classes alongside her other responsibilities at NAMI, Palm Beach County, and has found it a really rewarding experience. "Someone came up to me after a dance class the other day and said this was the first time he had smiled and laughed in weeks. It made me feel really good that just an hour or so of activity can do that," said Pizzino.
She is one of nineteen students who have been pursuing the Winter Break Community Engagement Fund through Bowdoin's McKeen Center for the Common Good. The program provides the funding to enable students to spend the winter break interning at a wide variety of nonprofits and municipal offices. This year's cohort includes a junior who's helping low-income high schoolers in Los Angeles prepare for college, students working with immigrant groups both here in Maine and elsewhere, and a senior working with a development organization in Cameroon, Africa.
In addition to her dance class, Pizzino has a wide range of duties at NAMI. "It's something different every day. One day I might be working on social media design, another I might be working on a grant application, and the next day I could be carrying out clerical tasks, like digitalizing old files or preparing for an audit."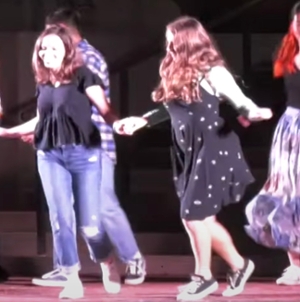 Pizzino said it's been fulfilling to be actively involved in running an organization that helps people and to see the impact of her work. "The other day, for example, I compiled some statistics for a letter that we sent to a local paper in an effort to persuade the sheriff departments in Palm Beach County to carry Narcan [a drug used to treat opioid overdoses] in their patrol cars."
Pizzino first heard about NAMI at high school, she added, "and, as someone who has struggled with mental illness in the past, it's nice to be able to give something back as well as gain useful experience," said Pizzino, who has also worked as an adult education and a Bowdoin Votes volunteer through the McKeen Center.
"This is the second year that we have run the Winter Break Community Engagement Fund program," said Samantha Cogswell, associate director of the McKeen Center. "It's an example of a programmatic adaptation made for the pandemic that worked so well that we decided to pivot to this model indefinitely instead of running the Alternative Winter Break program. What made it a success," she explained, "was the opportunity for students to design their own projects, have flexibility in where their projects took place, and receive funding for their work."