Building Community: Sophomore Programming Brings Classmates Together
Published by Rebecca Goldfine
Now that they're all together on campus, sophomores are being treated to extra programs and events to give them a chance to get to know one another and take part in Bowdoin traditions.
To make up for some of the experiences the students missed last year—including orientation trips and the convening dinner—Bowdoin Student Activities, Bowdoin Outing Club, Peer Health, and Residential Life have been coming up with creative ways to bring the Class of 2024 together.
This past Sunday, for example, the whole class was treated to a convening brunch, and President Clayton Rose met them at the Museum steps to share words of wisdom—as he does for each incoming class of first-years during orientation. He urged the students to embrace intellectual fearlessness, using recent campus speaker, artist, and social activist Shaun Leonardo '01 to illustrate his point.
Photos below were taken by photographer Michele Stapleton during last weekend's Convening Brunch for the Class of 2024 and the President's Welcome to the Class of 2024.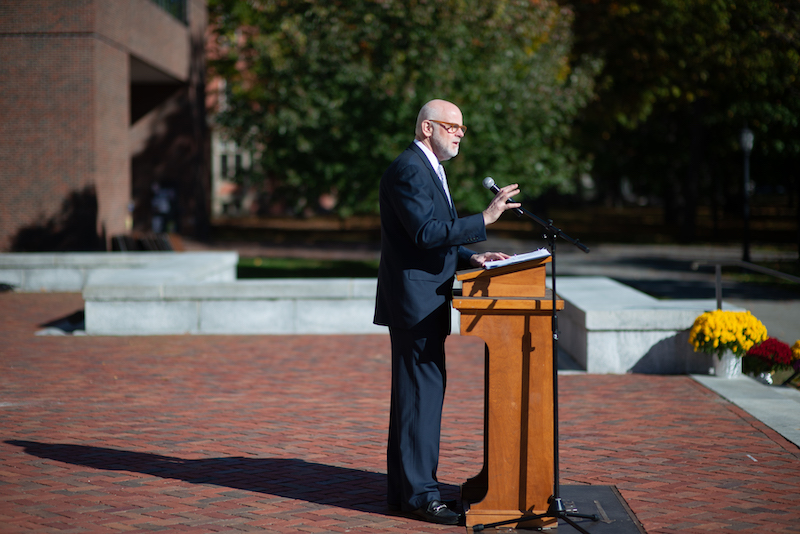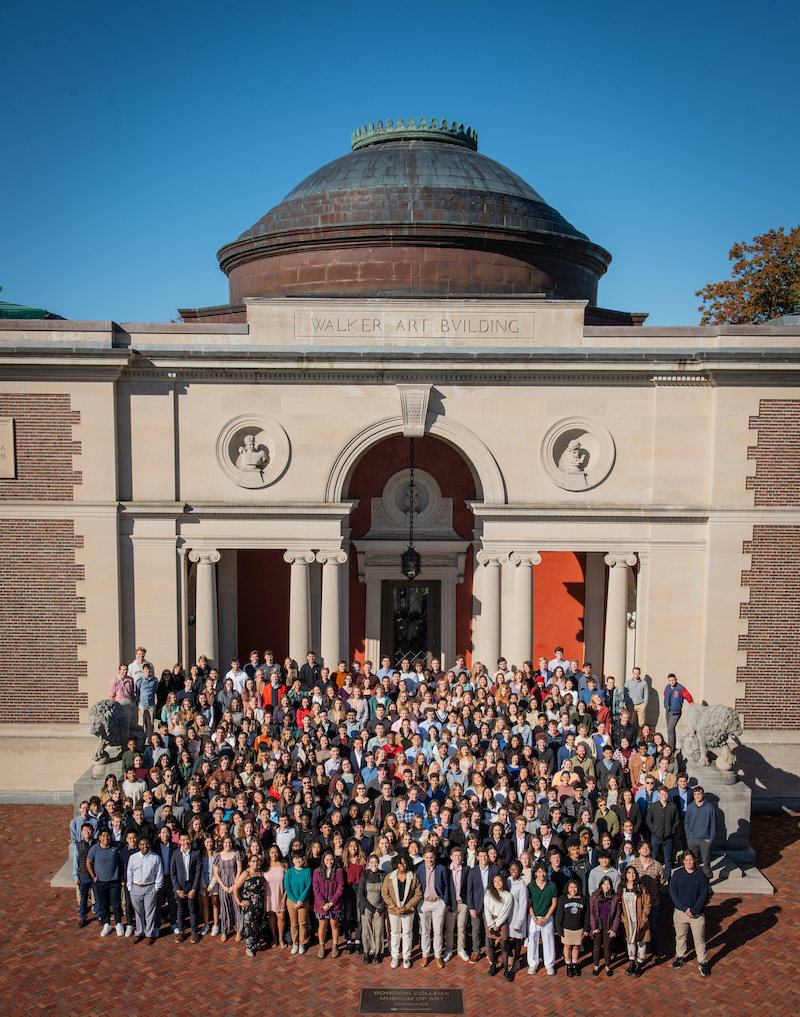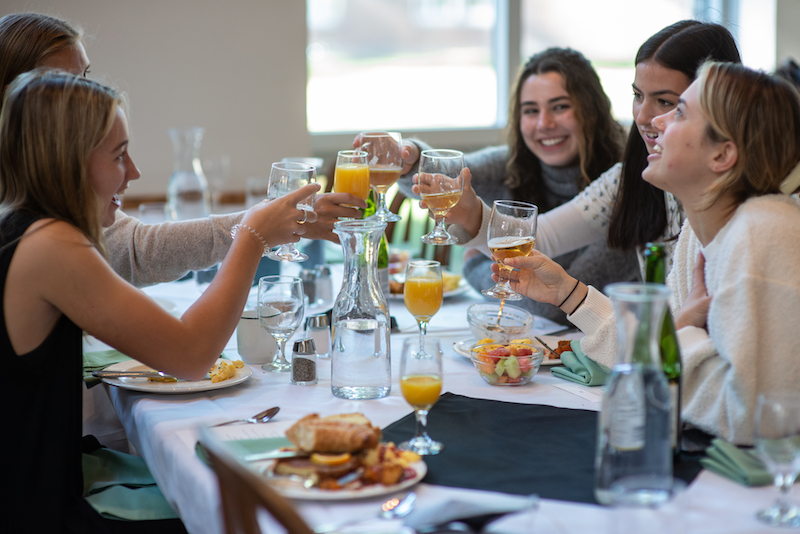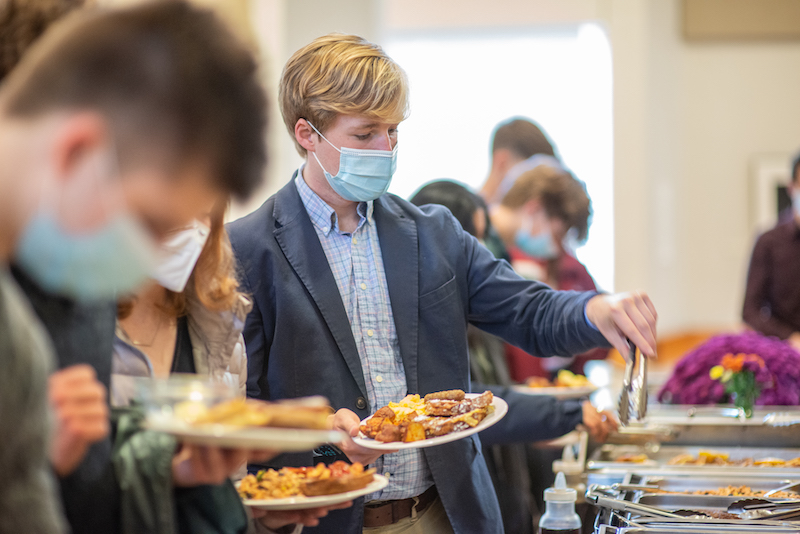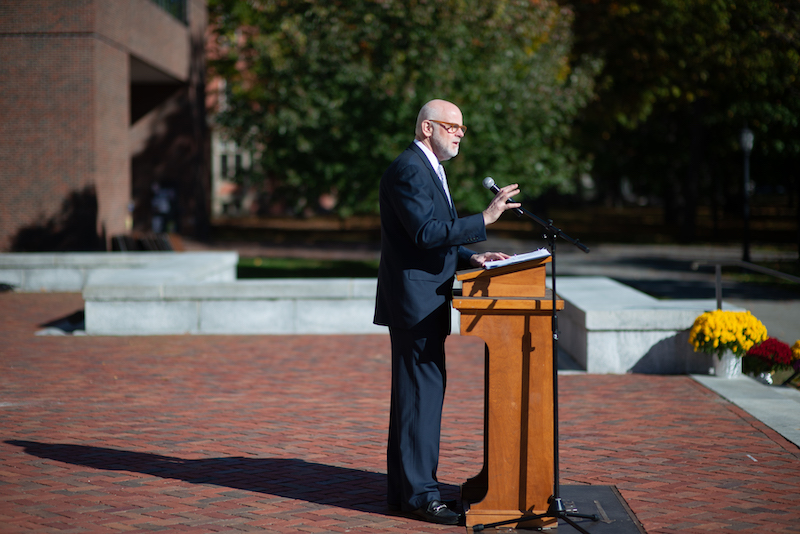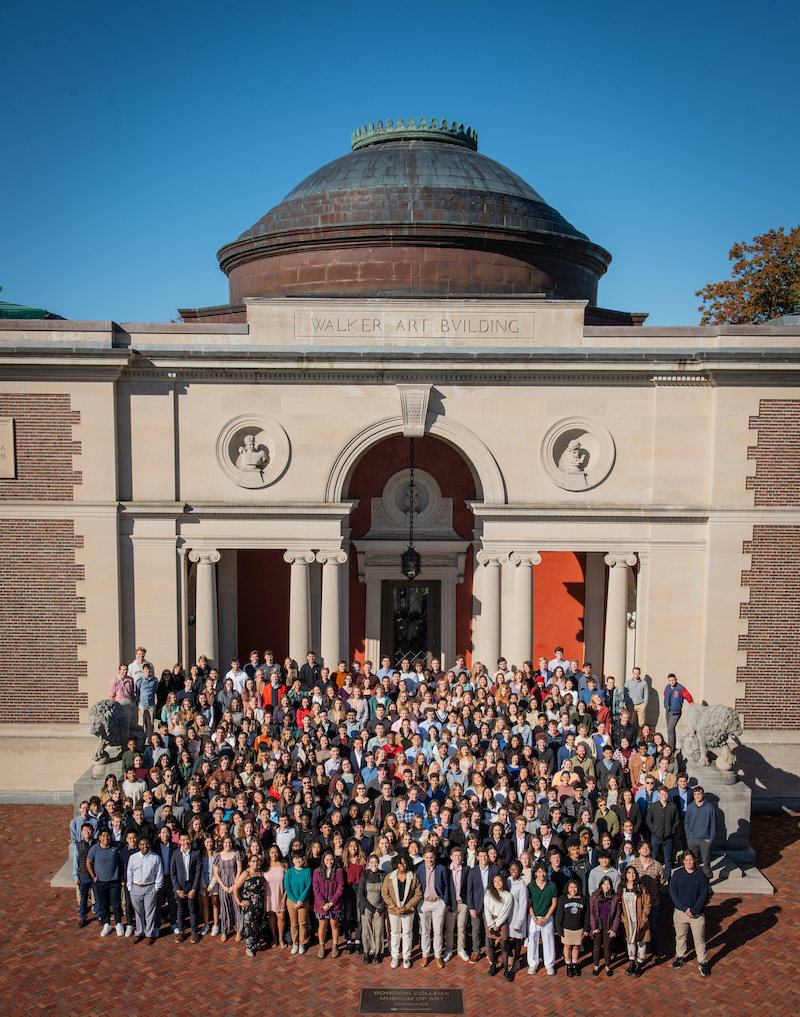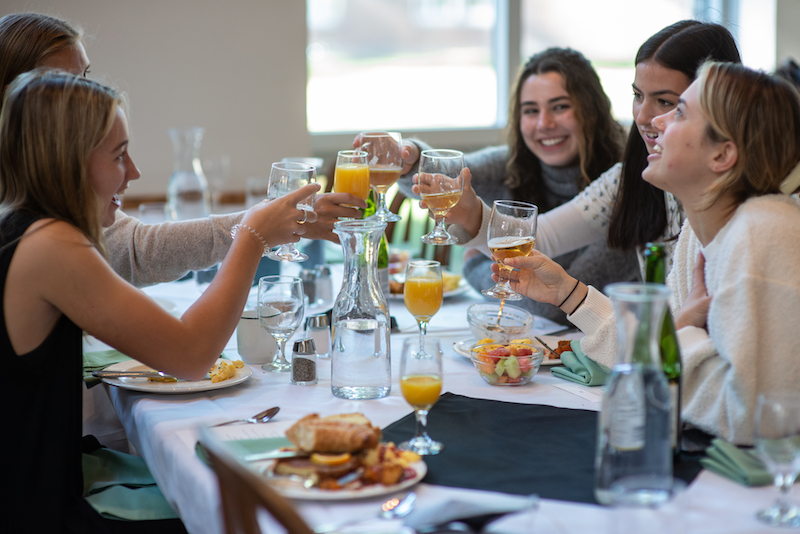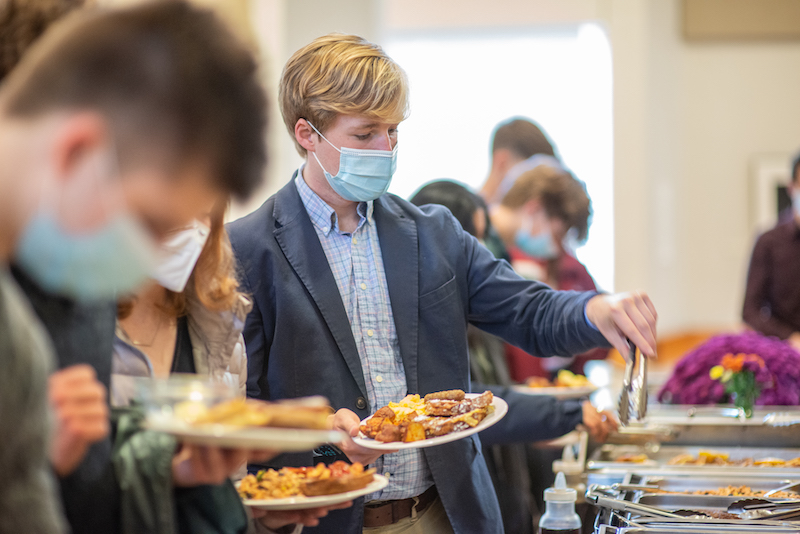 Silvia Lorrain of Student Activities, with Celeste Hynes and Melissa Jo Zambrana in Residential Life, have been spearheading many of the Class of 2024 initiatives, including organizing an outdoor party ("Sophomore Sunday," with free gelato, class T-shirts, and a live student band) and planning the convening brunch.
"There are a number of efforts in place to celebrate the Class of 2024 and to help support them during their time here, when they've only been here for one semester prior to this," Lorrain said. The programming is designed to "help build community among them, to help them get to know one another, and to support them in their sophomore experience."
The Bowdoin Outing Club (BOC) team of Michael Woodruff, Anna Bastidas, and Eric Guiang have dedicated some fall trips to sophomores only, offering them outings like bioluminescence tours at the Schiller Coastal Studies Center, a hike up Tumbledown Mountain, surfing, stand-up paddleboarding, a beach trip, fat biking, and rafting.
"Our goal at the Outing Club is to create opportunities and access to the outdoors for all students, no matter what background or access they've had in the past," BOC director Michael Woodruff said. The BOC will continue to host sophomore trips throughout the year, but he also added that many are joining general trips already.
Bowdoin Counseling and Wellness Services has invited sophomores to fireside chats with s'mores. And the McKeen Center for the Common Good threw an outdoor get-together in September for sophomores to come by, meet the staff, and learn about its offerings.
In addition to these new events, every sophomore is invited to this year's annual Bootcamp, organized by Bowdoin's Career Exploration and Development office and held during winter break. The weeklong training helps students consider different career paths they might pursue, and teaches them strategies for landing jobs and internships.
The newly elected sophomore class council, as well as the nine College Houses, will be instrumental in coming up with ways to bring their peers together, Zambrana said.
Sophia Pantzer '24, sophomore class council president, is working with her team to gather input from classmates about what they would like to see happen this year. Already, the council is considering organizing a possible "dinner with six strangers" for the class, a sophomore service day, and sophomore Olympics. 
"My goal is to make sure every sophomore has a support system and can connect to campus resources," she continued—listing a stream of examples, from the Sexuality, Women, and Gender Center to The Rachel Lord Center for Religious and Spiritual Life—"so they feel comfortable reaching out to these places if they need help, or even if they don't need help."
She especially would like to connect sophomores to the College administration, perhaps by holding a panel with Rose and a couple of deans. "That way, sophomores can ask questions. They really need to meet the administration and put faces to names and see the people who are working hard to make their experiences here good," she said.
Pantzer echoed a common feeling among her peers—that they missed out on a lot of important moments last year and are feeling somewhat disconnected. "It was a rough year for everyone," she acknowledged, "and more direct interaction between students and the administration will improve understanding and ensure the administration can address sophomores' concerns."
Rose, in his speech to sophomores on October 24 on the Walker Steps, also noted the challenges that have befallen this particular class. "Because of COVID, the beginning of your college experience was not what you expected, and it has been incredibly hard," he said. 
But he added that other generations of students have also had to grapple with difficult situations beyond their control: war, economic disaster, social unrest, and another pandemic. "...The reality also is that your Bowdoin College experience can be as great as that of any class that has passed through the College, and any of the over 30,000 alumni who have graduated from here. And the other good news is that this is very much in your hands."