Orientation Trips Help First-Years Unpack the Great Outdoors, Serve Communities
Published by Tom Porter and Rebecca Goldfine
Standing out on the pier, looking out over the still waters of Harpswell Sound on a blazingly hot August day, one of the first-year students is already thinking about the Maine winter. "Does the water ever get icy?" the student wonders.
The first-year, a member of the Class of 2025, is part of the McKeen Center's Midcoast Communities: Public Health orientation trip. Because the indoor morning activity had been canceled due to COVID concerns, the group has decided instead to explore the Schiller Coastal Studies Center (SCSC) on Orr's Island, about thirteen miles from the main Bowdoin campus.
Director Dave Carlon is giving the students a tour of the newly expanded facility and has brought them down to the dock, with its sweeping views of the sound. There is no shortage of questions from the new arrivals. 
"Good question," Carlon responds to the student curious about the condition of the sea water in wintertime. Indeed, in some very cold years, the sound does freeze over, he said. Someone could even, theoretically, walk across it to the opposite shore. The queries continue. "What do marine organisms do in winter? Did Native people live here? Is Maine getting hotter?"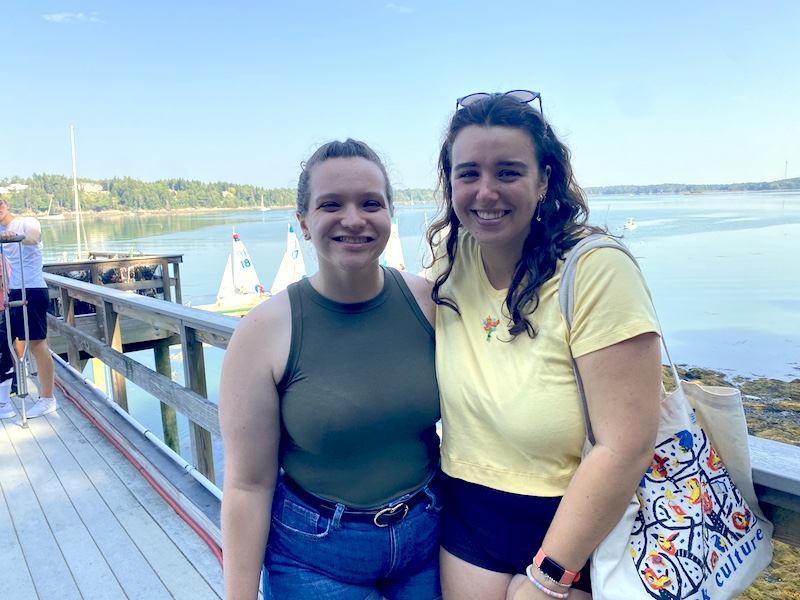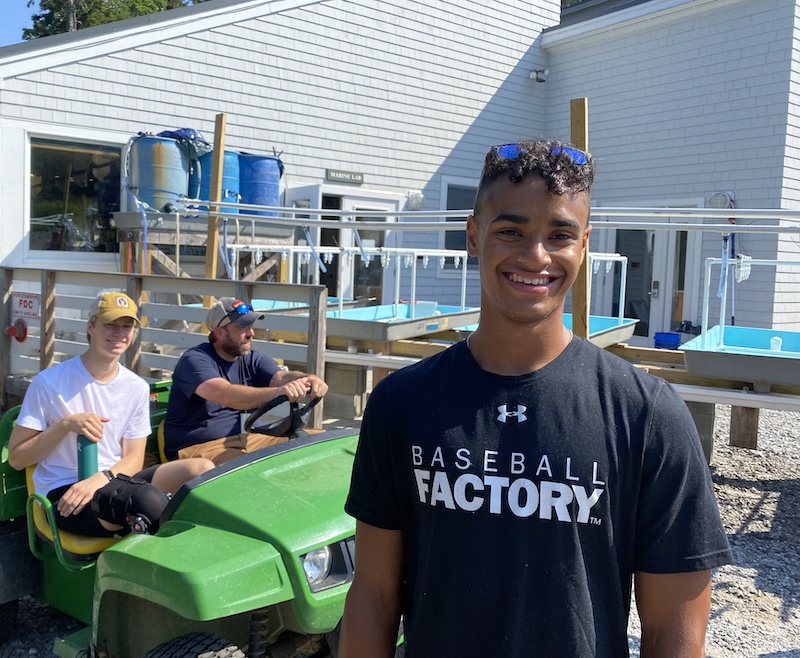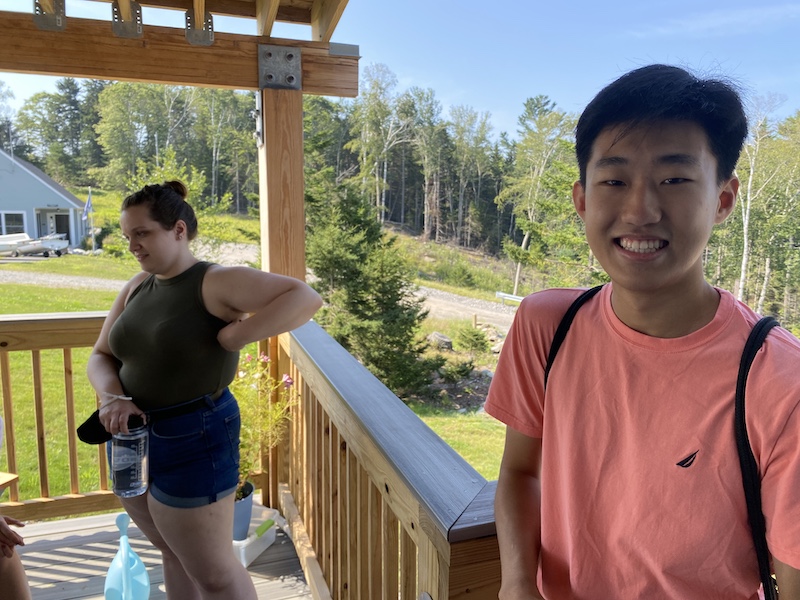 The group is one of nearly thirty orientation trips this year that have dispersed across the state to explore Maine's outdoors or engage in community service. (The Bowdoin Science Experience, which introduces the sciences at Bowdoin to students from underrepresented groups, is also one of the orientation options.) Each trip is led by two upperclass students and is comprised of just a handful of first-years. The four-day trips offer a chance for incoming students to get to know members of their class and to get their questions answered about Bowdoin.
While many of the orientation trips are organized by the Outing Club, thirteen of them are offered by the McKeen Center for the Common Good, says Samantha Cogswell '11, the Center's interim associate director. These focus on local nonprofits and community issues throughout the state, such as hunger and homelessness, environment and sustainability, and public health. "There are so many unique ways students can participate and get a chance to learn about the state where they'll be living for the next four years, as well as learn about the work that the McKeen Center does," she explains.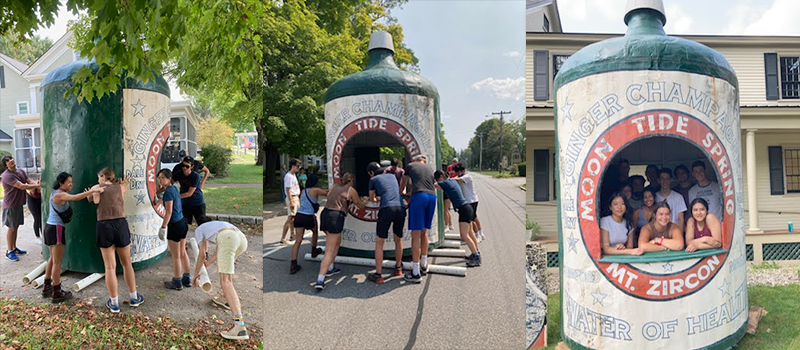 This year, the public health trip got somewhat disrupted by COVID-19. Instead of packing medical supplies for Partners for World Health inside a warehouse, for instance, the two leaders, Jane Urciuoli '23 and Abby Raymond '22, found alternative pastimes to do outdoors. "Lots of bonding activities," Urciuoli says. She and Raymond have also been taking the group to special spots they wish they had known about as first-years. Last night, for instance, they watched the sunset at Lookout Point in Harpswell, and today they piled into a van to check out the Schiller Coastal Studies Center.
James Yoo '25, from Alabama, says the tour of the SCSC was a highlight so far. "There's a high chance I'll be here again!" he said. Bowdoin will be offering a daily shuttle between the Brunswick campus and the Schiller campus this semester.
Later in the afternoon, the group plans to head to Portland to pick up used needles on the Eastern Prom with an organization called Church of Safe Injection. Grant Collins '25 , from Portland, Connecticut, says one of the reasons he selected the public health trip was because he has seen the devastating impact of substance abuse in his community, including the recent overdose of a teenage friend. It's important to raise awareness about the issue, he said. Aside from the gravity of the issues the group was engaging with, Collins says the experience has been very positive so far. "The past two days have been awesome. Everyone in the group is great, and we have good camaraderie."
Closer to campus, another group is tackling the issues of hunger and homelessness. "Ever since sophomore year of high school I would go to this food bank," said Mario Mero '25, who grew up in New York City's Harlem neighborhood. Mero's firsthand experience of the importance of food security led him to base his senior year project around the challenge of ensuring low-income communities have enough good food to eat. "Access to healthy food is limited in many of these neighborhoods," said Mero, who ended up raising five hundred dollars for his local food pantry.
This afternoon, though, is about helping children by providing relief through art. Mero and fellow first-year Ruth Olujobi are among the first-years working with ArtVan, a nonprofit offering art therapy to low-income communities in Maine, via a brightly painted van full of art supplies. Children and volunteers sit on the grass in this east Brunswick neighborhood, paintbrushes in hand. "For me, community service is an important act," says Olujobi. "Back home where I grew up in Lagos, Nigeria, a lot of people need help with food, clothes, and more, so ever since high school I have participated in helping in underserved communities."
The ArtVan experience is one of several undertaken by this group, says student leader Christiana Okafor '23. "Earlier today, we were handing out clothes and other supplies at a homeless shelter in Portland," she explained. "Yesterday, we worked harvesting green beans at a local farm that provides food for pantries. We helped them set a record for the day. Hard work in the heat!"
A few miles away, at a food pantry in downtown Brunswick, more students from the "Hunger and Homelessness" trip are helping out under student leader Annika Moore '23. Their work includes trimming those same beans harvested the day before and preparing them for storage so they can be offered in the wintertime, when fresh vegetables are less plentiful. For first-years like Axel Romell and Catherine Cao, this trip is a great opportunity to learn about, and help, underserved communities on their doorstep. Benjamin Pinto '25, a native of Chile, says it's been an eye-opening experience for him. "Many at the College see only one half of American society, so it's interesting to see the other side of the coin."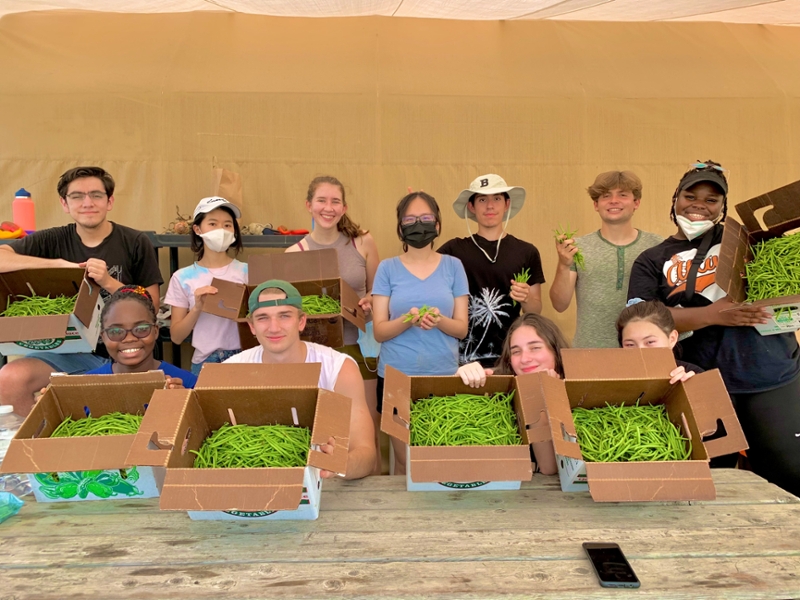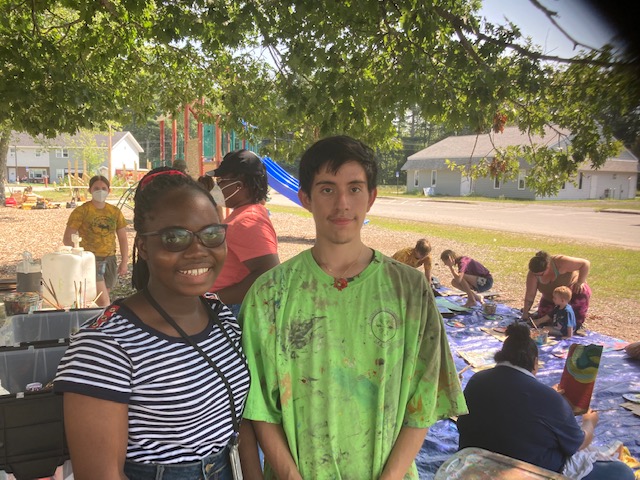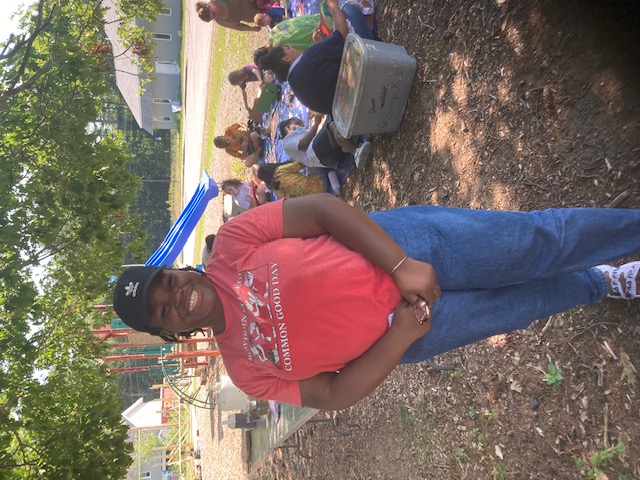 Fall 2021 Orientation Information
As students return from their orientation trips on Saturday, they're invited to begin settling into their rooms and attend open hours with IT and the OneCard office. Beginning Saturday evening with President Clayton Rose's traditional welcome to the class, the formal orientation process begins. Below is an abbreviated schedule of these first days:
Saturday, August 28
President's Welcome to All Incoming Students: 5:30 p.m.–6:00 p.m., President Rose and the deans welcome the Class of 2025 on the Bowdoin College Museum of Art steps.
Maine Theme Dinner: 6:15 p.m.–7:30 p.m., with food from local producers and farmers, including the Bowdoin Organic Garden.
Class Meeting: 8:00 p.m.–8:30 p.m., Dean of First-Year Students Melissa Quinby and two students on the Judicial Board—Jonas Eichenlaub '22 and Brigita Kant '22—discuss the social and academic standards that define Bowdoin's community.
Sunday, August 29
Breakfast with Your Proctor and RA: 9:00 a.m.–10:15 a.m.
Building an Inclusive Bowdoin: 10:30 a.m.–12:00 p.m., the Inclusion and Diversity in Student Affairs team invites the class to think about inclusivity, why it is important, and how everyone has a role in building an inclusive community. 
iPad Pick Up: 12:00 p.m. – 3:00 p.m.
Pre-Professional Advising (Optional): 12:30 p.m.–1:30 p.m., informational sessions on course selection and general preparation for a career in the health, legal, or teaching fields.
Music Ensemble Orientation with Ensemble Directors and Music Faculty (Optional): 1:30 p.m.–2:00 p.m.
Auditions for the Chamber Choir (Optional): 2:00 p.m.–4:00 p.m.
Language Department Placement Consultations and Open Houses (Optional): 2:00 p.m.–4:00 p.m.
Mathematics Department and Quantitative Reasoning Consultations (Optional): 2:00 p.m.–4:00 p.m.
Class Photo: 6:00 p.m., at the Museum Steps, Bowdoin College Museum of Art 
Convening Dinner in Thorne Dining Hall: 6:30 p.m.–8:00 pm.
"Beer Goggles" to Blackouts, the "Munchies" to Memory Effects: The Science of Alcohol and Marijuana, by Jason Kilmer: 8:30 p.m.–10:00 p.m., students discuss ways to reduce risks associated with substance use, and ways to look out for a classmate or friend.
Food Truck and Light Photography (Optional): 10:00 p.m.–11:30 p.m., selections include mac and cheese, mozzarella sticks, fried dough, and fries!
Monday, August 30
First-Year Group Meeting with Pre-Major Advisors: 9:15 a.m.–9:45 a.m.
Academic Fair: 10:00 a.m.–11:30 a.m., faculty and student representatives from all academic departments answer questions about courses and programs.
Health and Wellness Fair: 10:00 a.m.–4:45 p.m.
College House Welcomes (Optional): 3:30 p.m.–4:45 p.m., visits with affiliated College Houses. 
Yoga (Optional): 4:00 p.m.–4:45 p.m.
Ask. Listen. Respect: Preventing Gender Violence at Bowdoin: 5:00 p.m.–6:00 p.m., a discussion of Bowdoin's sexual misconduct policy, understanding consent and healthy relationships, resources for students impacted by gender violence, and ways to get involved in campus efforts to prevent sexual and dating violence.
Global Influences Dinner: 6:15 p.m–7:30 p.m., a celebration, through food, of the many countries represented by the Class of 2025.
Orientation Wrap-Up: 8:00 p.m.–9:00 p.m., guided by the Residential Life staff and Peer Health staff, students share reflections on their initial days at Bowdoin.
Inter-House Olympics (Optional): 9:30 p.m.–11:00 p.m. 
Tuesday, August 31
Matriculation: 8:50 a.m.–2:30 p.m.
Yoga (Optional): 9:00 a.m.–9:45 a.m.
220th College Convocation: 3:30 p.m.–4:30 p.m., President Clayton Rose and Senior Vice President and Dean for Student Affairs Janet Lohmann share words of wisdom and welcome students to the official opening of the College's 220th academic year. 
The Annual Lobster Bake: 5:00 p.m.–7:00 p.m., a Bowdoin tradition for the campus community that brings friends together for dinner after a summer apart and celebrates the beginning of another academic year.