Published July 26, 2021 by Jordyn Birmingham '24
3...2...1...Blast Off!: Onyedika Onuorah '22 Jumps from the Liberal Arts to Engineering, and then to Space
After three years at Bowdoin, Onyedika Onuorah '22 will finish his undergraduate studies at Dartmouth, bringing him a step closer to realizing his ambition of becoming an astronaut.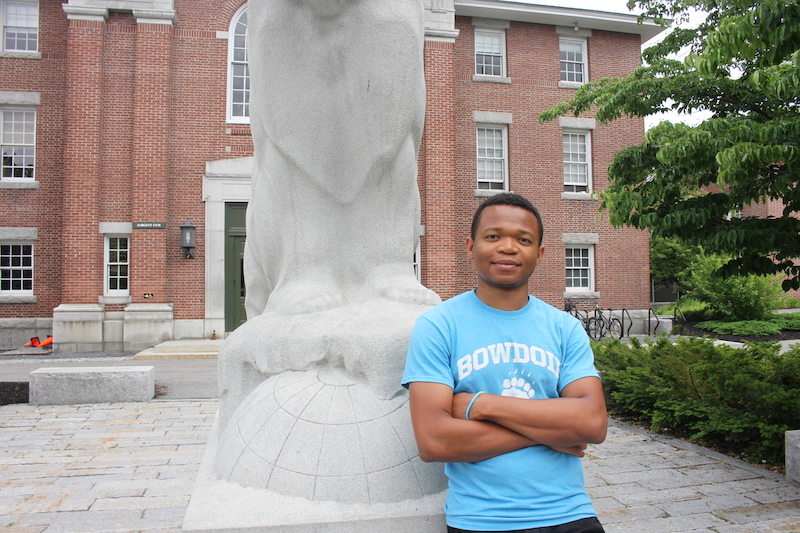 Onuorah, a rising senior and international student from Nigeria, is preparing to start his fourth year at Dartmouth College to pursue a degree in engineering through the Bowdoin-Dartmouth five-year engineering program. "It's less about the degree and more about the learning experience. Engineers problem-solve, and I want to do that," he said in a recent interview.
Onuorah appreciates the breadth of education he'll get by pairing the two programs. "I didn't want a double major at Bowdoin because I wanted to take many other classes I liked—because that is a liberal arts education," he said. "And this opportunity came up so I can get another major and engineering is something I am curious about."
Onuorah, a biochemistry major, started his studies at Bowdoin intending to follow a pre-med track and become a doctor. But he has long harbored a fascination with engineering, and when he learned about the dual-degree opportunity his sophomore year, decided to change direction. He's now enrolled in the "3-2" program, which refers to three years at Bowdoin followed by two years in engineering.
"Ever since I was little, I always wondered how a computer works and how buildings are made. And when I was a kid, my elder brother could always fix things and make cool things, and I just like the whole idea of being able to make things work and to solve problems," he said.
While he also is interested in computer science and appreciates making things work via coding, he says he's attracted to the tangibility of engineering and handling physical objects. 
Most importantly, his new academic path will set him up to fulfill a big dream. "If I succeed in engineering, then I'll shoot for working as an engineer on space missions," he said. "I think the knowledge would be a big plus in this area. If I eventually decide to do something else as a career, I'll apply that career skill to my astronaut journey."
When asked what draws him to space travel, he warned: "It's a long-winded explanation!" But he launched right in. "Basically, I see it as that we don't know if there is other life, besides on Earth, out there in the universe. And I think we have a cosmic duty to preserve life and consciousness, and to spread it." 
He also sees an inevitability in needing other worlds. "At some point we have to become multiplanetary, and I want to help in doing that. And becoming an astronaut is a good way. I want to be the one who is actually traveling; I don't want to just be in the background."
Onuorah came to Bowdoin after attending high school at St. Paul's Academy in Jos, Nigeria, a city of about a million people. He explained that his move from Nigeria to the Unites States was a big one for him, and that at first his family felt uncomfortable—albeit proud—about his opportunity to leave home. 
The dual-degree program that Bowdoin shares with Dartmouth is one of several options offered to students. The College has also partnered with the University of Maine at Orono, Columbia University, and the California Institute of Technology (Caltech) to give students a chance to earn two undergraduate degrees—a bachelor of arts and a bachelor's degree in engineering.
If students prefer to finish their senior year at Bowdoin, they can study away their junior year at Dartmouth. Then, if they want to pursue a second degree, they can return to Dartmouth after Bowdoin for a fifth year of classes, explained Corey Colwill, who advises students about the program as associate director for the Center for Cocurricular Opportunities.
On average, about one to three Bowdoin students a year enroll in the dual-degree program, said Christine Wintersteen, director of international programs and off-campus study. For instance, two juniors this past year studied remotely at Dartmouth.
With the assistance of EducationUSA, a program run by the US Department of State that helps international students apply to colleges in the United States, Onuorah learned about Bowdoin.
"EducationUSA helped with my application because my parents could not afford it. So EducationUSA paid for my SATs, gave me tutoring, and gave advice on schools I should apply to. They advised I apply to Bowdoin. So I applied early decision, and I got in!"
Arriving at Bowdoin without knowing anyone was a little lonely in the early days, but Onuorah says he now has a large support system that consists of his host family, his first-year floormates, the THRIVE program, his academic advisor Vlad Douhovnikoff, and student clubs like Africa Alliance.
Since his first year at Bowdoin, Onuorah has also been doing research with Douhovnikoff, an associate professor of biology, on ticks and river ecology. This summer, they're focused on monitoring the Androscoggin River, which runs by Brunswick, to prove that the river needs better regulation due to its existing wildlife.
Onuorah says that he believes his three years at Bowdoin have prepared him academically, socially, and culturally to succeed at Dartmouth and into his future. "The classes I took at Bowdoin were really tough and I feel like that will prepare me for anything," he said.
Not that he doesn't have a touch of nerves at the prospect of starting anew at Dartmouth. "Bowdoin has always felt protective and leaving Bowdoin and going to another place, it does feel like being a freshman all over again," he said.
However, he's gained a valuable piece of wisdom since coming to study in the United States, one he passes on to others: "Just go for it and seek discomfort."